Gallagher Once Sued His Brother For Stealing His Act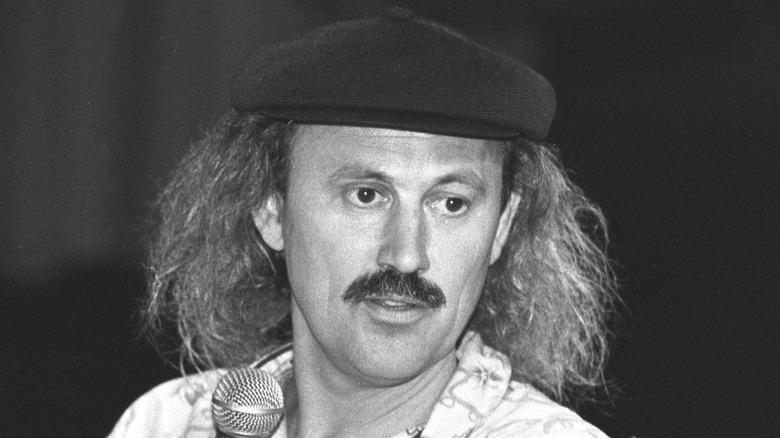 John Atashian/Getty Images
Leo Anthony Gallagher Jr. rose to fame during the 1980s, becoming one of the most recognized comedians of the era. His observational humor and prop comedy gags separated him from other comics during that time, leading him to have major commercial successes as a touring performer. While many Americans were enjoying the spot-on impressions and side-splitting stories from Eddie Murphy and the raucous and filthy material from Andrew Dice Clay, Gallagher paved his way with PG humor and props. Per Gallagher Smash!, his 3,500+ shows and 14 Showtime comedy specials are cornerstones of a rock-solid comedy resume, topped off with being listed on the Comedy Central list of 100 Greatest Standups of All Time in 2004 (per IMDb).
As Gallagher's popularity began to wane in the early 90s, his younger brother Ron spotted an opportunity. Using some of his elder brother's better-known material and gags, he speculated that he would be able to successfully franchise Leo Gallagher's routine and make a good living. What began with good intentions quickly devolved into a bitter sibling rivalry, culminating in a court battle. 
The Sledge-O-Matic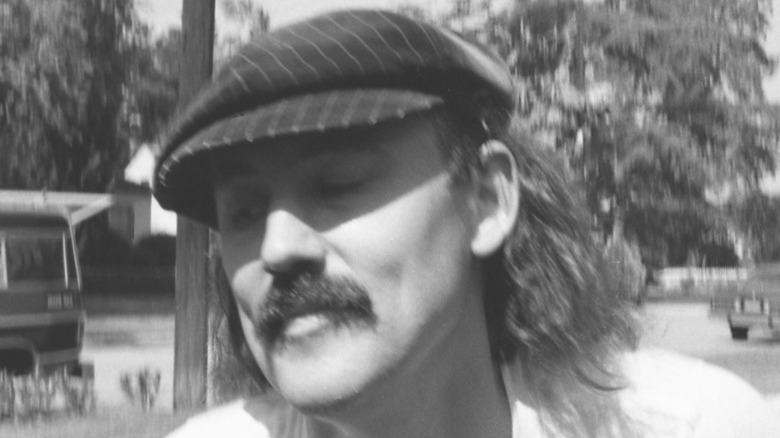 Michael Ochs Archives/Getty Images
Leo Gallagher's routine-ending finale would typically begin with him transforming from an observational comic into a caricature of a TV pitchman, his quick delivery reminiscent of a carnival barker or a traveling 19th-century medicine man, using wild gestures and an excited tone to lure in marks to purchase his wares. At stage center would be a stool with a giant box behind it, the pseudo-salesman reaching inside to grab an object so it could be positioned on the seat. His sales pitch was for a product that every household and housewife needed — his patented "Sledge-O-Matic." 
Throughout the rest of the closing bit, Gallager used the giant mallet to crush the objects he sat on the stool, spraying the audience with the remnants of everything that was set between the face of his gadget and the seat of the stool. His grand finale was using the Sledge-O-Matic to pulverize watermelon after watermelon, sending their juices onto a roaring crowd. For years, Gallagher's younger brother Ron followed the comedian while he toured, giving assistance and even helping to provide material. The Chicago Tribune reports that the younger Gallagher eventually set out on his own, using the stage name Gallagher Too (per 90ways.com). Though the younger Gallagher affirmed that most of the comedic material he performed was written by him, he would close the sets with the senior Gallagher's Sledge-O-Matic schtick. This act had the blessing of the original Gallagher — at first. But soon after he granted his little brother permission to franchise part of his act, family trouble began to brew between the two siblings.
Leo Gallagher eventually took issue with Gallagher Too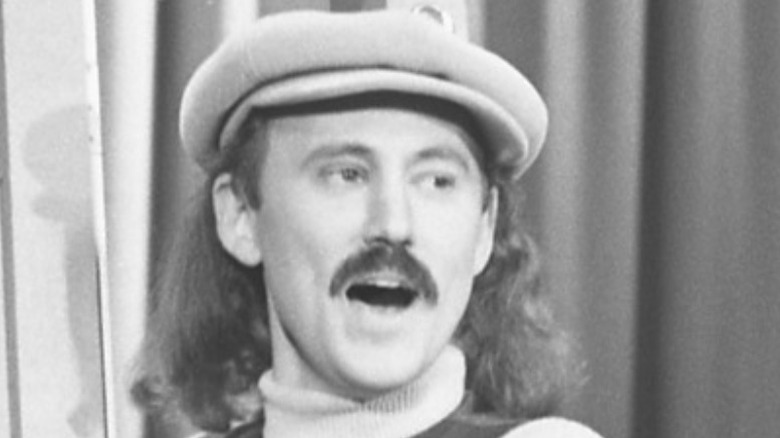 Michael Ochs Archives/Getty Images
Per their agreement, Ron Gallagher was to bill himself in small venues, ideally ones that could not afford the real article. His act, though a mirror of the routine his elder brother perfected in the 1980s, was to have a distinct billing so that audiences and venues would know that it wasn't the real Gallagher on stage. It was reported that Leo Gallagher wasn't too keen on the "Too" part of the billing because it felt that it didn't separate the two performers enough. Eventually, Ron Gallagher dropped the "Too" from some of his billings, leading people to think that Ron was the real Gallagher (per 90ways.com). Mental Floss reports that Ron would book his shows in towns close to where Leo was performing, further adding to the confusion. After Ron told a venue manager that he was Leo, Leo had had enough. 
The eldest Gallagher brother sued his copycat in court, securing a victory. This left Ron unemployed and broke, forced to pay his brother damages. In 2013, the Tampa Bay Times reported that Leo had not spoken to Ron in 20 years due to his anger over Ron's infringement on his comedy act. It's unclear whether or not the two rival siblings mended fences before Leo's death on November 11, 2022.