Why Vanessa Guillen's Mother Believes Her Daughter's Killer Is Part Of A Larger Conspiracy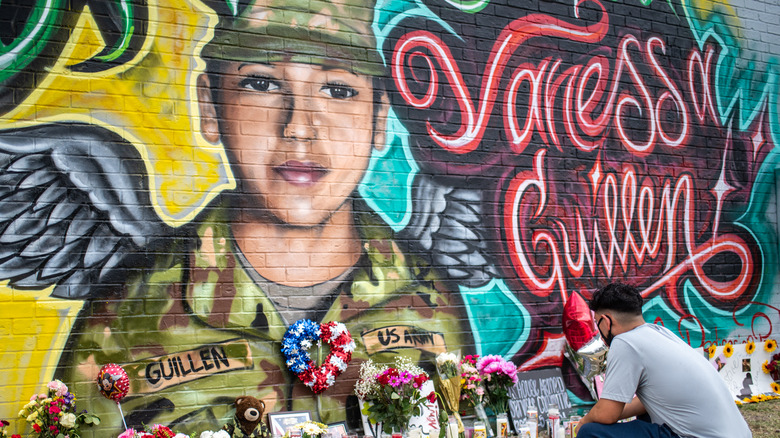 Sergio Flores/Getty Images
In July 2020, U.S. Army Specialist Aaron David Robinson, stationed at Fort Hood army base near Killeen, Texas, was dead, and his then-girlfriend, Cecily Aguilar, was in police custody. With that, the disappearance of Pfc. Vanessa Guillen, who went missing a short time earlier, seemed to be solved. But according to Vanessa's mother, Gloria Guillen, speaking with Gloria Estefan on the Facebook Watch series "Red Table Talk," there are aspects of her daughter's murder that remain unexplained, and there are signs of a larger conspiracy to cover up what truly happened when her daughter was killed.
According to Aguilar, Robinson confessed to her that he murdered Guillen on the grounds of Fort Hood, as The New York Times explains. Robinson and Aguilar then allegedly dismembered, burnt, and buried Guillen's body along a nearby river. After Guillen disappeared, a massive manhunt in the Fort Hood area commenced, during which time Guillen's remains were recovered. Evidence found at the scene linked Robinson to the crime. Before charges could be brought against him, though, Robinson shot himself. Aguilar is now indicted on several charges, such as evidence tampering and acting as an accessory to the crime. As Gloria Guillen told Estefan, though, there's evidence suggesting that's not the whole story.
Dark secrets are concealed at Fort Hood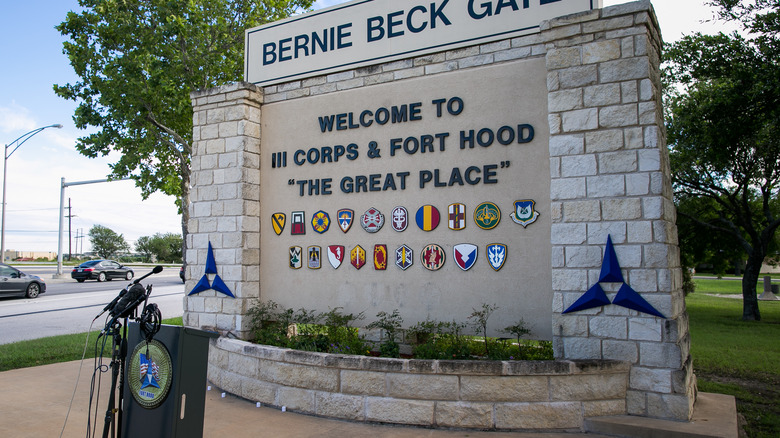 Drew Anthony Smith/Getty Images
According to Gloria Guillen, her daughter confided to her that there were not only sexual harassment issues at Fort Hood but also a suicide problem. In the aftermath of Vanessa Guillen's death, an investigation was ordered into the conduct and supervision on the base, as The New York Times elsewhere notes. Based on further reporting from The New York Times, as of 2020, more soldiers stationed at Fort Hood had died by homicide than had died in combat. Further fatalities linked to the base were from suicide and other preventable accidents, with a long list of sexual harassment complaints and other forms of misconduct.
On "Red Table Talk," Gloria explained (via TooFab) that Vanessa, who always dreamed of joining the army, told her how bad things were at Fort Hood. Her mother said Vanessa also reportedly had sleeping and eating issues and began to lose weight. According to Gloria, Vanessa told her (via TooFab), "Okay I'll tell you, but don't get upset. I don't like Fort Hood. They're very bad. There has been 10 suicides," adding that there is an immense amount of pressure put on the recruits stationed there. Gloria also said her daughter confessed she was the target of sexual harassment. "There are countless women reporting it, and they just get laughed at," Vanessa reportedly told her.
If you or anyone you know has been a victim of sexual assault, help is available. Visit the Rape, Abuse & Incest National Network website or contact RAINN's National Helpline at 1-800-656-HOPE (4673).
Aguilar knows more than she lets on, according to Gloria Guillen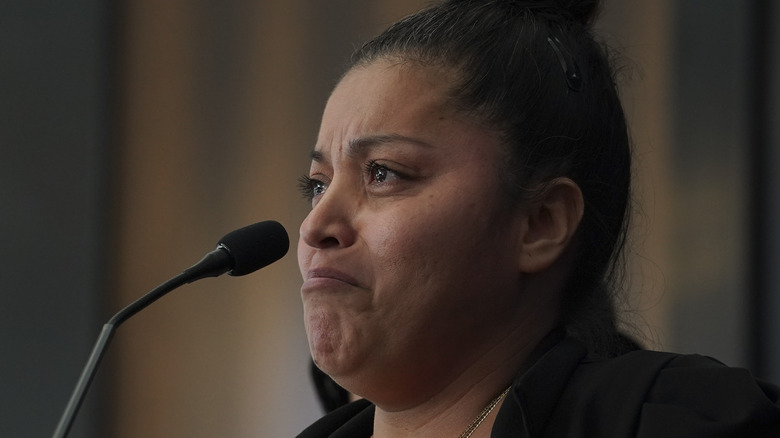 Go Nakamura/Getty Images
As Gloria Guillen (pictured) went on to claim (via TooFab), Aaron David Robinson's girlfriend, Cecily Aguilar — who confessed to authorities she helped Robinson dispose of Vanessa Guillen's body and said that Robinson admitted to her that he killed her — knows more about what life is like on Fort Hood than she admits. Robinson allegedly killed Vanessa with multiple hammer blows to the head, and Gloria feels a crime scene like that could be cleaned up quickly by just one man. Gloria told Gloria Estefan that an anonymous source said security cameras were turned off the night of Vanessa's murder. There's also some question as to how Robinson eluded authorities on the base — even though he was under suspicion for the crime — and killed himself (per The New York Times).
According to Gloria, that source told her (via TooFab), "Your daughter was kidnapped on orders from higher up. There is something very wrong going on in here.'" According to Gloria, many women have been raped there. "My daughter was killed because she knew something very big was going on at the base," she said. Despite what Aguilar told the authorities and another inmate in a voluntary confession, she pleaded not guilty on all charges prior to her indictment and made an effort to have her confession thrown out, as Texas news outlet ABC13 reports. As a result of the federal investigation into Fort Hood, 14 army officials were either fired or suspended, according to a New York Times report.
If you or anyone you know is having suicidal thoughts, please call the National Suicide Prevention Lifeline​ by dialing 988 or by calling 1-800-273-TALK (8255)​.