What We Know About The University Of Virginia Shooting Suspect So Far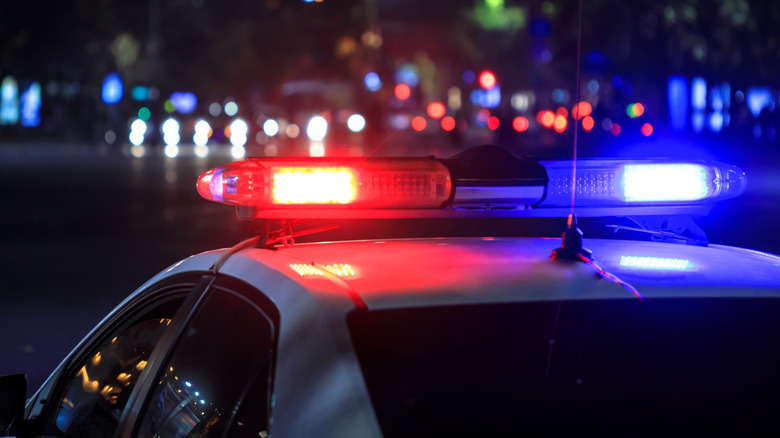 Daniel Tadevosyan/Shutterstock
On November 13, 2022, at around 10:30 p.m., five college students were shot on the University of Virginia campus (via The New York Times). The students were coming home from a class field trip to see a play when they were attacked. Three victims — D'Sean Perry, Devin Chandler, and Lavel Davis Jr., all football players at UVA — died following the shooting. The additional two victims are currently hospitalized while receiving treatment and have not yet been identified, according to NBC News.
Shortly after the shooting took place, UVA initiated a campus-wide lockdown while police initiated a manhunt for the shooter. By the morning of November 14, the lockdown had been lifted, and the suspected shooter taken into custody. Identified as Christopher Darnell Jones, he was a 22-year-old student at UVA and a former football player himself. It's not yet clear what Jones' motives were for the shooting or whether they were related to his own brief stint on UVA's football team. However, there is ample information about Jones' early home life online, which further raises questions about his intentions.
Who is Christopher Darnell Jones?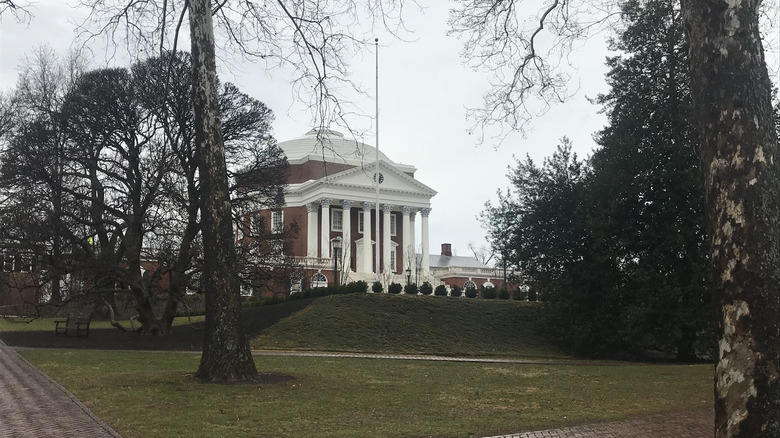 Navigatethedream/Getty Images
Christopher Darnell Jones is the son of Margo Ellis and Christopher Jones Sr., according to a biography of him published by UVA's football team. He has three siblings: Eliza, Darrius, and Varian. As a child, Jones lived in a dangerous area in Richmond, Virginia, and was often in charge of caring for his younger siblings, according to The Washington Post. An academic high achiever, Jones was sometimes bullied and often got into fights at school. However, his record from high school looks like that of a model student: In addition to good grades, Jones was part of several honor societies and played football.
When Jones was in high school, he moved in with his grandmother after having a falling out with his mother, The Washington Post reports. Jones' grandmother supported her grandson and was present for his graduation from high school before sending him off to UVA. At UVA, Jones was listed on the football roster for his freshman year, though he never played in any games.
The shooting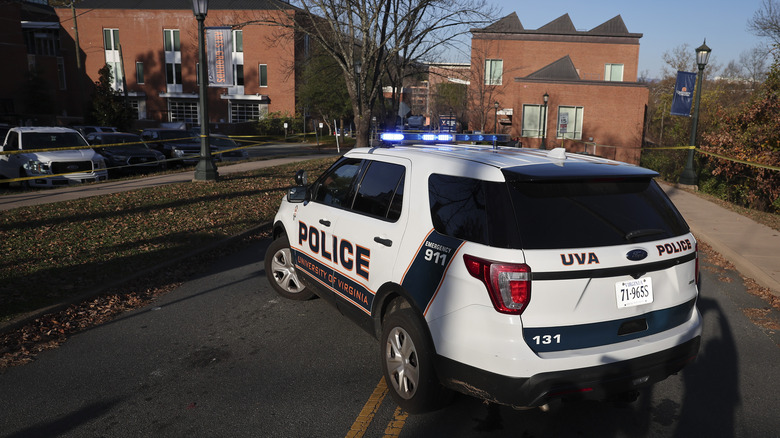 Win Mcnamee/Getty Images
However, during his time at UVA, Christopher Darnell Jones had multiple run-ins with the police. He was investigated for a hazing incident, according to The Washington Post. He was also the subject of a threat assessment after he mentioned having a gun, and he faced a concealed weapons violation for an off-campus offense. Still, it's not entirely clear how these incidents may or may not connect to the mass shooting that occurred on November 13.
While information is still being released about the deadly shooting itself, it's now known that Jones was part of the field trip to see the play and was on the bus when he pulled his weapon (via NBC News). Now in custody, Jones is facing three charges of second-degree murder and three charges of using a handgun in the commission of a felony.
Though the University of Virginia campus is out of lockdown, classes have been canceled on Monday as students, parents, and families grieve the loss of the deceased.