What Happened To The Unabomber's Pen Pal, Juan Arreola?
In a remote wooded location outside of Lincoln, Mont., Theodore "Ted" Kaczynski lived a secluded life, mostly cut off from modern society. The 10x12 foot cabin he lived in for over two decades had no phone, running water, or electricity. Kaczynski lived off the land, hunting and gathering for sustenance, skinning and cooking the squirrels and rabbits he captured on an open fire in front of his home.
When the FBI raided Kaczynski's cabin in April 1996, they found a cluttered, one-room dwelling crammed with books, journals, and various papers written by their suspect. By all accounts, it appeared to be the home of a man who lived a solitary life with little contact with the outside world. Per the Independent Record, photos showed a filthy hovel littered with trash and debris.
Among the survival gear, food items, and bombmaking equipment, agents made an interesting discovery. Kaczynski possessed many letters sent to him in Spanish, prompting an investigation into who was the only person to correspond with the domestic terrorist. Agents were quickly able to identify the Unabomber's pen pal as a man named Juan Arreola, an elderly man living in Ojinaga, Mexico (per the Los Angeles Times). As the case developed, the Bureau discovered an unlikely friendship between one of the most notorious domestic terrorists of the 20th century and a farmhand that lived across the border some 1,600 miles away.
Arreola became aquainted with Kaczynski through the Unabomber's brother
In 1984, Arreola was hired by David Kaczynski to construct a cabin in Terlingua, Texas, just across the U.S.-Mexican border from where Arreola lived with his wife and three children. A friendship developed between David and Arreola, as the Unabomber's younger brother paid Arreola for various tasks on the property. Their trust and friendship grew, with David even allowing Arreola to use the Terlingua property as his U.S. mailing address (per The Baltimore Sun). 
Arreola never met Ted Kaczynski, but at David's insistence, he wrote to his new friend's estranged brother. David knew that Ted spoke Spanish, perhaps providing a communication outlet for Kaczynski while giving Arreola someone else stateside to befriend. The New York Times reports that from 1988 until shortly before Kaczynski's arrest by the FBI in 1996, the two wrote back and forth some 50 times.
The letters that there were only a few letters that the FBI was able to retrieve from Arreola. Less than half a dozen of them were saved over their seven-year correspondence. In the ones they were able to read, Kaczynski detailed his life of seclusion, poverty, and distrust of American institutions. He also expressed his interest in the legendary Mexican revolutionary Pancho Villa (per The New York Times). Along with the letters, Kaczynski would sometimes send gifts for Arreola's children. One, a hand-carved cylinder crafted by Kaczynski, was used by the Arreola children to hold their pencils.
Arreola feared his association with Kaczynski would interfere with his family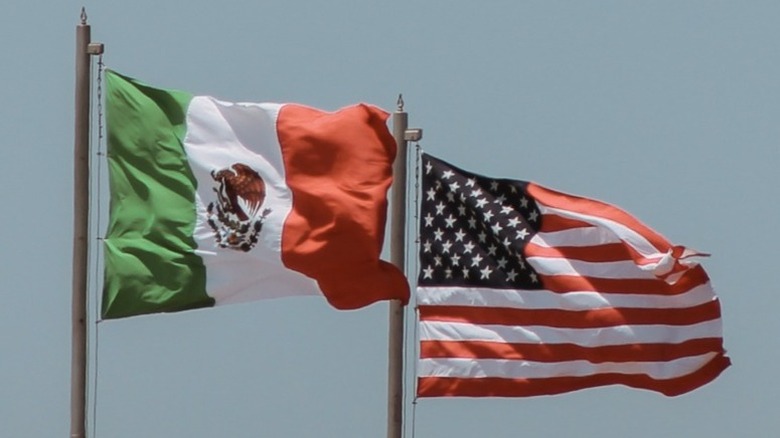 Javier Plascencia/Shutterstock
The communication between Ted Kaczynski and Arreola ended shortly before the FBI arrested the Unabomber in April 1996. In the aftermath of the arrest, FBI agents traveled to visit and interview the man who was Kaczynski's pen pal. In an interview with the Los Angeles Times, Arreola expressed sincere concerns over how his association would impact the lives of his family, especially his children. 
Many of the millions of Mexicans who live near the U.S./Mexican border rely on U.S. jobs to keep food on their tables. Arreola desired to have his children be able to one day stay in the United States; something that he told the media outlet that was now in jeopardy. Having already once been deported from the U.S. in 1993, Arreola's wife and children were unable to obtain immigration papers to allow them lengthier stays. Of this, Arreola stated, "It made me sad. These are things I don't like because these are things that can go to your head. I have my children and I want them to be able to go to the United States. But maybe now they won't be able to go."
Even after an immigration official assured him that his U.S. papers that allowed him to work in the country were not in jeopardy, he still held on to that fear. Arreola didn't live long after Kaczynski's arrest. The New York Times reports that Arreola died in his home after suffering from a stroke in December 1997.