The Tragic 1975 Death Of Larry Bird's Father
Getty Images/Getty Images
Boston Celtics forward Larry Bird dominated the court throughout the 1980s, leading his team to three NBA titles while racking up game stats that would eventually tally up to an impressive basketball career. After winning the 1980 NBA Rookie of the Year Award, Bird never let up. Over his 13 years in the sport, Bird was a 12-time All-Star, earning the All-Star Game MVP Award in 1982. A three-time NBA MVP winner, Bird also took home the top player award during the NBA finals in 1984 and 1986 (per Basketball Reference).
Bird's wizardry in the NBA allowed him to represent the United States in the 1992 Summer Olympics in Barcelona, where he helped lead Team USA to an Olympic gold medal.
Bird's basketball feats were recognized in 1998 when he was elected into the NBA Hall of Fame. Though his career as a player was over, Bird continued to play an active role in the sport as head coach of the Indiana Pacers for three seasons from 1997 to 1999. He was the NBA Coach of the Year in 1997 (via Stats Crew).
But Bird's life as a young adult began on a tragic note. The unexpected death of his father, Joe Bird, shook the then-amateur athlete to his core. But despite becoming fatherless at 19, Bird pushed forward, making a name for himself in the NCAA several years later before joining the Celtics and becoming cemented as an NBA legend.
Bird's father died by suicide when Bird was 19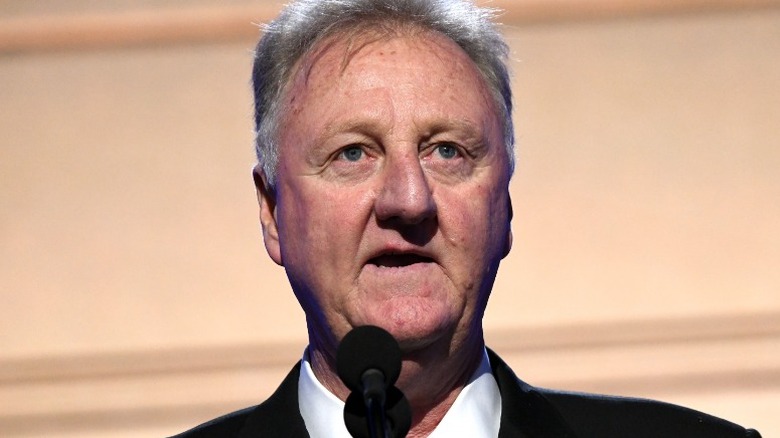 Michael Kovac/Getty Images
Bird was born to Joe and Georgia Bird in 1956. Fourth in line of six children, Bird was raised in a working-class family in West Baden, Indiana. Georgia worked in restaurants while Joe was employed in construction. Indianapolis Monthly tells us that Bird was close to his father growing up, and the two embarked on countless fishing excursions together. 
Joe Bird was a veteran of the Korean War, and it's speculated that his time in the military may have taken its toll on the father of six. He was a heavy drinker and often unemployed. This put strain on the family's finances, making Bird's mom borrow money for groceries. Bird and his siblings were expected to work, and he toiled away for 40 hours a week when he was 13.
Bird grew into a talented high school basketball player and was sought after by various universities for his abilities on the court. But Bird knew that he couldn't afford to pay the gap between what the scholarships offered and what his tuition bill would be. He took time away to work and save money, with the intention of attending a year later.
It was during this period that Bird began to play for an amateur basketball club in the AAU. It was during his team's championship-winning run that season that he received the devastating news of his father's death.
Bird's parents had recently divorced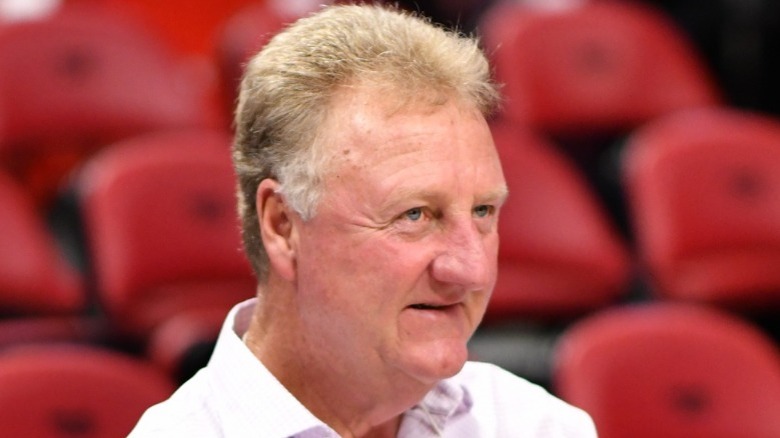 Mark Brown/Getty Images
Joe and Georgia Bird had divorced not long before Joe died by suicide. Indianapolis Monthly reports that Georgia received a call from her ex-husband on February 3, 1975. Joe Bird was late in his child support payments, meant to help provide for Bird's two youngest brothers. After telling Georgia that the family would be better off without him, he hung up the phone, and shortly after, he died.
Dan Moore, Bird's coach at the time, recalled how the team won the championship soon after Bird received the news of his father's death. Moore points out a team photo taken after the victory, emphasizing how Bird stood out among his teammates. He says it was telling that Bird had experienced a tragedy, noting that the team had "... just won a state championship, and he's not smiling or nothing."
Though Bird was burdened with the stresses of the future and his father's death, he didn't allow these obstacles to block him from basketball. Of that time in his life, he recalled, "I sort of always felt my dad gave up on not only himself, but us kids. I still had two younger brothers at home and a mom. That's the way I looked at it then, and the way I look at it now. I handled it pretty good, I think."
If you or anyone you know is having suicidal thoughts, please call the National Suicide Prevention Lifeline​ by dialing 988 or by calling 1-800-273-TALK (8255)​.