Why The World Cup Is Reminding Some People Of The Doomed Fyre Festival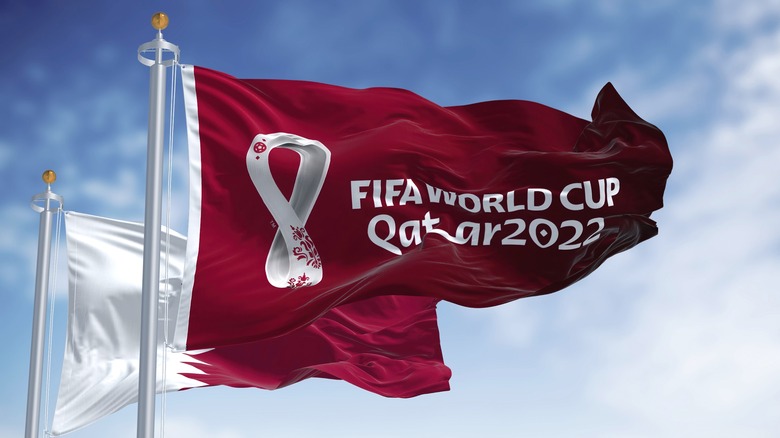 rarrarorro/Shutterstock
From the beginning, the decision of the Fédération Internationale de Football Association (FIFA) to hold the 2022 World Cup competition in Qatar was greeted with controversy. Early on, the pushback on the location choice pointed toward Qatar's human rights record and other social policies in the country, as Reuters reports. In the days leading up to the opening ceremonies, though, pictures emerged online that some Twitter users said reminded them of the ill-fated 2017 Fyre Festival — a fraudulent Bahamian luxury music fest for which tickets were sold, but the festival never happened, according to BBC News.
As The New York Times writes, when it was announced that the 2022 World Cup would take place there, Qatar was ill-prepared to host an event so large. Qatar is the smallest country to which the World Cup has been awarded, with some 1.5 million spectators expected and only about 130,000 hotel rooms for those attendees and athletes to choose from. Still, World Cup planning officials in the Persian Gulf country said things would be ready for both visitors and athletes once the competition got started. They promised new construction and alternative places to stay, like large cruise ships docked in the nearby harbor in Doha. They would also build "fan villages," described as camping or cabin-style accommodations.
Fyre Festival attendees were also promised luxury accommodations
As Insider notes, 2017 Fyre Festival ticket buyers were also promised tents, domes, and villas to stay in. But once the crowds arrived, those facilities were described by some as more so resembling a tent city, with some tents still waiting to be assembled. There was also inadequate food and water, and not enough bathroom facilities. As USA Today For the Win explains, the promised World Cup "fan villages" seemed nice, too, based on how they were promoted.
But once attendees were on hand to witness how the villages turned out, fans used similar terminology on Twitter to those who attended the Fyre Festival to describe what they saw. As reported by For the Win, the average night in one fan village billed as Fan Village Al Khor reportedly cost $424 per night. But in reality, they had nothing more than beds and nightstands in them. And what's worse, the tents themselves proved unlikely to stand up to a strong Qatari wind.
The World Cup will be 'Fyre,' according to one Twitter user
One Twitter feed from American Hooligans put it well when they tweeted: "This WC [World Cup] is going to be Fyre." The Twitter feed was accompanied by World Cup footage of another fan village in which rows of sparsely-appointed, industrial-looking tents were shown that appeared more like a tent city erected after a natural disaster than a high-end luxury getaway. After viewing the footage, UnderdogSP responded in a tweet, "A stiff wind will be the demise of this World Cup."
Once on-site in Qatar, British sports writer Ian Herbert also tweeted pictures from two different fan villages, neither of which seemed ready to greet guests with similar long rows of nondescript structures with garbage and debris strewn between them. In one tweet, Herbert wrote: "Accommodation is a real concern. Fan 'cabins' still very much under construction at the site I saw. A vast, soulless complex only half built, with row upon on row [sic] of these constructions. Unclear what food facilities. Private contractors building them."