The Hallmark Company Is Older Than You Might Expect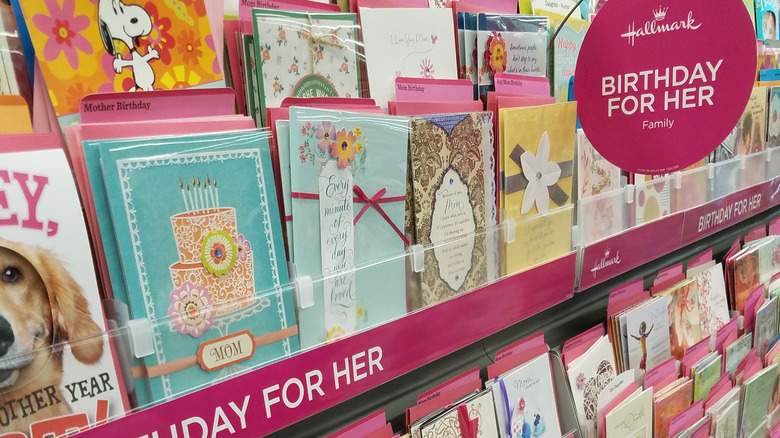 Khairil Azhar Junos/Shutterstock
In our era of emails, instant messaging, and social media, it might seem like the traditional paper-and-envelope greeting card could soon be endangered. To keep up with the times, in 2021 Hallmark launched a new way to send video greeting cards, per the official Hallmark website. Even so, according to a 2020 report from the greeting card trade organization, the Greeting Card Association, more than 6 billion greeting cards are sold each year in the U.S., and those sales generate between $7 billion and $8 billion in revenue.
Also according to ThomasNet, a leading company that links buyers with manufacturers, the lion's share of that money still goes to Hallmark Cards Inc., per ThomasNet's analysis of the greeting card industry. In that report, ThomasNet lists Hallmark as the most successful of all American greeting card companies. With that in mind, it seems that Hallmark cards, in one form or another, are unlikely to disappear soon. That's not terribly surprising — a company that's been around as long as Hallmark has must know something about corporate longevity.
The company's roots go back to 1910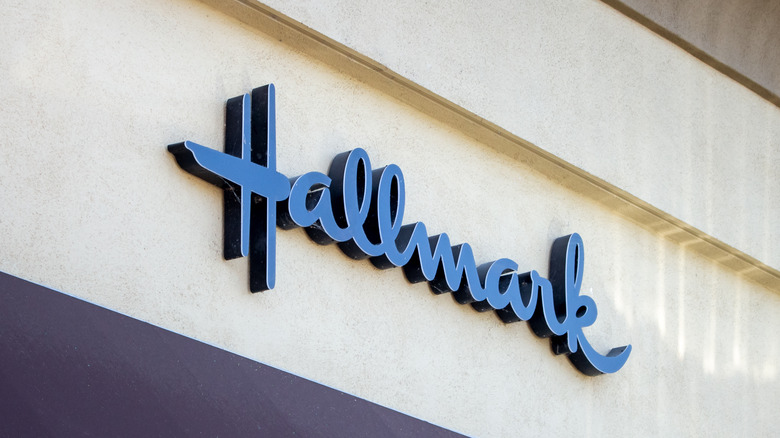 The Image Party/Shutterstock
As the official Hallmark website explains, the company that would one day become Hallmark Cards Inc. was founded in 1910 by Joyce Clyde "J.C." Hall in Kansas City, Missouri. At first the company specialized in picture postcards. He then designed and manufactured more private greeting cards with envelopes, the precursor of today's Hallmark cards. The new products were themed around holidays. By 1923, Hall and his brothers Rollie and William founded Hall Brothers Inc., or the Hall Brothers Company, as it read on the back of each greeting card they sold. Around that same time, Hall pushed for Hall Brothers Company to be changed to "A Hallmark Card" as a type of marketing.
As the Hallmark card website goes on the note, by the 1950s, the company was highly successful. Around this same time the business made its first foray into multi-media, sponsoring in 1951 an NBC production of "Amahl and the Night Visitors," the first original opera written specifically for television (per The New Yorker). It was a testament to the ubiquity at that point of the Hallmark brand and company. It was the first of what would become "The Hallmark Playhouse," later the "Hallmark Hall of Fame," a TV anthology series launched by Hallmark (via IMDb). By 1954, the change was complete: The Hall Brothers Company was then officially known as Hallmark Card Inc (per Britannica).
Hallmark acquired Crayola in the 1980s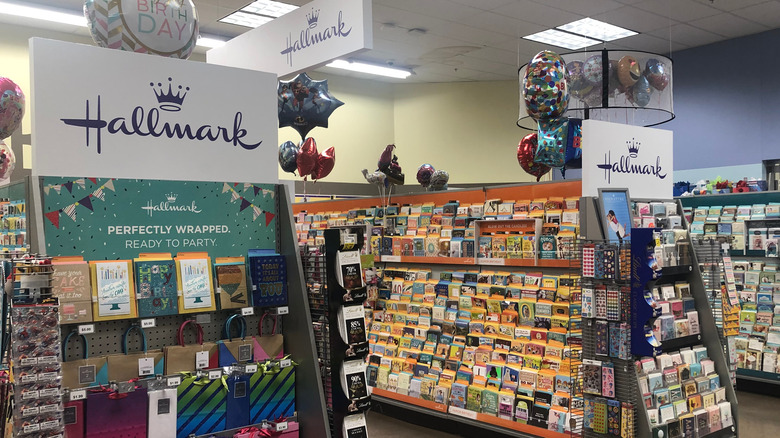 Sara Danielle/Shutterstock
J.C. Hall died in 1982. Don J. Hall Jr., J.C.'s grandson, became chairman, and Irvine O. Hockaday, Jr. took over as the company chairman and president. In this era, the savvy business sense that J.C. Hall displayed when he steered his company toward the TV sponsorship opportunity with NBC in the 1950s continued. It was in the 1980s when Hallmark acquired Crayola and took further steps to diversify their holdings and broaden their market share, per the Hallmark website. 
A prime example of Hallmark's willingness to adapt came in 2001 when Hallmark launched the Hallmark Channel (via The New Yorker), now under the umbrella of Hallmark Media, which encompasses Hallmark Channel, Hallmark Movies & Mysteries, Hallmark Drama, and the streaming service Hallmark Movies Now (per Hallmark). All the while, Hallmark continued to adapt and grow in areas of e-commerce and social media, without losing sight of their most well-known product, greeting cards.
And it seems now like the old-school paper greeting card business could be growing, especially among millennial and Gen Z consumers, according to a report from Marie Claire. Speaking with the publication, Winnie Park, the CEO of Paper Source, a leading paper goods retailer, said, "People may be surprised ... but our number-one customers for paper goods are actually millennials. They are our fastest growing segment."