Where Interview With The Vampire Author Anne Rice Is Buried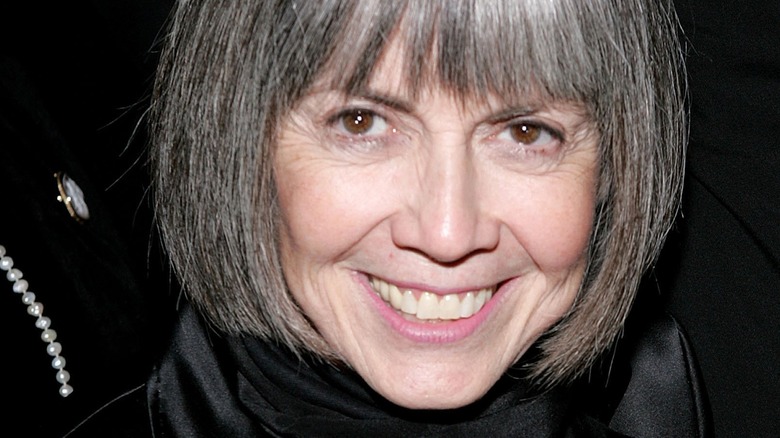 Paul Hawthorne/Getty Images
Anne Rice first captivated literary audiences with the publication of the 1976 bestseller "Interview with the Vampire" before going on to sell more than 150 million combined copies of the more than three dozen novels she penned (via NOLA). A native of New Orleans, Rice used the Crescent City as a backdrop in her writings that was as romantic as it was eerie. Her vivid descriptions of New Orleans over the centuries read almost like firsthand accounts of a person who had experienced life in the city throughout history, adding a strong dose of realism to her works.
Life took Rice to Texas and then to San Fransisco, where she wrote a short-story version of "Interview with the Vampire," which she later expanded into her first novel (per Biography). Eventually, she and her husband Stan Rice relocated to the city she was born in.
Notably, Rice's impact on literature far exceeds her influence on the horror genre. Though her many novels and short stories center around supernatural creatures, her Catholic roots and her personal philosophies enabled her to weave religious imagery and historic realism into modern worlds in which vampires, witches, and werewolves walk the earth as creatures that are sometimes as sympathetic as they are powerful.
Though the many characters she created will live on as long as there is the written word, Rice was just as mortal as the rest of us. Fans interested in paying their respects to the late author can visit her place of burial in the same city she so vividly portrayed in her books.
Anne Rice was laid to rest in New Orleans
Anne Rice died on December 11, 2021, after suffering a stroke. She was living in Rancho Mirage, California, but her final resting place was not going to be on the West Coast (per CNN). Rice was interred in the family mausoleum in New Orleans, which some might say is a fitting location for a woman the media dubbed "The Queen of Goth" in the 1980s. The Rice Mausoleum is tucked away in the Metairie Cemetery, minutes from the heart of New Orleans. The stone building's three steps lead to a single, grand doorway, beset with a pair of tall, marble columns on either side (per Atlas Obscura).
Beyond the ornate grillwork on the door is where Rice was laid to rest. Notably, she was not the first member of her family to be buried inside. Stan Rice, who was also a writer, was Anne's husband of more than four decades when he died in 2002. In fact, three poems written by Stan are etched into the left side of their shared mausoleum.
Rice had her daughter's remains moved to the mausoleum
In 1972, Anne Rice and her husband suffered a tragic loss when their young daughter, Michele, died two years after being diagnosed with leukemia (via Rolling Stone). The death of Michele sent the married couple into a long period of mourning, but it was also a catalyst for Rice's creative journey. Speaking to Rolling Stone, Rice explained that losing a child at such a young age inspired a lot of her writing, notably her first novel. The young vampire within those pages, Claudia, was based on Michele, perhaps as a way to immortalize the daughter Rice loved and missed.
According to the author's official Instagram page, Rice and her husband could not afford much when Michele died at age 6. She was buried in an unmarked grave in California, where she rested until after her father's death in 2002. After the construction of the Rice Mausoleum, Michele's remains were disinterred and transported to rest alongside him in the Metairie Cemetery structure, where those of her parents now rest as well.