Kurt Cobain Damaged His Body In Two Different Ways From Performing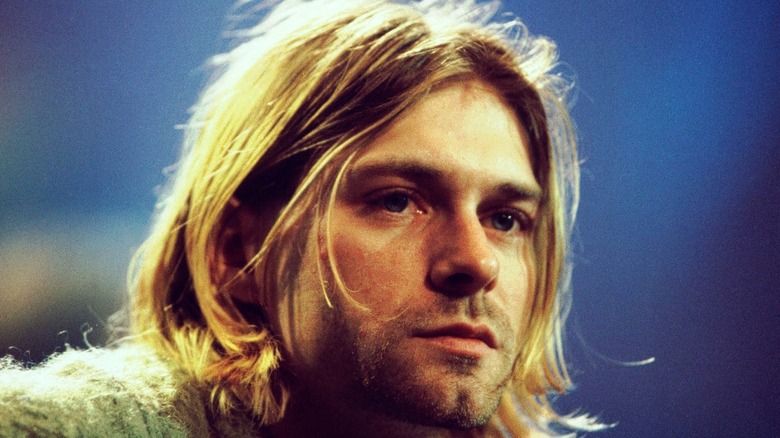 Frank Micelotta Archive/Getty Images
We may receive a commission on purchases made from links.
It's been nearly 30 years since the music world received the tragic news of the death of Nirvana frontman Kurt Cobain. His April 5, 1994 death by suicide was the final chapter in the life of a complicated, if not sometimes controversial, pioneer in the music industry (via History).
Rising quickly to fame following the release of their sophomore album "Nevermind," Nirvana's music flooded the airwaves across the globe. Their successes owed in part to their memorable music videos being played in heavy rotation on MTV, and Nirvana seemed to exist in every household where there was a teenager and cable TV in the early 1990s. 
Platinum records, worldwide fame, and the adoration of millions of fans might make the life of a rock star seem like a dream come true to aspiring musicians. But for Cobain, the touring and the live performances were beginning to take a serious toll on his body. 
In the newly released book "Kurt Cobain: The Last Interview and Other Conversations" published by Melville House, editor Dana Spiotta compiled a series of interviews with members of Nirvana and one-on-ones with the frontman himself. In one July 1993 interview with "Guitar World's" Jon Savage, Cobain gives readers an insight as to just how much his body was suffering from his art, as well as the devastating methods he used to quell the pains that never seemed to end until he ended his life nine months later.
If you or anyone you know is having suicidal thoughts, please call the National Suicide Prevention Lifeline​ by dialing 988 or by calling 1-800-273-TALK (8255)​.
Cobain talked in detail about his painful stomach problems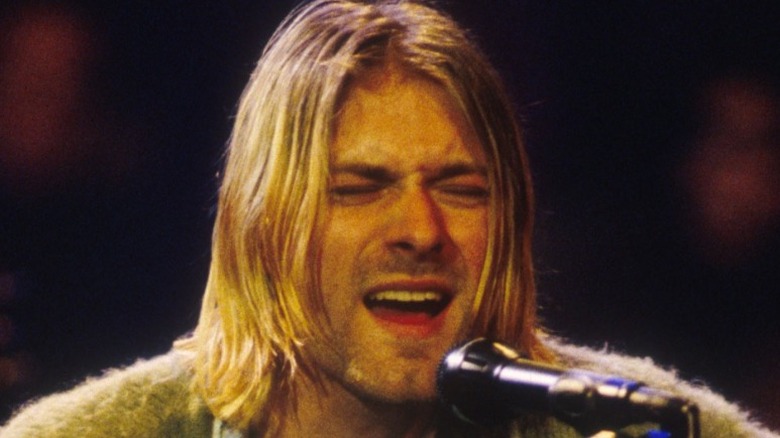 Frank Micelotta Archive/Getty Images
As is the case with many rock star interviews, Savage's conversation with Cobain followed a predictable path to a discussion on Cobain's drug use. He tells Savage that following the band's 1992 European tour that he had been dealing with drug addiction. This prompted Savage to ask how Cobain began to use his drug of choice, heroin. Cobain revealed that he wasn't using this highly addictive and potentially deadly drug to chase a high. Rather, he began using it because of severe pain.
Admitting that he had an undiagnosed stomach ailment for five years or more, Cobain discussed how he tried everything he could think of to quell the pain before turning to heroin (via Kurt Cobain: The Last Interview). "Change of diet, pills, everything ... exercise, stopped drinking, stopped smoking — and nothing worked. I just decided that if I'm going to feel like a junkie every f****** morning and be vomiting every day, then I may as well take a substance that kills the pain."
Later in the interview, Savage remarks that Cobain uses a variety of different vocal styles in the band's recordings. When asked by Savage how he sings, Cobain replies "right from the stomach" where the pain is located. He maintains that even though endoscopes have shown red irritation in his stomach's lining, what he is experiencing is psychosomatic. "It's all from anger. From screaming," he explained.
He continues by adding that music has damaged his body in two ways — inflammation of the stomach and damage to his back.
If you or anyone you know needs help with addiction issues, help is available. Visit the Substance Abuse and Mental Health Services Administration website or contact SAMHSA's National Helpline at 1-800-662-HELP (4357).
Cobain's performances also hurt his back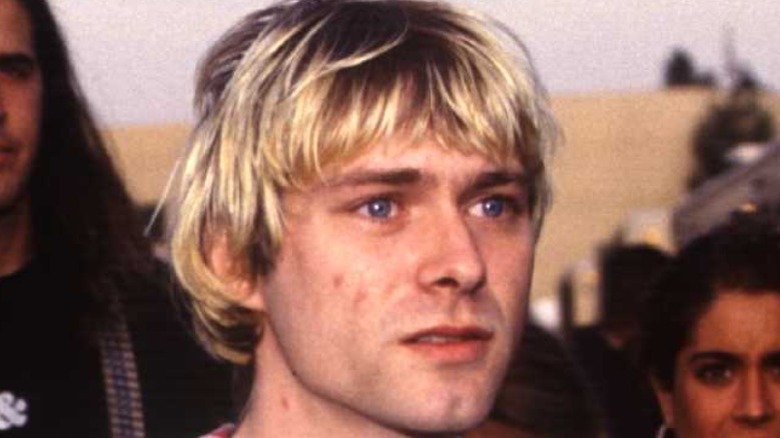 Paul Harris/Getty Images
Cobain disclosed to Savage that he had scoliosis since he was in his early teens. Scoliosis, a curvature of the spine that is most commonly noticed just before the onset of puberty, can be a painful condition if not treated. Cobain admitted that his guitar playing since that age has further exacerbated his condition, noting that the weight of his guitar hasn't done his body any favors (per "Kurt Cobain: The Last Interview"). 
After Savage remarks that this condition can be treated, Cobain tells of going to occasional appointments with a chiropractor but seemed to almost revel in the fact that his body was in so much pain. According to Cobain, his scoliosis made him hurt all the time but noted that it "... really adds to the pain in our music. It really does. I'm kinda grateful for it."
No matter the root cause of the various pains the young musician was enduring, his method of coping created a continuous battle he fought until his death. Cobain's addiction to heroin may well have started as a way to control his physical suffering, but in the end, the addiction took its toll on him. After a failed suicide attempt in March 1994 in which he washed down 50 Rohypnol pills with champagne, he was admitted to a drug rehab facility (via All That's Interesting). Several days into treatment, Cobain scaled a wall and fled, returning to his Seattle home where he barricaded himself in his greenhouse. After injecting himself one final time with his drug of choice, he penned one of the most analyzed suicide notes in history and ended his life with one pull of his shotgun's trigger.