Was There A Real Frances Farmer?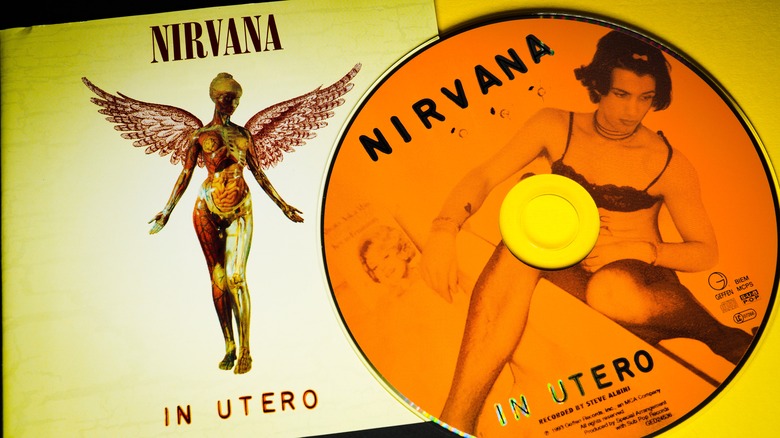 Stefano Chiacchiarini '74/Shutterstock
We may receive a commission on purchases made from links.
Though Nirvana's subsequent releases never came close to the huge successes of "Nevermind," they still had multi-platinum albums in their future. Their third studio album, "In Utero," was met with both critical acclaim and commercial success. It would go on to sell nearly 8 million copies, vaulting to the No. 1 position on the Billboard Top 200 chart (per Billboard).
The singles "Heart Shaped Box" and "All Apologies" received a healthy amount of airplay, with the former having a memorable music video to accompany it. "Serve the Servants" and "Penny Royal Tea" fill in the gaps, bringing the band's sound back to their pre-"Nevermind" roots. 
Though Cobain penned many of the band's songs based on his own life and experiences, fans might be surprised to learn that one track on "In Utero" is based on a real person. "Frances Farmer Will Have Her Revenge on Seattle" is a sometimes overlooked song on the record, but one that has had some ask questions regarding its background.
In a 1993 interview with German music journalist Edgar Klüsener, frontman Kurt Cobain was asked a question in reference to the identity of the woman in the song (per Kurt Cobain: The Last Interview," published by Melville House, 2022). Cobain revealed that Frances Farmer was indeed a real person, a film and stage actress who was subjected to horrible exploitation at the hands of her family, the film studios, and ultimately the mental healthcare system that existed in mid-20th century America.
Frances Farmer was an actress who was always mired in controversy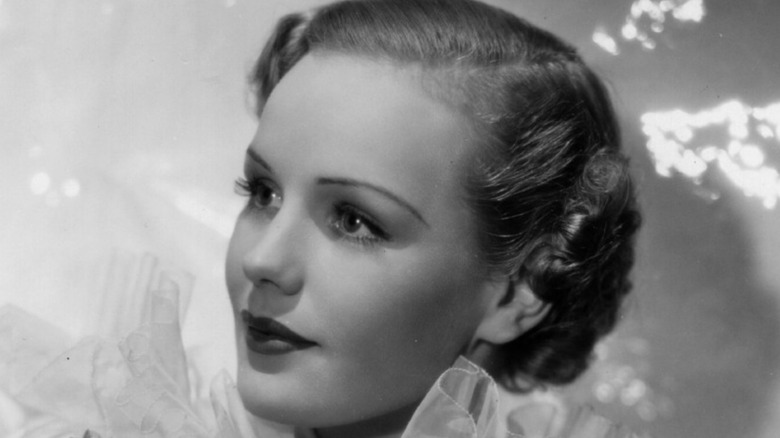 Hulton Archive/Getty Images
Frances Farmer burst onto the Hollywood scene shortly after graduating college in 1936, landing roles in four films in her first year making movies for the big screen (per The Washington Post). Her first B-movie characters were memorable, prompting Hollywood columnist Louella Parsons to proclaim Farmer as "bigger than Garbo," signaling that Tinseltown might have a mighty force to contend with. The 1936 film "Come and Get it" was her first starring role in a major picture, where she played two roles on screen opposite star Eddie Arnold (per IMDb).
Her rise to the peak of her career during the 1940s found her entrenched in several controversies. The Washington Post reports that Farmer was always a thorn in the side of the studio who held her contract. Paramount brass would be angered that Farmer refused to change her name to something "more glamorous," and took issue with the image she presented. Instead of flashy clothes and makeup, Farmer dressed as a regular person, perhaps making Paramount fear that she would shatter their image as a star maker.
The pressures of stardom might have begun to wear on Farmer as she began to use copious amounts of alcohol as a release from her busy screen and stage schedule. She was arrested and charged with a DUI in 1942, having given the arresting officer a piece of her mind that was riddled with her favorite four-letter words. This arrest was the beginning of a downward spiral for the actress.
If you or anyone you know needs help with addiction issues, help is available. Visit the Substance Abuse and Mental Health Services Administration website or contact SAMHSA's National Helpline at 1-800-662-HELP (4357).
Farmer paid a cruel price for her failing mental health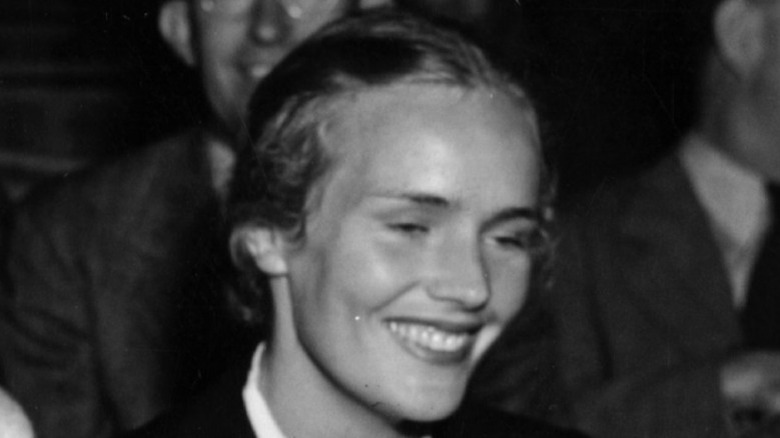 Hulton Archive/Getty Images
Farmer's heavy drinking and increasingly erratic behavior landed her in and out of psychiatric hospitals over the next seven years. In attempts to cure her of her deteriorating mental state, Farmer was administered treatments that have been long since discredited — insulin shock and hydrotherapy were all a part of her mental health plan. The Washington Post reports that Farmer was sexually assaulted while institutionalized as well. 
After her release from the Western Washington State Hospital at Steilacoom, she attempted to make a comeback. Performing on stage again, she found herself in a new groove. But this new start to her career was a faint glow compared to the once bright star she held 15 years earlier. IMDb reveals that Farmer was only able to muster a handful of film and TV credits until she retired from the spotlight in 1959.
Farmer moved to Indianapolis soon after and tried her hand at theater there. It was a bust. She found work as an afternoon host on a TV network, her face seen daily until just before her death of esophageal cancer in 1970.
In the Klüsener interview, Cobain talked about reading the 1978 biography of Farmer, "Shadowland," and how her treatment by the mental health system made him sympathize with the actress, inspiring him to write the song in her memory (via Kurt Cobain: The Last Interview," published by Melville House, 2022).
If you or anyone you know has been a victim of sexual assault, help is available. Visit the Rape, Abuse & Incest National Network website or contact RAINN's National Helpline at 1-800-656-HOPE (4673).