The Conspiracy That Links A New Orleans Mafia Boss To The JFK Assassination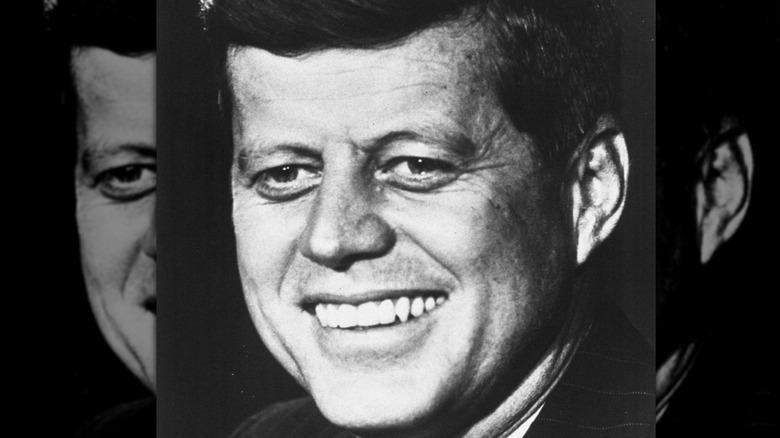 National Archives/Getty Images
The 1963 assassination of U.S. President John F. Kennedy shocked and saddened the nation. Lee Harvey Oswald was arrested for the crime, but before he could stand trial, Jack Ruby shot and killed him. The federal investigative committee known as the Warren Commission concluded that Oswald had acted alone, but to this day, a number of unconfirmed conspiracy theories surround the death of Kennedy, who killed him, and what may have really happened on that day in Texas, as Britannica writes.
One such conspiracy theory says New Orleans mafia boss Carlos Marcello not only had reason to kill Kennedy, but had links to both Dallas and Oswald, according to a 1979 House Select Committee on Assassinations (HSCA) report (via All That's Interesting). As a 1993 report from The Washington Post explains, Marcello had reason to orchestrate Kennedy's murder as a warning to Kennedy's brother, Robert F. Kennedy — the Kennedy administration's attorney general.
Robert F. Kennedy was an anti-mob crusader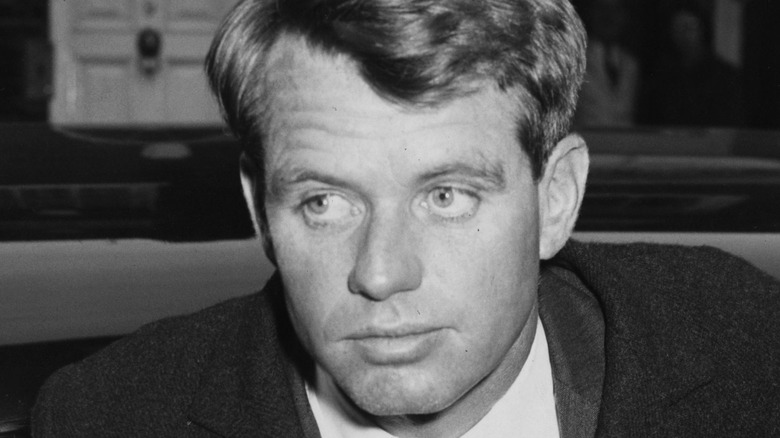 Peter King/Getty Images
According to reporting by The Washington Post, as the Kennedy administration's attorney general, Robert F. Kennedy (RFK) quickly set his sights on organized crime. In doing so, he established an organized crime section in the criminal division of the Department of Justice. Among others that fell under RFK's scrutiny was Carlos Marcello, an undocumented immigrant living in New Orleans. Marcello was born in Tunisia to Italian parents and brought to the U.S. as a young child. He never became a U.S. citizen. As an adult, Marcello was one of New Orleans' most powerful crime bosses, and he racked up a lengthy criminal record.
Throughout this period, Marcello evaded law enforcement, though he was the target of federal officials even before JFK's time in office. In the spring of 1961, RFK's team representing the Department of Justice had Marcello deported, but by November of that year, Marcello was back in the country, and reportedly angrier than ever over the federal interference. In possible collusion with two other mobsters, Santos Trafficante and Jimmy Hoffa, Marcello allegedly said (via The Washington Post), "Don't worry about that little Bobby," referring to Robert Kennedy. "He's going to be taken care of." That and other evidence led the HSCA in 1979 to diverge from the findings of the Warren Commission: Their conclusion was that Oswald had not acted alone.
Marcello had links to both Dallas and Oswald
The Marcello-Kennedy assassination conspiracy theory alleges that by killing President Kennedy, Marcello (pictured) would serve warning to the Department of Justice to back off and leave organized crime alone. Supporting that assertion, Marcello associate Edward Becker, who in the HSCA 1979 report alleged that Marcello verbally threatened Robert "Bobby" Kennedy, also said Marcello claimed that with the elder Kennedy brother out of the White House, RFK'S Department of Justice would be defanged and pose less of a threat to Marcello's criminal organization (via All That's Interesting).
Marcello also had links to a smaller mafia organization operating in Texas, and ties to Lee Harvey Oswald's uncle, who operated in Marcello's Louisiana mob circle. Oswald lived for a time in New Orleans, and Ruby, who shot Oswald before the alleged assassin could stand trial, had ties to Dallas-based mobsters. In their report the HSCA claimed Marcello had the means and opportunity to have President Kennedy killed, but the murder could not definitively be pinned on him.
Marcello died in 1993. Florida mobster and Marcello associate Santo Trafficant reportedly said on his deathbed, "Carlos [Marcello] screwed up. We shouldn't have killed John. We should've killed Bobby," according to "Mob Lawyer," a 1994 memoir from attorney Frank Ragano, a noted mafia defense lawyer from the period (per All That's Interesting).