Meet Allan Heyl, The Bank Robber Who Became A Motivational Speaker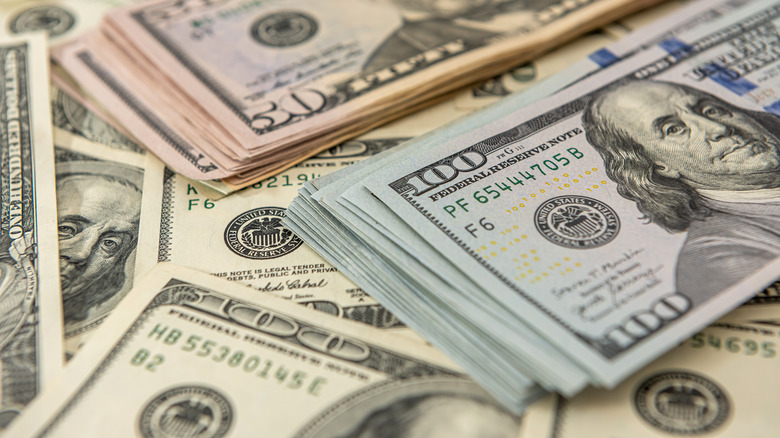 RomanR/Shutterstock
In 1973, Allan Heyl, who was living in Cape Town, South Africa, was chronically depressed when he dropped out of college, lost his job, and was about to be kicked out of his apartment. He was on a "slippery slope to some form of calamity," he recalled in an interview with SABC News (via YouTube). "I started fantasizing about the possibility of me robbing the bank," he said, and that's exactly what he did, without a gun or a getaway car. It was the beginning of a career as a bank robber that included time in one of South Africa's most notorious outfits, the Stander Gang.
In 1980, while serving time in prison, Heyl met André Stander, a former police captain who had also become a bank robber, and another career criminal, Lee McCall, according to the Saturday Star. After Stander and McCall escaped from prison in August 1983, they came back and broke out their friend Heyl three months later, and the gang went on a bank robbery spree that lasted for months but ended in two bloody shootouts, one in South Africa, the other in Florida, per Lowvelder.
'We had it all'
The three men lived it up while robbing more than 20 banks, including three within the space of less than an hour, all while hiding in plain sight in a rented house in the suburbs of Johannesburg, according to the Saturday Star and South African History Online. "It was about the thrills. We had it all, good food, fun and good sex," Heyl told the Sunday Times. But the good times weren't to last. In January 1984, police killed Lee McCall during a shootout at the gang's hideout, per Lowvelder.
Ten days later, André Stander met a similar fate. He'd traveled to the U.S. under an assumed name and died during a struggle over a gun with Fort Lauderdale police, per the Miami Herald. Heyl flew to Greece and then England with most of their ill-gotten gains but was arrested there in 1985, after pulling a series of solo bank robberies, per News24 and the Birmingham Evening Mail. He would serve nine years in a British prison before being sent back to South Africa, where he served more time for the Stander Gang crimes.
Allan Heyl becomes a reformed man
Allan Heyl was released from prison in May 2005 and became a motivational speaker. "I spent 27 years in prison," he told SABC News (on YouTube). "And I've got nothing to show for it." He spoke to young people at universities and elsewhere to warn them away from a life of crime. "He was a changed man. He did many motivational speeches in the country," his best friend Pieter Möller told News24. "He was highly intelligent, soft spoken, an introvert and an interesting person to be with ... He touched many lives."
Heyl wrote a book about his criminal exploits, "Bank Robber: My Time with André Stander," published in 2018. Part of Heyl's reason for writing the memoir was to set the record straight, especially regarding the 2003 biopic "Stander." "Why I had to write this book is to stop the lies," Heyl told the Sunday Times. "They were all lying, the film was lies, we didn't live like a Tarantino movie." Heyl died in April 2020.