How Did Dr. John Get His Name?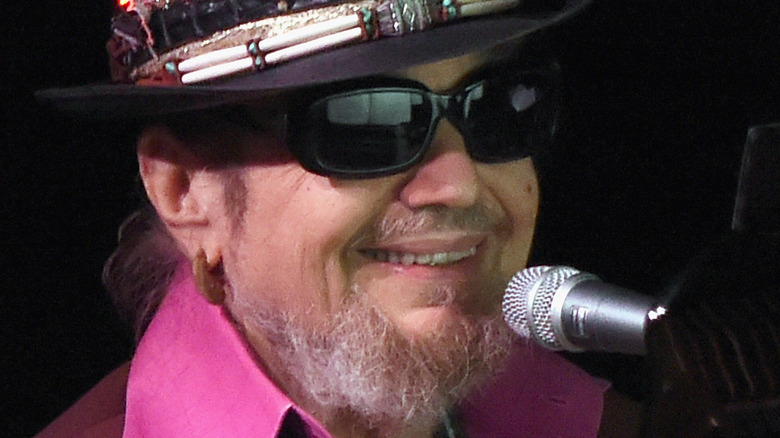 Rick Diamond/Getty Images
We may receive a commission on purchases made from links.
In 1965, Malcolm John "Mac" Rebennack left prison where he'd spent time after being busted for drug possession and headed west, according to The Guardian. The New Orleans native decided on Los Angeles as his new home. "The scene in New Orleans was dead, and a few of my old partners from New Orleans were already on the coast, doing alright," he recalled in his autobiography, "Under A Hoodoo Moon: The Life of the Night Tripper."
Once in LA, besides playing keyboards as a session musician working with Aretha Franklin, the Rolling Stones, and Van Morrison, among others, Rebennack remade himself into Dr. John Creaux aka Dr. John the Night Tripper, per The Guardian. He recorded his 1968 debut album, "Gris-Gris," with his friend and producer, Harold Battiste, also from the Big Easy, according to Variety. The album Is a mixture of blues, New Orleans R&B, psychedelic rock, and funk that leaned heavily into New Orleans voodoo imagery.
Mac becomes Dr. John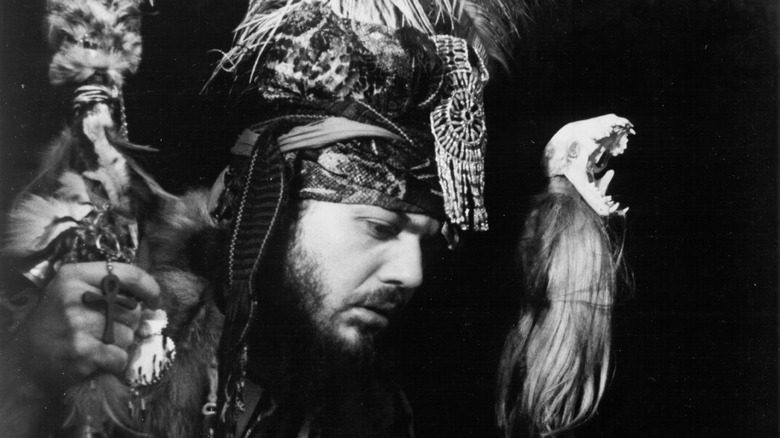 Michael Ochs Archives/Getty Images
Mac Rebennack already had a storied career back in New Orleans, working with such Crescent City luminaries as Professor Longhair, Allen Toussaint, and Art Neville, per Nitetripper.com. At that point, he was better known as a guitar player until he was shot in the finger in the early 1960s, at which time he transitioned to keyboards, per Variety.
According to The Guardian, Rebennack's music career began when he was still a teenager, although he had been steeped in music since birth, thanks to his relatives — which included a record-store-owning father and an extended family of musicians. Rebennack also spent time hanging out in New Orleans' juke joints as a kid, per "Under A Hoodoo Moon: The Life of the Night Tripper." When he took on the persona of Dr. John, his live shows incorporated even more over-the-top New Orleans voodoo imagery, as well as nude dancers and a man who would bite the heads off of chickens, per Rolling Stone. When the Band's Robbie Robertson first encountered Dr. John at a music festival in 1969, he was taken aback by his outfit, which included unusual elements such as bones and a feathered headdress. "He's got a walking stick that looks like something you perform magic tricks with," Robertson recalled in a Rolling Stone interview.
The original Dr. John
Mac Rebennack's inspiration for his Dr. John persona evidently came from a real voodoo priest. "Known variously as John Montaigne, Bayou John, and most often Dr. John, he was a figure larger than life," Dr. John wrote in "Under A Hoodoo Moon: The Life of the Night Tripper," via the Chicago Tribune. The original Dr. John was a Senegalese prince who had been enslaved and sent to Cuba before gaining his freedom and becoming a drummer, herbalist, and spiritual doctor in New Orleans during the mid-19th century, per The Guardian and Dr. Louie Martinié's book, "Dr. John Montanee, A Grimoire: The Path of a New Orleans Loa, Resurrection in Remembrance."
There's still conjecture whether Rebennack was a true believer, or whether it was just a gimmick. "He believed in [voodoo rituals] — it was not a shtick," Bill Bentley, one of Dr. John's publicists, told Rolling Stone. "He had all these herbs he would carry around with him. He once said this lady put a spell on him and something bad happened to him." (Perhaps she made a voodoo doll of him?) Dr. John died at 77 years old on June 6, 2019, of a heart attack. He had earned six Grammy Awards and was inducted into the Rock & Roll Hall Of Fame, per CNN.