A Single Thanksgiving Game Allowed Randy Moss To Get Revenge And Become A NFL Legend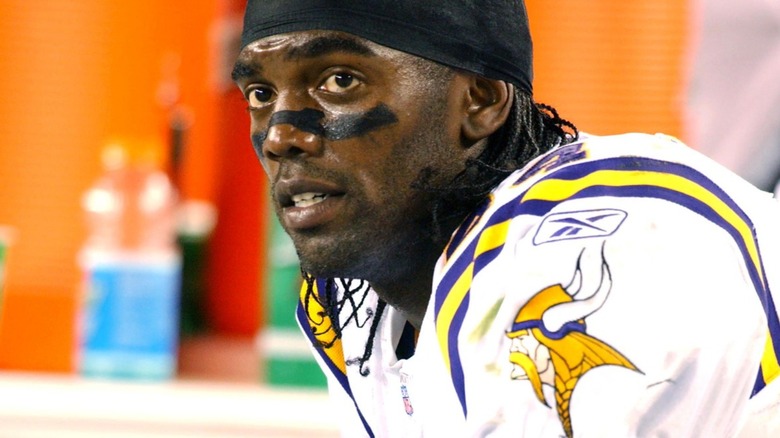 Mitchell Layton/Getty
If you tune in for football games this Thanksgiving, you'll be able to watch many of your favorite teams duke it out. However, the games you watch on Turkey Day are unlikely to be as memorable as the 1998 Thanksgiving Day showdown between the Dallas Cowboys and the Minnesota Vikings. In that game, the Vikings' rookie wide receiver, Randy Moss, put on an unforgettable show to help his team to a 46-36 victory over the Cowboys.
The Cowboys passed up on Moss in that year's NFL draft, and he was out for friendly revenge, according to The Viking Age. And he accomplished his goal in that game. Moss caught three receptions for a combined 163 yards. Each reception resulted in a touchdown. It was the most touchdowns he'd score in one game to that point, per Essentially Sports. None of it was a surprise to veteran commentator John Madden. According to Sports Illustrated, he told Pat Summerall during the game, "You knew they were going to do it early, where Randall Cunningham just gets that ball and he chucks it deep to Randy Moss."
The Vikings came into the game 10-1 on a three-game winning streak. The team wouldn't lose another game in the regular season. They finished 15-1 with a total of 556 points scored, the NFL record at the time, per the Bleacher Report. They won the National Football Conference's central division but lost the conference championship to the Atlanta Falcons (via Pro-Football-Reference).
Moss and Zimmer remember the day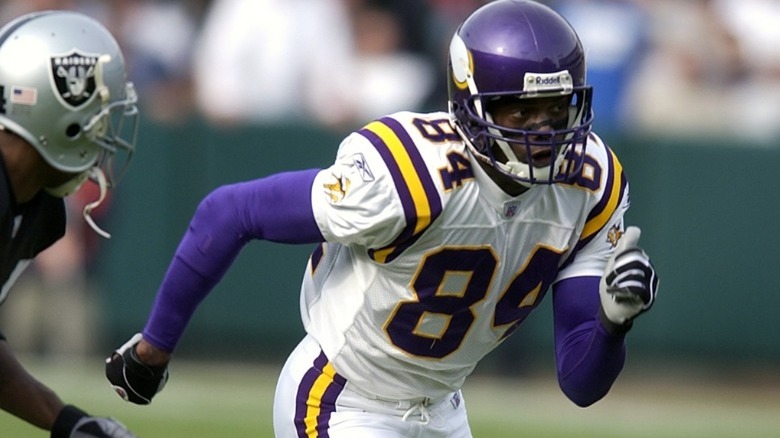 Focus On Sport/Getty
Moss remembers the game well. In a Fox Sports interview in 2015, he recalled how incredible it felt to play in the Cowboys' stadium against players he'd been watching on TV only a year earlier. He said his coach advised him that week against running farther than quarterback Randall Cunningham could throw. Clearly, Moss didn't. His incredible speed, though, is what helped him get his third touchdown of the day, he said. Moss faked out Dallas players by slowing down, then speeding up again, on his touchdown drive. He credited the second touchdown to Cunningham's perfect throw, noting that Dallas' coverage was good on that play.
He summed it up by saying (via Fox Sports), "I don't think I've ever had a game like that again." Mike Zimmer remembers the day a little differently. Zimmer — later the Vikings' coach — was Dallas' defensive coordinator in 1998, and there was nothing his players could do to stop Moss. "Those are bad memories," he told Sports Illustrated.
Other performances in the game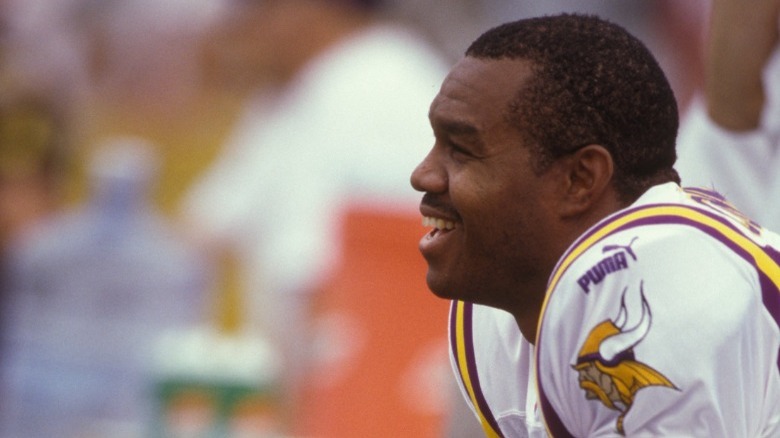 Mitchell Layton/Getty
As incredible as Moss was that day, other players shone, too. His fellow Vikings wide receiver Cris Carter had 135, seven receptions, and a touchdown in the game. The team's quarterback, John Cunningham (pictured), had 359 yards and four touchdowns. The Vikings' running back, Leroy Hoard, had two rushing touchdowns. The Cowboys put on a good showing, too. Quarterback Troy Aikman had a career-high 455 yards, with one touchdown, while running back Emmitt Smith had three rushing touchdowns (via The Viking Age). 
For Thanksgiving 2022, you can watch the Vikings take on the New England Patriots in Foxboro at 8:20 p.m. EST. The Cowboys will host the New York Giants at 4:30 p.m. EST. Minnesota and Dallas are favored, per ESPN. The first game of the day will be the Buffalo Bills at the Detroit Lions at 12:30 p.m. EST. Despite the Lions' three-game win streak, Buffalo is favored (via ESPN). Carve the turkey, sit back, and enjoy some action.