The Vampire Of Düsseldorf Peter Kürten Was Granted Seconds Of His Final Meal Before Execution
Vesnaandjic/Getty Images
The idea of what someone would choose as their last meal is considered newsworthy material when it comes to an inmate facing execution. It's among the final decisions these doomed individuals will ever make, piquing the curiosity of an American public that seems enthralled by capital punishment. The NAACP revealed in the spring of 2022 that there were more than 2,400 sitting on death row in the U.S. Of these inmates, only 16 have had their executions carried out in 2022, leading one to believe that once you're sent to death row, you might have a long stay before the state finally introduces you to your maker (per The Death Penalty Information Center).
The San Antonio Express-News reports how the request for a special meal for the condemned in the U.S. possibly has its roots in Texas, dating back nearly a century. Those facing the executioner elsewhere in the world often have (reasonable) last-meal requests fulfilled, no matter how brutal their crimes were. A lavish dinner, sometimes with moderate portions of alcohol, is often consumed in the hours before the prisoner walks from their cell into the execution chamber. A final cigarette is commonly requested as well.
Peter Kürten, known as "The Vampire of Dusseldorf," admittedly drank the blood of some of his many victims. After trial and conviction, he was sentenced to death. But when it came to his last meal, prison officials weren't about to put blood on the menu for the convicted killer.
Kürten's path to death row
Kürten had a lengthy criminal history that dated back to his childhood. He was among the eldest of 13 children living in poverty in Cologne, Germany in the 1880s. His father was an abusive alcoholic and was once imprisoned for sexually assaulting one of Kürten's younger sisters (via Britannica). Though never proven, Kürten's violence is said to have included the murder of two of his young friends when he was only 10 years old. Whether he was guilty of those deaths or not, there's no question as to his criminal resume. Kürten was apprehended more than two dozen times for various offenses that included sexual assault, battery, robbery, and arson.
When he was arrested for the last time in 1929, it was revealed that Kürten had been operating as a serial killer for quite some time in and around the city of Dusseldorf. Some of his victims were young women and girls he discovered sleeping during attempts to burgle their homes. Others became objects of his obsession, leading him to stalk them for days or weeks before he finally attacked and slashed their throats (per All That's Interesting).
Kürten was at last brought to justice for multiple murders and sentenced to death. Though he confessed to nearly 80 different crimes (via Biography), the 10 murders he accepted the rap for might have been a drop in the bucket when it came to his true kill count. Kürten was granted his request for a final meal by prison officials, which he consumed on July 2, 1931.
Kürten was allowed wine to accompany his final meal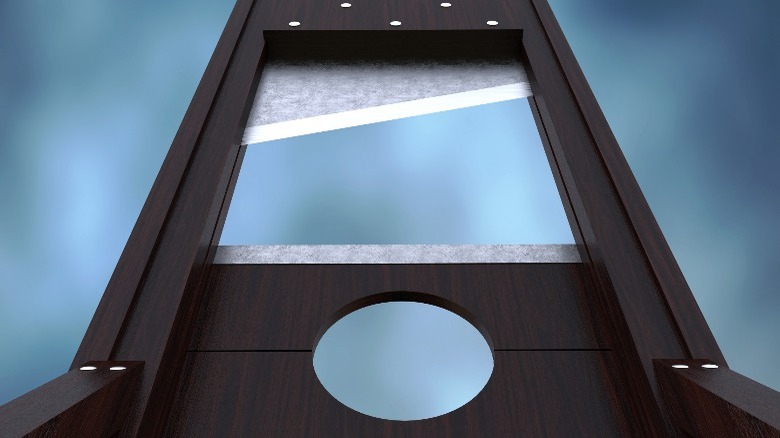 Emmily/Shutterstock
Kürten was seated at a table and given his special food request. According to 9 News Australia, Kürten was given "Wiener Schnitzel, fried potatoes, and a bottle of white wine." When he was finished, Kürten asked for a second helping. This request was granted, allowing Kürten to eat his fill before being taken into the execution chamber.
When his time was up, Kürten was escorted to the waiting guillotine and positioned in place. His belly full, he uttered his final words: "Tell me, after my head is chopped off, will I still be able to hear, at least for a moment, the sound of my own blood gushing from the stump of my neck? That would be the pleasure to end all pleasures" (per Biography). With that, the executioner dropped the heavy blade down on Kürten's neck and ended the life of one of Germany's most notorious serial killers.