John Belushi's Unfortunate Connection To A '70s Classic Tune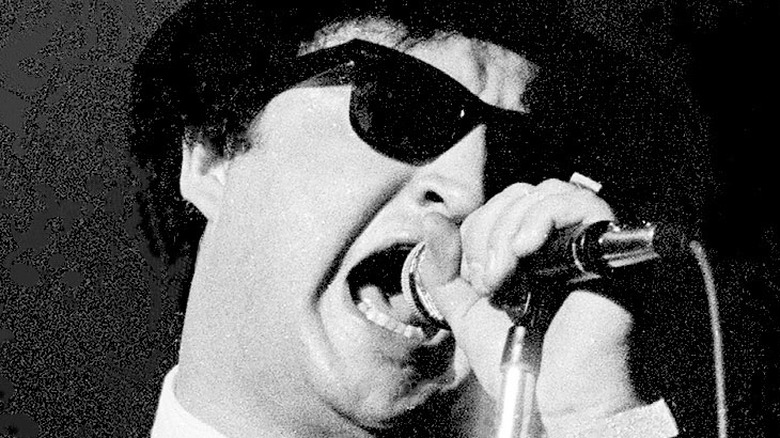 Larry Hulst/Getty Images
John Belushi rose to fame as one of the original cast members on "Saturday Night Live," a cast that was known as the "Not Ready for Primetime Players." These stars also included household names like Chevy Chase, Jane Curtin, and Bill Murray (per SNL Fandom). Belushi was a cast member for four seasons. His time on "Saturday Night Live" spawned the film "The Blues Brothers," based on Belushi and Dan Aykroyd's characters of the same name, who appeared on the show two years prior (per History). Belushi featured in other comedy films, such as "National Lampoon's Animal House," donning the iconic sweatshirt that simply read "College."
His personal character was just as imposing as his on-screen characters. USA Today explained that he clashed with "Saturday Night Live" creator Lorne Michaels and was at times "difficult to work with." His on- and off-screen life is engrained in pop culture, but so is his untimely death in 1982 due to drug addiction. His death also connects him to a popular 1970s song.
Cathy Smith gave John Belushi the drugs that killed him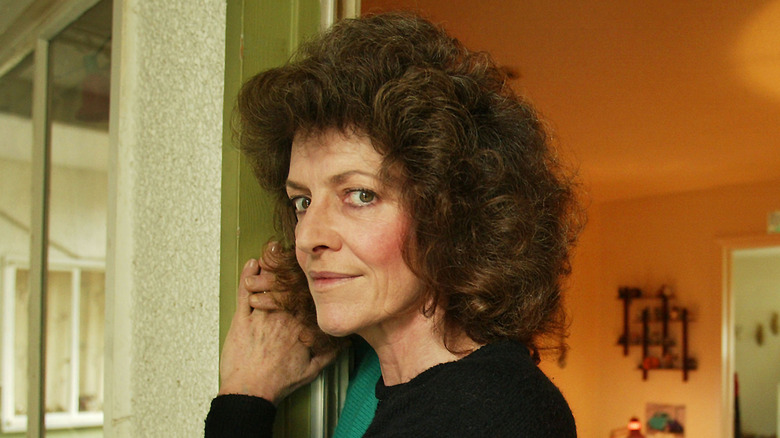 Lyle Stafford/Getty Images
Cocaine was common among the cast when "Saturday Night Live" premiered in 1975, according to John Belushi's castmate Chevy Chase on the "Club Random Podcast" (posted on YouTube). Aside from cocaine, Belushi was addicted to other drugs and alcohol. He died of a cocaine and heroin overdose at just 33 years old (per Biography). Death by overdose is all too common in Hollywood, but it also shows how small of a world showbiz can be. Connections between stars frequently arise.
Cathy Smith (above), backup singer for members of The Band and drug dealer to stars like Ronnie Wood and Keith Richards, was with Belushi at Chateau Marmont when he died. She admitted to injecting him with heroin and cocaine on the night that he died and spent 15 months in prison for the incident. Years prior, she had been romantically involved with Canadian musician and songwriter Gordon Lightfoot. Their toxic and adulterous relationship inspired Lightfoot to write the 1974 hit song "Sundown" (per Deadline).
Sundown expressed Gordon Lightfoot's concerns about Cathy Smith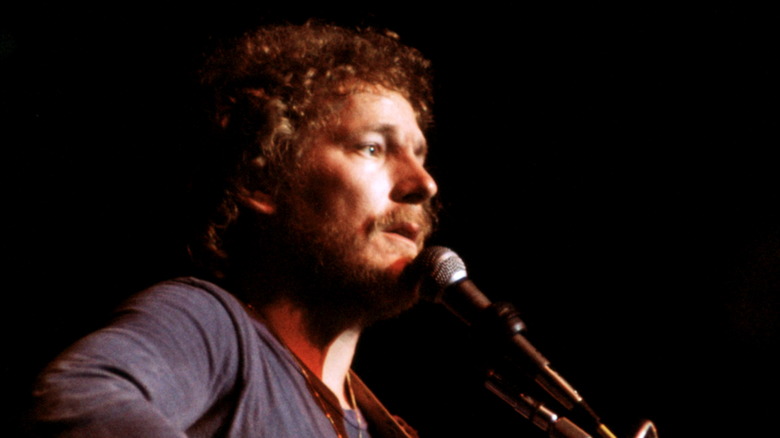 Michael Putland/Getty Images
Songfacts suggests that In "Sundown," Gordon Lightfoot (above) expresses his concerns surrounding Cathy Smith during their relationship. Lightfoot worried that she would catch the eyes of other men when she went out drinking as Lightfoot stayed home to work on his music. "She was pretty good lookin'," he said.
Deadline also draws attention to a possible double standard in Belushi's death. While Smith was the one who administered the dose of heroin and cocaine that killed him, Robin Williams and Robert De Niro had also done cocaine with Belushi that night, yet neither seem to be associated with his death aside from being present earlier in the evening.
Showtime released a documentary titled "Belushi" in 2020, which highlighted his battle with addiction and friendship with Carrie Fisher as she faced her own drug addictions. While his life is a cautionary tale of drug use, his widow remembers him as "bright" and "diversified" in his talent (per USA Today).