Serial Killer Fred West Left A Creepy Inscription On His Cell Wall Before His Death
holwichaikawee/Shutterstock
The following article includes content involving murder and suicide.
Fred and Rosemary West etched themselves into history as one of the deadliest married couples of the 20th century. When they were arrested on suspicion of murdering their "missing" teenage daughter Heather in late 1994, Fred made confessions to police that led to him getting charged with 12 counts of murder. As an accomplice, Rosemary was charged with nine of the murders, plus the additional murder of her eight-year-old stepdaughter, Charmaine West (via CNN).
The Wests made their cellar into a makeshift torture chamber, where the couple would sexually assault and eventually murder their victims. They are believed to have hung around bus stops and highways, looking for lone young women and girls to lure back to their home at located 25 Cromwell Street in Gloucester, U.K. After their victims were murdered, they were dismembered and buried in the cellar. When the Wests ran out of room, they started burying bodies underneath the backyard patio. A thorough excavation was performed, after which the home was razed.
After he died in jail, it was discovered that Fred West left a creepy message on the jailhouse wall.
An eerie message scrawled on the cell wall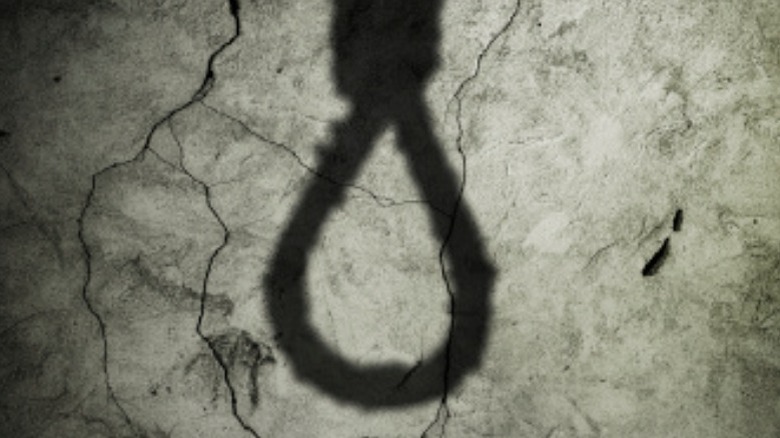 Avlntn/Getty Images
Fred West didn't even make it to trial before he died by suicide. Possibly believing that the evidence against him was too strong and that life behind bars would be unbearable, West used material he stole from the jail laundry to fashion a makeshift noose and hung himself with it in his cell. On the wall next to his body, he etched a message into the paint. It read: "Freddy, the mass murderer from Gloucester" (per All That's Interesting). 
Nine months before he died, West was caught with what officials have called a "suicide kit." Shortly after he arrived at the jail, it was discovered that he had razor blades and other contraband that he could have used to die by suicide. The Daily Mail reports that, for some reason, jail officials didn't confiscate these items and left them with West in his cell.
Adding insult to injury to the jail was that West was also on suicide watch when he hung himself on New Year's Day, 1995. It's also been speculated that West chose this way to die to take the entire blame for the many murders he and his wife were facing trial for. Their son Stephen West believed that West's actions were taken to spare his wife any prison sentence (via Express).
If you or anyone you know is having suicidal thoughts, please call the National Suicide Prevention Lifeline​ by dialing 988 or by calling 1-800-273-TALK (8255)​.
Rosemary West was not spared from doing hard time
But West's suicide didn't get his wife the "get-out-of-jail-free card" he might have hoped it would. Later in 1995, Rosemary West went to trial on ten charges of murder. CNN reports that, though she thoroughly denied involvement in the murders, the court found her guilty on all charges. This came after nearly two months of court proceedings in which dozens of witnesses gave testimony against her (via The Mirror). She was sentenced to life without any possibility of parole.
While behind bars, the convicted killer lived a fairly luxurious life for a prisoner. Her one bunk cell was equipped with a television and radio, and the floor donned a thick rug. She was viewed as the prison's matriarch, one to welcome newcomers to the facility and always on hand to give legal advice. 
This cushy prison life ended in 2019 when the prison welcomed its newest killer, Joanna Dennehy. Dennehy was sent to serve multiple sentences for stabbing three men to death and made it clear that Rosemary West would be her next target. Fearing that Dennehy might follow through with the threat, prison officials decided to move West from her home behind bars to a different prison, which was said to have devastated the elderly serial murderer.
The families of the Wests' victims killed might find solace in the fact that no matter where prison officials have her housed, Rosemary West will never live outside of prison walls again.