Why Some Of George Carlin's Ashes Are Scattered At A New Hampshire Summer Camp
Stephen Chernin/Getty Images
The great comedian George Carlin was raised in New York City, but his connections to New Hampshire remained an important part of his life right up until the day he died. A Grammy winner and bestselling author who was slated to accept the John F. Kennedy Center's Mark Twain Prize for American Humor before he died in June 2008, Carlin wrestled with substance abuse issues throughout his life. He even performed some comedy sets high, including his opening monologue for the inaugural episode of "Saturday Night Live," according to Reuters.
Carlin died of heart failure at St. John's Health Center in Santa Monica, California after complaining of chest pains. He is survived by his daughter, Kelly Carlin-McCall, and his second wife, Sally Wade, per Biography.
Carlin, an avowed atheist, once said in an interview that he nonetheless believed in an afterlife where he could enjoy a bird's-eye-view of humanity's foibles, according to Reuters. "The world is a big theatre-in-the-round as far as I'm concerned, and I'd love to watch it spin itself into oblivion," he said. "Tune in and watch the human adventure."
Where the young Carlin got his comedic start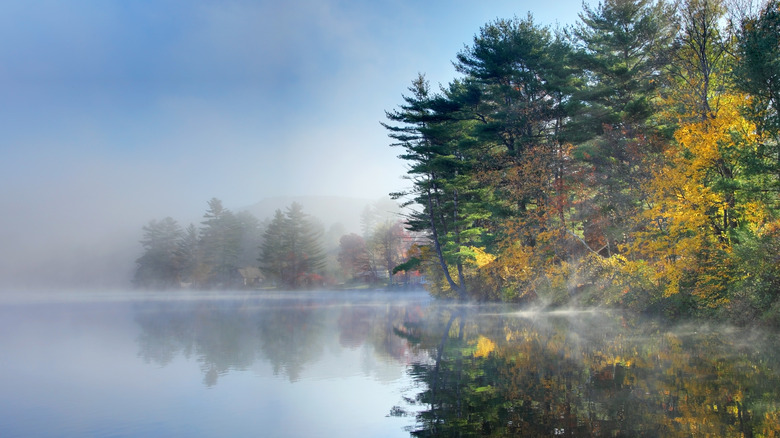 Denistangneyjr/Getty Images
When Carlin was about 7 years old, he started attending a Catholic boys' camp on New Hampshire's Spofford Lake, Camp Notre Dame. According to New Hampshire Public Radio, the young Carlin was a huge fan of radio comedy; he used to mimic various voices he'd heard and invent his own radio commercials. And when the camp hosted a talent show, Carlin took part, performing his first stand-up comedy sets to an audience of fellow campers and counselors.
Carlin went on attending that summer camp — and winning the talent competition — every summer until he was a tween. In his second to last year there, the talent show prize was a necklace with twin comedy-tragedy drama masks. Carlin's daughter told NHPR that Carlin wore it constantly later on in his life and was even wearing it on the day that he died.
Carlin's time at Camp Notre Dame represented the first sign the young comic got that he was on the right path pursuing the performance arts. It meant so much to Carlin that he asked his family to scatter some of his ashes over the lake after he died, per NHPR.
Doing right by the legendary comic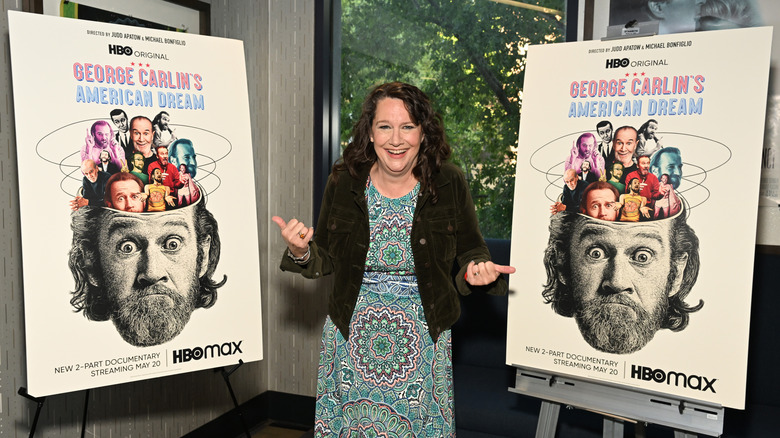 Slaven Vlasic/Getty Images
After his death, Carlin's daughter told The Keene Sentinel that Carlin had always told her how formative his time at that camp was. When she was about 10 years old, Carlin had brought her back to New Hampshire to visit his old stomping grounds. So she remembered the lake on the shores of which the camp took place when it came time to return there with her father's ashes.
"I had a little Ziploc of the ashes that I put aside for the lake," she told The Sentinel. "We put it in the lake in handfuls, each of us. It was really beautiful. The ashes kind of stuck together, became this blue-gray entity in the water, and undulated with the waves. It took a long time to disperse."
Fittingly, Carlin-McCall and her father's older brother Patrick also scattered some of Carlin's ashes in front of clubs where he'd performed in Manhattan, according to The Sentinel. And they like to think Carlin was watching them somehow, tuning in to the great theatre-in-the-round from the beyond, smiling in approval.