The Bizarre Time A Man's Cremated Ashes Were Discovered At A Car Wash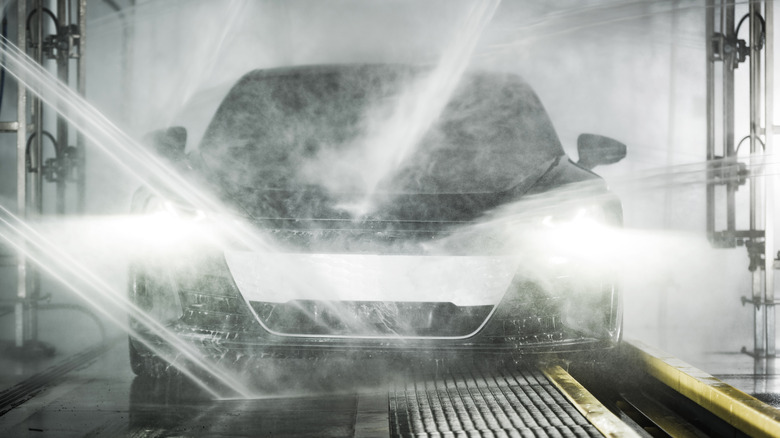 Welcomia/Getty Images
It's a shame that some of us grow into crotchety, responsibilities-ridden adults. If only we could retain the joyful and carefree nature of children. They have such a wondrous approach to the world, and we could learn a thing or two from it. Take a car wash, for instance. Where we mostly just see yet another chore, another essential expense of car ownership (Kelley Blue Book reported in September 2022 that the average price of a new car in the United States was upwards of $48,000), children often see something more: A mini theme park ride of water and big whirling brushes.
Missy Elliot and Christina Aguilera have been known to be rather fond of a car wash, too. "Working at the car wash, oh, oh, yeah, yeah, yeah," as they sang in "Shark Tale" back in 2004. "At the car wash, ooh, yeah, ye-yeah."  The actual experience of working at a car wash, however, may not be as glamorous as the beloved songstresses suggest in their revival of the classic song. In fact, very unexpected things can happen. In one incredible case, a man's ashes were found by car wash employees.
The strange fate of Henry Lefebvre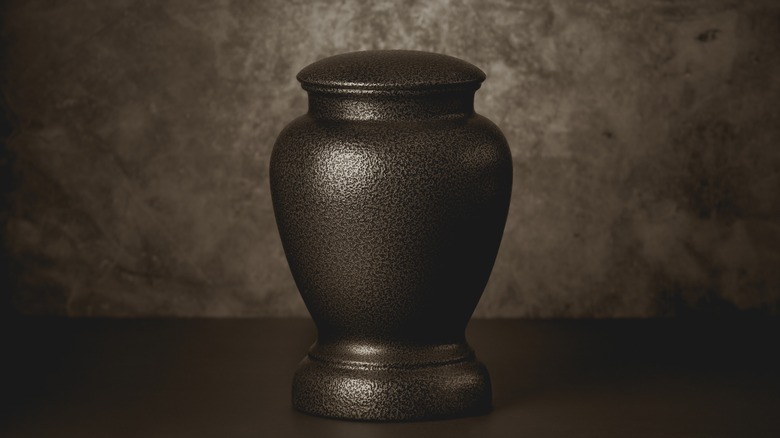 kevin brine/Shutterstock
In October 2012, The Huffington Post shared the remarkable story. The OB Suds car wash of California wasn't, historically, the biggest source of sensational news reports. There it was, serving the drivers of San Diego as usual, when a most surprising 'customer' arrived. The man's name was Henry Lefebvre, and what was so notable about him? According to the outlet, he died in 1995.
According to the Huffington Post, Lefebvre was found at the car wash. His ashes were safely ensconced in a small box. Needless to say, this caused quite a stir among staff, who were able to determine the date of his cremation because the box was reportedly marked accordingly. Per CBS News, the cremation took place locally, but it was entirely unclear how or why Lefebvre's earthly remains were left at OB Suds. Especially after so much time elapsed between his death and the appearance of his ashes at the car wash. However, the establishment devised a plan for this unique situation.
Gridiron star and businessman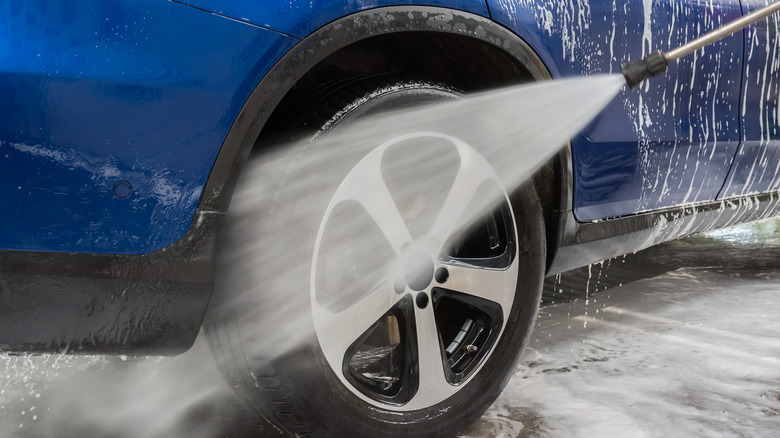 Andrii Shablovskyi/Getty Images
According to ABC News, Lefebvre lived an extraordinary life. When no family members contacted the car wash to retrieve his ashes, Lefebvre's cremains were taken to Ocean Beach's MainStreet Association. The association, in turn, issued a social media post to try and determine how the mystery man came to be left there and who he was.
"A local business owner turned in a box of cremated human remains today," the Facebook post read, via ABC News. "He said a customer was cleaning out their car six months ago and never came back looking for them." Local interest (and beyond) immediately skyrocketed. Unsurprisingly, genealogists were soon on the case. The Internet, as always, did its thing.
Denny Knox of the Ocean Beach MainStreet Association said, according to the outlet, that further research revealed Lefebvre died at the grand age of 94. Knox told the outlet that his remaining family members had no idea that he wasn't safely buried. Friars On Base reports that, from 1923-1925, he played for the Trojans of the University of Southern California, as had a youthful and presumably far less grizzled John Wayne. Lefebvre become a rich businessman and had a life well-lived by anyone's standards.
Knox told CBS News that Lefebvre enjoyed his temporary home at the association (" ... we're taking really good care of him ... he's had lots of attention"). The following month, per The Huffington Post, a relative was successfully contacted and arranged to collect the cremated ashes.