Why The Celtics' Bill Russell Almost Had A Conflict With Nelson Mandela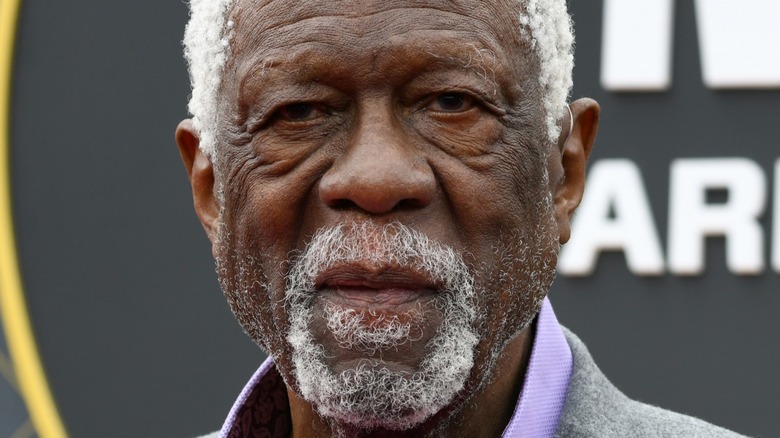 Michael Kovac/Getty
A few years back, basketball star Bill Russell's wife and daughter wanted to get him a special gift. They asked if there was any person he really wanted to meet, and it may be no great surprise that Russell, also a civil rights activist, said he wanted to meet Nelson Mandela. After three or four years of trying, Russell's daughter was able to arrange a meeting, according to Russell in a 2015 interview reported on by The Washington Examiner. Russell and his wife had to scramble to get to Paris for the meeting.
In the interview, Russell described his conversation with Mandela. Russell started by telling him, "I'm glad that I live on this planet at the same time you do." Then he asked Mandela how he'd been able to successfully bring down the apartheid system.
Mandela told him that other South Africans were predicting "a bloodbath," but Mandela didn't listen to them. "I am a Mandela and that's where I get my philosophy and my thoughts," he said, noting that the former governments that had upheld apartheid were not his role models. However, this incredible meeting between the two almost didn't get off to such a smooth start.
Russell's near conflict with Mandela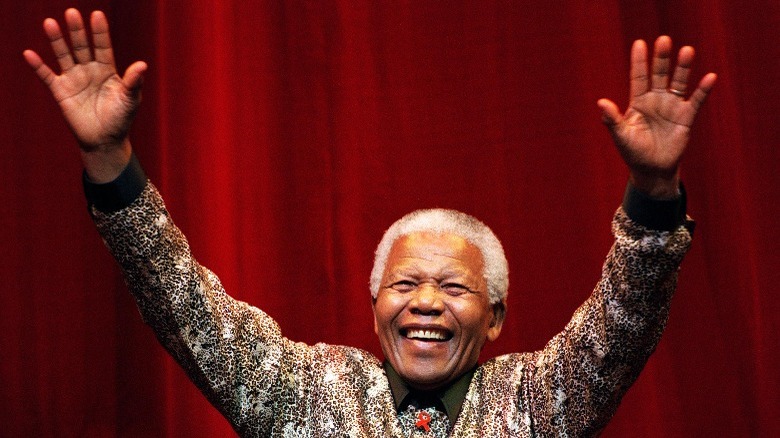 Hamish Blair/Getty
When Russell was getting ready to have lunch with Mandela in Paris, he noticed his wife wasn't getting dressed, so he asked why. She said she wasn't sure she should go, noting that after his long imprisonment, Mandela might not be happy about a Black activist, Russell, coming in with a white woman. Russell wasn't having that. According to his interview, he told her, "If he doesn't like the fact I'm married to you, he can go straight to hell."
Mandela's reaction, however, was just the opposite. He greeted Russell's wife first, hugging her and telling her he was glad she'd come and it was a pleasure to meet her. The Washington Examiner suggests Mandela knew Russell's wife might feel awkward and wanted to make her feel comfortable instead.
Russell told this story in response to a question about how he was able to forgive the racism he'd experienced during his career. Russell, of course, had a long history of fighting racism.
Russell's civil rights activism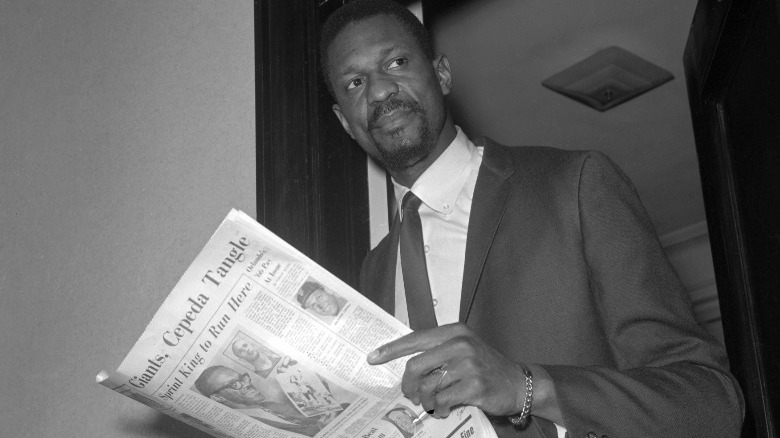 Icon And Image/Getty
Russell told a Chicago newspaper in the early 1960s that he would give up basketball if it meant having equal rights (via Christian Science Monitor). He actually did give it up on one occasion, boycotting a preseason exhibition game in Kentucky because his Black teammates on the Boston Celtics were refused service in a café in Lexington. At the time, he said, "We've got to show our disapproval of this kind of treatment or else the status quo will prevail. We have the same rights and privileges as anyone else and deserve to be treated accordingly." NPR says the team's white fans were mostly supportive of the decision, but not everyone supported Russell. His daughter says that after her father wrote about racism in basketball for the Saturday Evening Post, the family received so many threats they had to contact the FBI for help.
In 1963, Russell helped create an integrated basketball camp in Mississippi. In the late 1960s, he supported Muhammad Ali's choice not to fight in the Vietnam War. In recent years, Russell has supported professional athletes' boycotts and protests against racism and police brutality, according to NPR. However, he was also involved in the civil rights movement outside the realm of sports. In 1963, he attended the March on Washington and was seated near Martin Luther King, Jr. — no small accolade among the many he received.