There's A Familiar Name On The Santa Rosa Hitchhiker Murders Suspects List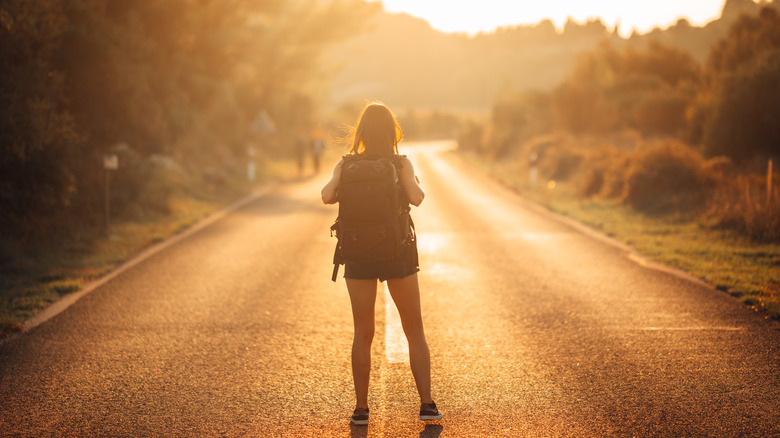 eldar nurkovic/Shutterstock
In the 1970s, several girls and young women were found murdered in the rural Santa Rosa, California area with evidence of sexual assault in some cases, according to a Santa Rosa news outlet, The Press Democrat. The person responsible for those crimes was never found, and the so-called Santa Rosa Hitchhiker murders remain unsolved to this day. Over the years, several known serial killers such as the Zodiac Killer and the Hillside Strangler have been considered prime suspects in the case. Among those on that list, no definitive proof has been uncovered to link any of them to the killings, while other extenuating circumstances have ruled others out.
One well-known serial killer remains on the Santa Rosa Hitchhiker murders suspect list, though, that some say evidence has proven could not have killed those girls, while others maintain his innocence has not yet been proven, according to SFGATE. Details of the case fit how the killer is known to have operated, and he could have been in the area when the murders happened. 
Another leading suspect, Jack Alexander Bokin, was already in jail on kidnapping and sex assault charges when he died in 2021 at the age of 78. He was linked through DNA to a 1996 rape and murder in Sonoma County, California, where Santa Rosa is located. A number of other suspects were considered all throughout the decades-long Sonoma County investigation but no arrests have been made.
Ted Bundy committed murder in California around the same time period
Serial killer Ted Bundy confessed to raping and killing around 28 women and young girls in California and in the Pacific Northwest in roughly the same period that the Santa Rosa Hitchhiker Murders took place. In 1979, Bundy was sentenced to death by a Florida court for the killing of two female college students and again sentenced to die one year later for the rape and murder of a 12-year–old girl (via Britannica). Bundy is linked and suspected to be guilty of a number of other unsolved murders and missing persons cases from the era dating to around 1974. Some experts believe the true count of Bundy's victims could be close to 100, according to SFGATE. For these reasons, some consider Bundy a suspect in the Santa Rosa killings. 
Also implicating Bundy in the murder spree, he's known to have attended Stanford University located in Palo Alto, California, near Santa Rosa, and to have possibly traveled through the Sonoma County area around the time that the Santa Rosa murders happened. According to authorities, Bundy confessed he killed others in that same time frame, though he provided no details before his death by electric chair in the late 1980s.
 Retired detective Robert Keppel who investigated Bundy said (via SFGATE) "Bundy is definitely a good suspect ... The killings in Santa Rosa would fit his methods, he spent time in the area, and I'm sure he started killing well before 1974."
Credit card receipts put Bundy in the Pacific Northwest
Also according to SFGATE, credit card receipts put Bundy in the Pacific Northwest when the California hitchhikers were murdered, and in the opinion of certain experts, that rules Bundy out. Bundy was known to have driven miles to commit murder, though, and there was enough time between those credit card transactions for Bundy to drive to Sonoma and back. 
Speaking with SFGATE, retired detective Keppel said, "One of the last times I talked to Bundy, I mentioned California, and he looked at me like, 'I can't talk about that right now' ... I think he believed his execution would be stayed so he could talk for years about his crimes," but the Florida governor at that time had other ideas, Keppel added.
Referring to the Bundy-Santa Rosa theory, Deborah Silva, who operates the Santa Rosa Hitchhiker Murders website said that in her opinion, the real culprit knew the Santa Rosa area based on the remote areas where the victim's bodies were found. That's not Bundy. 
"These killings could have been a learning curve for Bundy, yes. But I would hate for everyone to just say, 'OK, it's him,' and stop looking for other suspects," Silva said. Based on reporting from both SFGATE and Press Democrat, authorities now hope existing DNA samples gathered at the crime scene from both Bundy and Jack Alexander Bokin, another leading suspect who died in prison, could now help solve the mystery.