Inside Christine McVie's Relationship With Beach Boy Dennis Wilson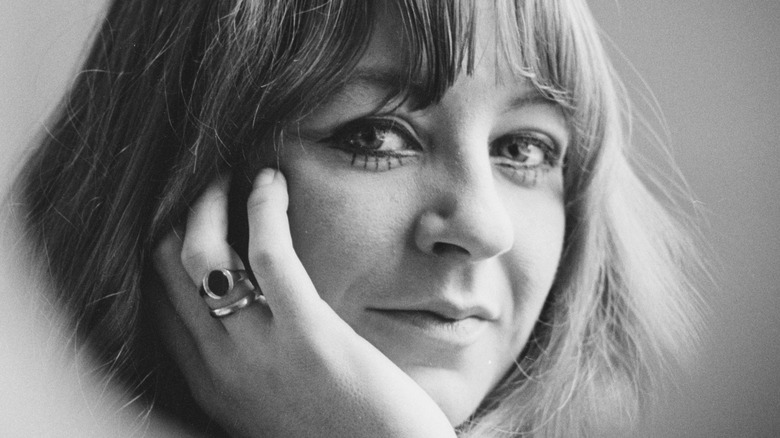 Evening Standard/Getty Images
The members of Fleetwood Mac are arguably as famous for their many inter-band romances as their timeless discography of pop-rock classics, with most of the gossip swirling through the years centering primarily on the one-time romance between singer-songwriters Lindsey Buckingham and Stevie Nicks. They joined the band as a couple, but their acrimonious breakup and its fallout threatened the very existence of the band at the same time it inspired some of their finest songs, especially after Nicks began a relationship with band founder Mick Fleetwood, as noted in the Los Angeles Times.
But the drama inside Fleetwood Mac wasn't just reserved for Nicks and Buckingham. At the time the group was writing and recording their Grammy award-winning album "Rumours" in 1977, another relationship was entering its final days: the marriage of Christine McVie (above) and her husband, John, who along with Fleetwood himself were the pre-existing members of the band before the arrival of Nicks and Buckingham. Formerly of the British blues band Chicken Shack, Christine McVie was originally a fan of Fleetwood Mac but became involved with the band after beginning a relationship with bassist John. Per Rolling Stone, at the height of their success, the couple lived in each other's pockets to such a degree that familiarity drove them apart.
But before long Christine McVie had a new love: Dennis Wilson of The Beach Boys. Wilson, she said, "awakened things in me I'd been scared to experience and made me feel the extremes of every emotion," according to Uncut.
The two sides of Christine McVie and Dennis Wilson's relationship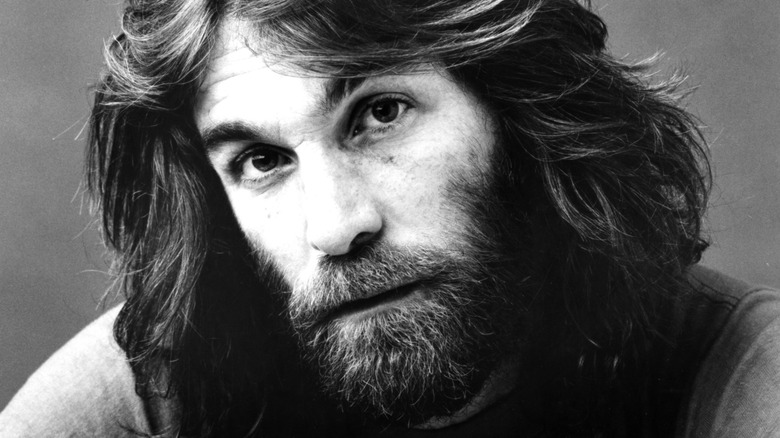 Michael Ochs Archives/Getty Images
"I tend to go for these half-little-boy characters. When Dennis (Wilson) was like that, he was just adorable. He was really a sensitive, sweet man," Christine McVie recalled, according to Rolling Stone. The Fleetwood Mac star first began her relationship with the Beach Boys drummer and songwriter around the time she was involved in sessions for the "Rumours" follow-up album "Tusk," when the band was going through a period of heavy cocaine use. According to The Guardian, Wilson's addictions, such as his alcoholism, became exacerbated during his relationship with McVie.
However, McVie recounts her relationship with Wilson as being somewhat maternal. "I loved him for a while ... I think I mothered him, to be honest. He used to go off and I wouldn't see him for days and days, and then he'd come back and I'd mother him and get him all nice and sober and then he'd go off and go crazy again. It's one of those things. Opposites attract" (via "Fleetwood Mac on Fleetwood Mac: Interviews and Encounters," posted at the Internet Archive).
Wilson's life was marred by excess, particularly in terms of substance abuse. One doctor who had treated him in the past refused to do so again in late 1983 — "He's just too much trouble," according to another post at Rolling Stone. When Wilson's friend pleaded with the doctor — "he may die, you know" — the doctor replied, "he might have to." Tragically, Wilson drowned in California's Marina del Rey on December 28, 1983. Toxicology revealed he had a blood alcohol level of .26. He was 39.
If you or anyone you know needs help with addiction issues, help is available. Visit the Substance Abuse and Mental Health Services Administration website or contact SAMHSA's National Helpline at 1-800-662-HELP (4357).
'He swept me off my feet'
Christine McVie encapsulated her relationship with Dennis Wilson in 2017 during an appearance on the long-running musical biography show "Desert Island Discs" on BBC Radio 4, according to udiscovermusic. On the show, guests are invited to select the seven songs that they would choose to have with them if they were shipwrecked, and which usually provoked discussions around the person's life and personal history. McVie had recorded with Wilson on the Beach Boys song "Love Surrounds Me" before their relationship began. But rather than this song, she selected "Angel Come Home" (listen above) from the same album, another track with Wilson on lead vocals.
In the interview, McVie paid tribute to her former lover's checkered nature, while also giving some insight into the passion they enjoyed in their early days together. "He was a mess, but he was charismatic, charming, and really handsome ... he swept me off my feet big time, and we had a very rollercoaster affair for a couple of years. I just adored him," McVie said (via udiscovermusic).
McVie's death was announced on November 30. The BBC reported that the award-winning singer and songwriter had died peacefully in the hospital. She was 79.