The Classic '90s Rom-Com That Almost Featured The 49ers' Steve Young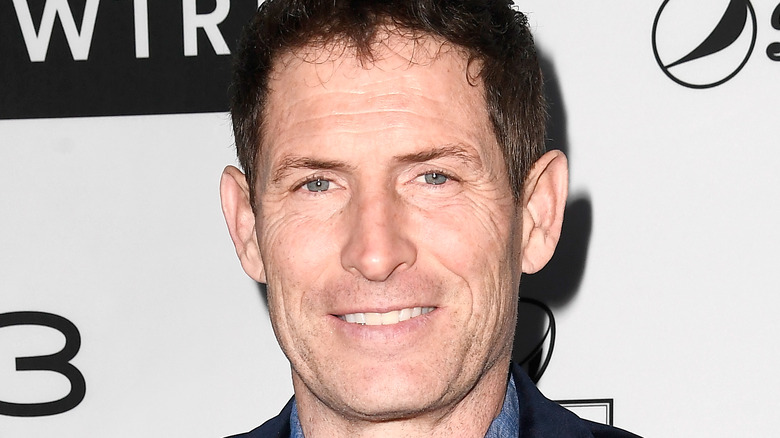 Frazer Harrison/Getty Images
San Francisco 49ers quarterback Steve Young and Green Bay Packers QB Brett Favre are among the greatest in NFL history to play their position, and they were both in the league in roughly the same time period. (Drafted in 1991, Favre played 19 years in the league, and retired in 2010, according to Rookie Road. Young, a bit older, played from the mid-1980s until he called it quits in 1999, per Britannica). When anyone finds success in the NFL like Favre and Young, brand endorsements, media opportunities, and sometimes movie offers follow, and the same can be said for these two legendary Super Bowl champions.
According to Bleacher Report, in the late 1990s, Young, who has a few other acting roles on his resume, was offered a part in what would become a hit movie at the time, a romantic comedy from the sibling filmmaking team known as the Farrelly brothers. Due to one aspect of Young's upbringing, though, and the nature of the film itself, the star football player turned down the role. That Young passed on this chance in particular, though, created an acting opportunity for the Green Bay legend. Today, this movie role, which Favre accepted, is without a doubt one of the most well-known of all the Packers QB's film appearances (per IMDb).
Young is Brigham Young's great-great-great grandson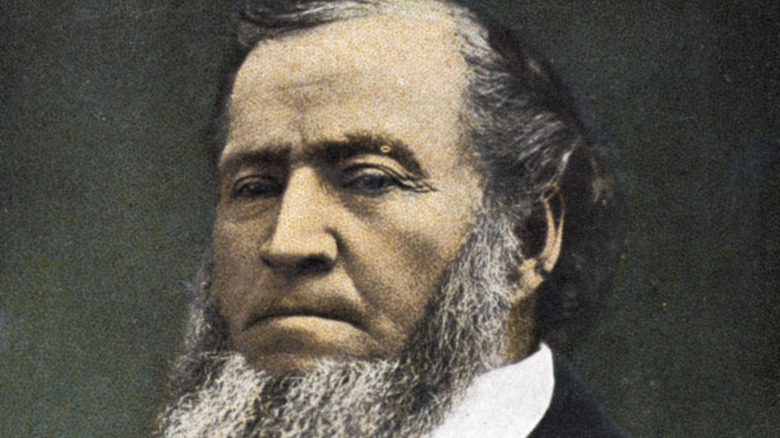 Culture Club/Getty Images
As Bleacher Report goes on to explain, Steve Young is not only Mormon, he's the great-great-great grandson of early LDS church leader, Brigham Young (pictured), the namesake of Brigham Young University, where Young played college ball (via ESPN). To this day, Young's Mormon faith is a big part of his life, as Young himself wrote in Deseret News in 2012. Though Young has taken a progressive stand on issues within the LDS church, as USA Today writes, in the late 1990s, the Farrelly brothers were casting a movie and they had Young in mind for a part, but when it came to time decide to participate, Young's faith influenced his decision.
As the Farrelly brothers explained to CBS News in 2014, the New England Patriots quarterback at that time, Drew Bledsoe, was their first pick but New England QB had to back out due to injury. Speaking with CBS News, the Farrelly brothers recalled how Young responded when they offered him the role. "Steve Young called one day and said 'That's the funniest script I've ever read. But I cannot do it, because if I do it, it's R-rated, and I know all the Mormon kids will be sneaking in and I wouldn't feel good about that,'" they said. Young's adherence to his faith at that moment sent the Farrelly brothers back to the drawing board.
Favre's role in 'There's Something About Mary' almost went to Young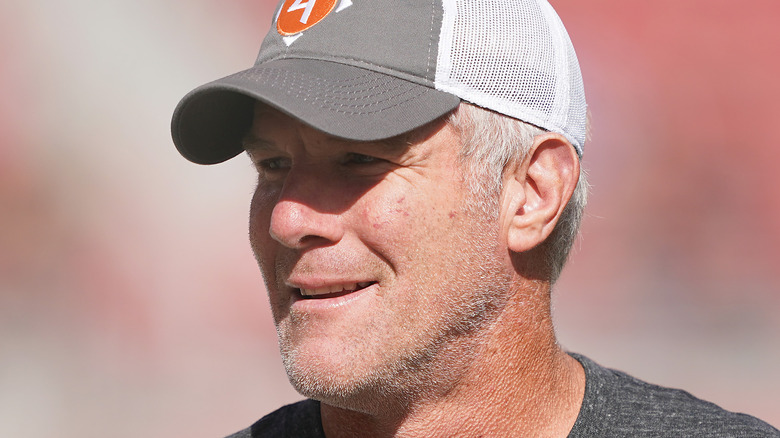 Thearon W. Henderson/Getty Images
The role that the Farelly Brothers had in mind for Young was a bit part as the ex-boyfriend of Cameron Diaz in the raunchy 1998 rom-com "There's Something About Mary" (via IMDb). Due to the film's content, Young was reluctant to accept the role, but Favre had no such objection, and today, that cameo part is probably Favre's most well-known film appearance. According to Box Office Mojo, "There's Something About Mary" has grossed nearly $370 million worldwide.
Also speaking with CBS News in 2014, Favre remembered the experience. "If I ever felt like a rookie, this was the time," Favre said. "The guys were patient, very nice, enjoyed the crew. My wife and I went down, went out to dinner with the whole crew. It was just a lot of fun, very different from what I'd been used to ... I was honored to be a part of it. It was funny." But according to CBS News reporting, Favre had no idea he was third in line for the part. "If I'd known that I would have never done it," Favre reportedly said, good-naturedly.