Why Katharine Hepburn Made Only One Appearance At The Academy Awards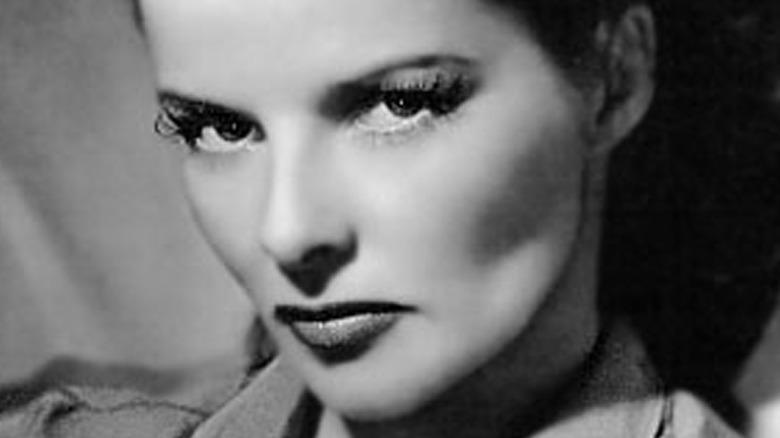 Apic/Getty Images
The British actor and Hollywood icon David Niven stood before his peers at the 46th Academy Awards show on April 2, 1974, and proclaimed, "to me, this is a star. Ladies and gentlemen, Ms. Katharine Hepburn," per YouTube. The beloved actress came onto the stage and immediately received a standing ovation. But she wasn't there to receive an Oscar that night. The intensely private star had won three Best Actress Oscars by then but had attended none of Hollywood's biggest and gaudiest shows dedicated to itself, per The Hollywood Reporter.
Getting Hepburn to the stage that night hadn't been easy. It cost Walter Mirisch, the film producer and then president of the Academy of Motion Picture Arts & Sciences, a lot of time and headaches, but he knew getting her would be a "great coup" and he was "unwilling to give up the chase," he recalled in his 2008 autobiography, "I Thought We Were Making Movies, Not History."
Katharine Hepburn refused to play by Hollywood's rules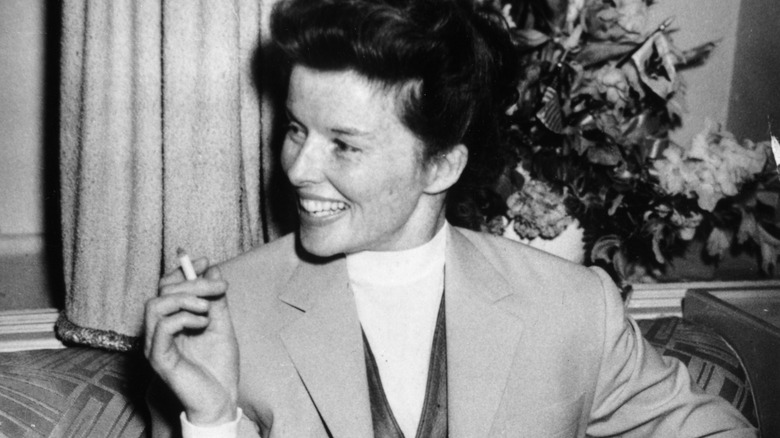 Keystone/Getty Images
Katharine Hepburn was born on May 12, 1907, in Hartford, Connecticut. She was fiercely independent, an attribute encouraged by her liberal-minded parents, according to Biography. When she came to Hollywood in the 1930s, at a time when studio heads maintained nearly limitless control of their actors, Hepburn wouldn't bend. When not on set, she refused to wear makeup or give interviews, and once walked around RKO studios in her underwear until the wardrobe department returned her pants, which they had confiscated because they found them unladylike, per Biography.
Hepburn won her first Oscar for 1933's "Morning Glory," but didn't attend the Oscars to receive the award, according to The Hollywood Reporter. "As for me, prizes are nothing," she told Charles Higham for his biography of the actress, "Kate: The Life of Katharine Hepburn." "My prize is my work." She would win three more Best Actress Oscars and receive eight nominations, a record that's yet to be beaten. Hepburn's last three Best Actress Oscars came later in her career, in 1968 for "Look Who's Coming to Dinner," in 1969 for "The Lion in Winter," and for "On Golden Pond," in 1982, per The Hollywood Reporter.
Katharine Hepburn finally gives in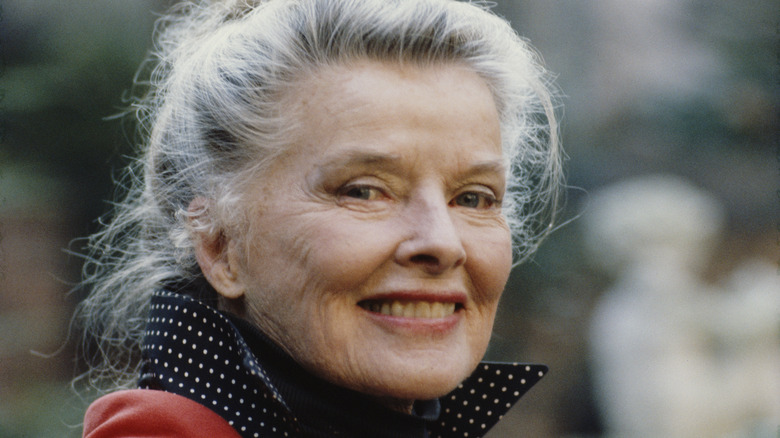 Michael Brennan/Getty Images
The actress Susan Hayward called Hepburn "a private person" (via "Susan Hayward: Her Films and Life"), which some might call a bit of an understatement. So when Walter Mirisch, the Academy's head, began his quest to get Hepburn on the awards show, he knew it wouldn't be easy and had Elizabeth Taylor in his back pocket in case Hepburn refused. That year, the Academy had voted to give the Irving G. Thalberg Memorial Award, a lifetime achievement honor for film producers, to Lawrence Weingarten. Weingarten had produced several films starring Hepburn, was then terminally ill, and had personally requested she be the one to present him with the award (per "I Thought We Were Making Movies, Not History").
Mirisch first contacted several of Hepburn's friends, who he also knew, but they all demurred in speaking with the actress about the request. Mirisch then called Hepburn up himself and while she agreed she should be the one to give Weingarten the award, she told Mirisch, "Well, I just can't do that. You know I've won before, and I've never come to the ceremonies," per Mirisch's book. Hepburn said she didn't enjoy being on stage without having lines to read. But he finally got her to change her mind. When she appeared at the Academy Awards that night, she told the audience that she was "very happy that I didn't hear anyone call out, 'it's about time.'"