Disturbing Details Found In Model Ryan Singleton's Autopsy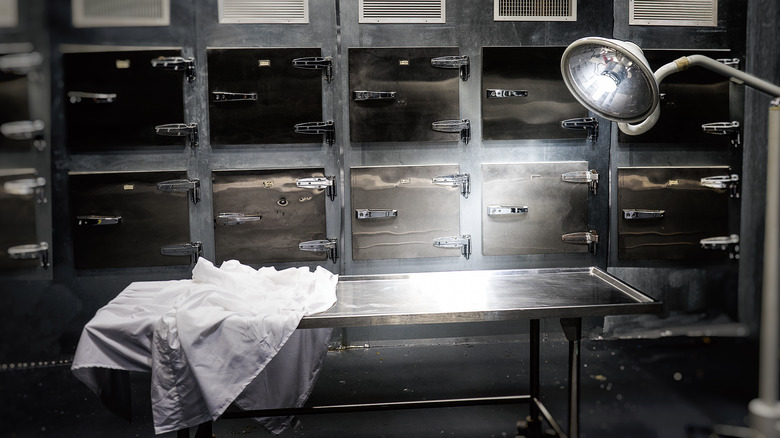 ANTIVAR/Shutterstock
Ryan Singleton was just dropped off at a gas station in Death Valley, California, by the California Highway Patrol. The officers picked him up on the highway after his car stalled. It would be the last time that he was seen alive (per 11 Alive).
Singleton was from Atlanta, Georgia. He dreamed of making it big as a model and also wanted to become a filmmaker. Those dreams came to a tragic and mysterious end one hot day in July 2013. The 24-year-old flew from his Atlanta home to Los Angeles to stay with a friend. He told his mother, Iris Flowers, that he was going to rent a car and drive to Las Vegas to try out for a football team. He asked her if she could send him $100 via Western Union so he could have some extra cash when he arrived at his destination (via WKYC). 
At 2 p.m. on July 9, Singleton was seen walking on the highway by patrolmen (per WKYC). Stopping to see if he needed assistance, the officers were told by Singleton that his car had broken down and he was walking for help. Oddly enough, when officers drove Singleton to his vehicle, he wasn't able to find it. Had someone moved it? Or was Singleton not being entirely honest with the highway patrol?
The officers drove Singleton to the nearby town of Baker, letting him off at a local convenience store. According to the police, Singleton went inside the store and bought several items before exiting. At this point, Singleton vanishes.
His body was missing many of its vital organs
According to 11 Alive, Ryan Singleton placed a phone call to a friend in Los Angeles, asking the friend for a ride back from the desert gas station in Baker, Calif. When that friend arrived, Singleton was nowhere to be found. Though his rental car was eventually located a day later, Singleton's body didn't surface until months later, on September 21, 2013 (per WKYC). Two joggers stumbled across Singleton's remains approximately two miles from the convenience store where he was last seen alive. The body was missing vital organs, which has spurred some conspiracy theorists to spin that Singleton was murdered so that his organs could be sold on the black market. But what did the autopsy reveal?
The New York Daily News reports that Singleton's mother, Iris Flowers, was told by the San Bernardino County Coroner's office that there were "no eyes, there was no heart, there was no lungs, there was no liver, there were no kidneys." MEAWW adds to that statement by revealing that several of Singleton's ribs were also missing. The autopsy report shows that Singleton's body was too badly decomposed to determine a probable cause of death. Though it didn't rule out homicide, it did conclude that the missing body parts were taken by scavenging animals and not villainous organ thieves trying to make a quick buck with a kidney or a lung.
Singleton's family suspects foul play
The New York Daily News tells of how several of Ryan Singleton's family members believe that the young model was the victim of a homicide. An unnamed source close to Singleton stated to the media that the family believes that Singleton was killed elsewhere, and his killer(s) moved his body to the location where it would eventually be found. But who would have the motive to murder him?
Singleton was estranged from his hairstylist husband, Kythe Brewster, when he disappeared. Before Singleton made his final journey to the west coast, he said something chilling to his mother. Iris Flowers recalls that her son asked if "something bad" was going to happen to him, prompting her to ask him if he owed anyone any money (per WKYC). 11 Alive tells us how Brewster phoned Flowers just before Singleton disappeared and let her know that he had just spoken to him on the phone and that Singleton appeared to be intoxicated. Brewster also told her that Singleton's life could be in danger. 
Did Singleton wander off and succumb to the heat? Was he the victim of foul play? With the coroner's report listing the cause of death as inconclusive, we may never know. An additional autopsy is desired by Flowers, but she lacks the funds to pay for exhuming her son's body.
Singleton's story is told in the 2020 documentary series "Dying to Be Famous," giving some posthumous fame to a man who so wanted to be in the spotlight (via IMDb).