Why Kirstie Alley's Star Trek Career Only Lasted One Movie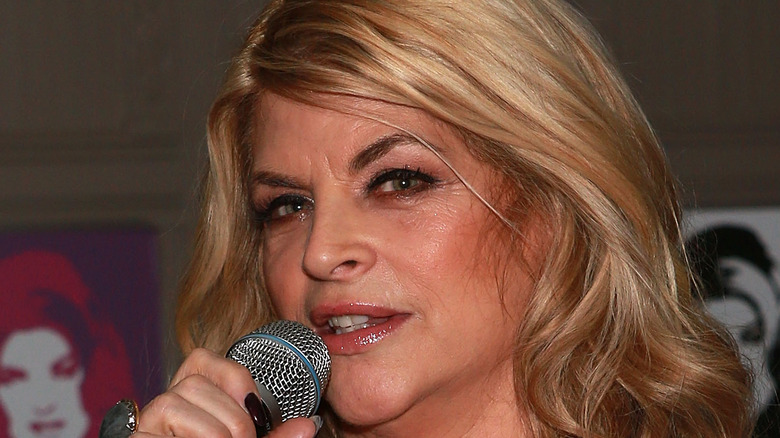 Robin Marchant/Getty Images
It came as a shock when Kirstie Alley's children, True and Lillie Parker, announced that their mother had died after a short battle with recently diagnosed cancer in December 2022. Alley leaves behind a memorable collection of roles in TV shows like "Cheers" and movies like "Drop Dead Gorgeous," and racked up a truly impressive array of back-to-back Emmy, Golden Globe, and People's Choice award nominations, as IMDb shows. "She was surrounded by her closest family and fought with great strength, leaving us with a certainty of her never-ending joy of living and whatever adventures lie ahead," her children said on People. "As iconic as she was on screen, she was an even more amazing mother and grandmother."
While roles like "Cheers" stand among Alley's most notable, some might recognize her from the part that kickstarted her entire career: the half-Vulcan, half-Romulan Saavik from one of Trekdom's most lauded films, 1982's "Star Trek II: The Wrath of Khan." In "Star Trek" canon, Saavik was a protégé of eternal fan favorite Spock, played by Leonard Nimoy. The character herself partook in "The Wrath of Khan's" battle between Admiral Kirk (William Shatner) and Khan Noonien Singh (Ricardo Montalban) and went on to star in subsequent franchise films, "Star Trek III: The Search for Spock" (1984), and "Star Trek IV: The Voyage Home" (1986). Alley herself, though, only played in "The Wrath of Khan" and was replaced by Robin Curtis due to contract disagreements (via Heavy).
Personal tragedy at the start of her career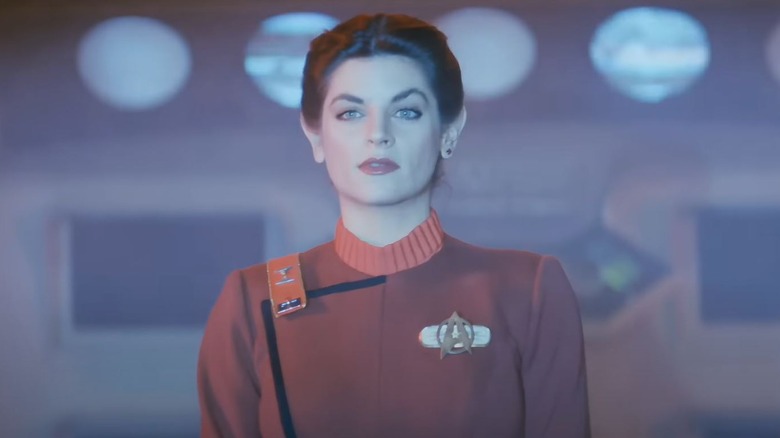 Paramount Pictures
When Kirstie Alley landed her role in "Star Trek II: The Wrath of Khan," it wasn't for any reason you'd suspect. As Vanity Fair reports, in a StarTrek.com interview, she credited her eyebrows for getting her the part. "People my whole life teased me," she said, saying, "Oh God, your eyebrow goes up like Spock." Before the audition process, IMDb shows that Alley had a couple of acting credits under her belt, but to her, "I had not ever had an acting role." Per Trek Movie, at a "Star Trek" convention in 2016, she said, "Before 'Star Trek II' I had done nothing, I had faked my resume." Alley was one of countless people hanging around Hollywood trying to make it in movies, in her case doing "some decorating jobs" and also working as a "housekeeper," as reported by Vanity Fair. 
Alley's role in "The Wrath of Khan" wasn't merely a career stepping stone — it was tied into personal tragedy. Vanity Fair reports that her mother died in a car crash the weekend before her final audition at Paramount on a Monday. She flew back to Kansas, where she was born and raised, on Friday, and all those involved decided to wait for her to return to do her audition. As reported by Trek Movie, she said director Nicholas Meyer gave her the role "in the final hour." No matter such generosity and all the work that went into getting the role of Saavik, Alley only played the character for one film.
Less pay for follow-up films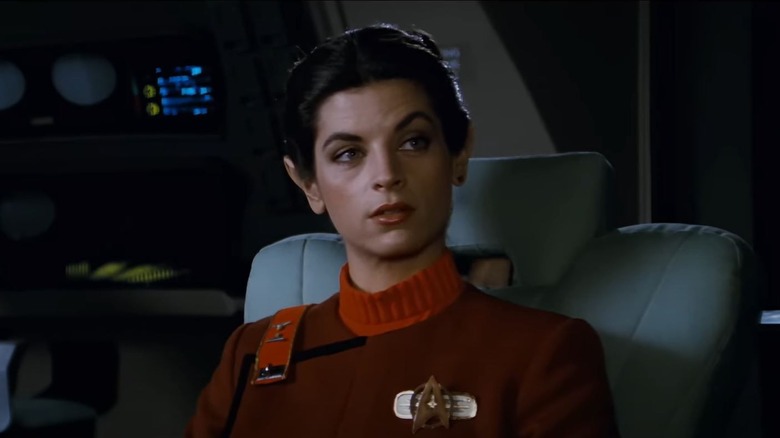 Paramount Pictures
Kirstie Alley described her time on the set of "The Wrath of Khan" in glowing terms, and as Trek News says, she remained "forever grateful" to Trekdom. On Twitter, she called "Star Trek" "one of the most stunning moments of my life." At a "Star Trek" convention in 2016 (via Trek Movie), she described Leonard Nimoy playing a mentor role to her the same as his character Spock did to her character Saavik, saying, "I felt like that worked because he was sort of looking at me like that in real life and it sort of worked for Saavik, because she was his protégé, she took whatever he thought or said very seriously."
Alley fit her role perfectly but was disappointed when it came time to renew her contract. As Vanity Fair quotes from her StarTrek.com interview, the studio offered her less money for follow-ups. "I'm not trying to sound ungrateful at all, because what they paid me when you did your first job is fine," she said. "But it wasn't like it was a massive amount of money, trust me. It just wasn't. And so that never made sense to me. Like, 'You're not paying as much as the first one, and it's a bigger role? It just didn't make sense to me." But despite Robin Curtis being cast in the role of Saavik for "Star Trek III" and "Star Trek IV," plenty of Trek fans still remember and love Alley's version of Saavik and her inclusion in the Trek franchise.