Nas Claims A Rap Legend Scared Him With His Abilities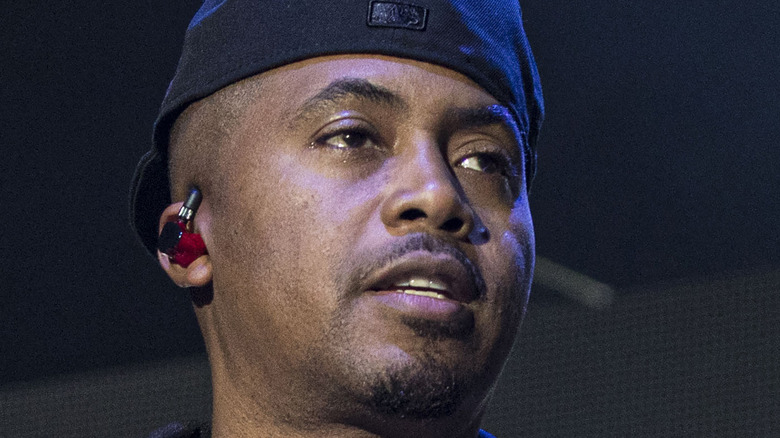 Daniel Knighton/Getty Images
On Feb. 15, 1999, Lamont Coleman, a rising hip-hop star known as Big L, was gunned down near the intersection of 139th Street and Lenox Avenue, just three blocks from his home in Harlem. The area where the 24-year-old lay dying of nine gunshots to the head and chest had been featured on the cover of his debut studio album on Columbia Records, "Lifestylez ov da Poor & Dangerous," and his single "Ebonics," and was often referred to as the "Danger Zone" by the rapper, according to Vulture and the Daily News.
It was the last year in a decade where gangster rap ruled, and had seen the murders of two other big-name artists — Tupac Shakur in 1996 (who Big L had worked with), and The Notorious B.I.G. the next year. But while Big L may not have been as well known as Biggie or Tupac, in his short life he had an outsized influence on hip-hop and had some of the biggest names in the game shaking in their Air Jordans when he started rhyming.
An underground but outsized influence on hip-hop 
Big L was born on May 30, 1974, in New York City, began freestyling in his Harlem neighborhood when he was just 12, and quickly gained the prodigious rhyming skills he would become known for in rap battles and at house parties (according to Hip Hop Scriptures). In 1993, Columbia Records signed Big L to a recording contract while he was still in high school, and released his debut album to critical fanfare in the underground rap scene in the U.S. and Europe, but with little commercial notice, per "Hip Hop in America: A Regional Guide" and Bonafide.
Big L left Columbia the next year citing a lack of promotion and support and contemplated quitting the business, per "Hip Hop America." Instead, he teamed up with several other rappers, including Fat Joe and Lord Finesse, to form the supergroup D.I.T.C., founded his own label, Flamboyant Entertainment, and toured Europe, per Bonafide.
Nas wasn't alone in being awed by Big L's skills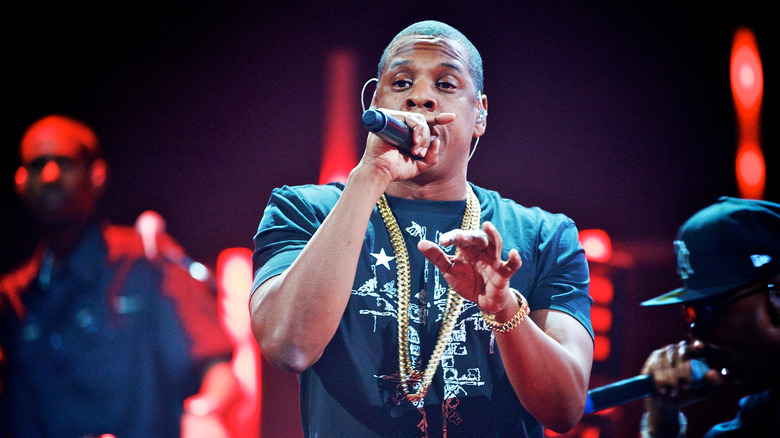 Brian Friedman/Shutterstock
When Nasir Jones, a Queens rapper known as Nas, who would come to be one of the biggest East Coast rap acts of the 1990s, first saw Big L at a show at the Apollo Theater in Harlem, he couldn't believe what he was hearing. "I remember it like it was yesterday," Nas recalled in an interview with Hot 97 (via YouTube). "He scared me to death." Later, when he heard Big L on record, he thought, "Yo, it's no way I can compete if this is what I gotta compete with."
Nas wasn't alone in his awe of Big L's prowess, Jay-Z (born Shawn Carter), who appeared on Big Ls debut album before he became famous, recalled the rapper as "very talented. I think he had the ability to write big records, and big choruses," according to MTV. The rapper Mac Miller told XXL before his death in 2018 that Big L was his favorite rapper growing up and that he emulated the older musician when he was first starting out. "He really inspired me to be clever and witty," he said. 
Like Tupac and Biggie, no one ever faced justice for Big L's murder. The police's prime suspect, Gerard Woodley, who allegedly had a grudge against Big L's brother, had his case dismissed for a lack of evidence, per the Daily News. He was shot to death in Harlem in 2016, not far from the corner that now bears Big Ls name, per the Daily News and Vulture.