What Was Found At James Bulger's Crime Scene?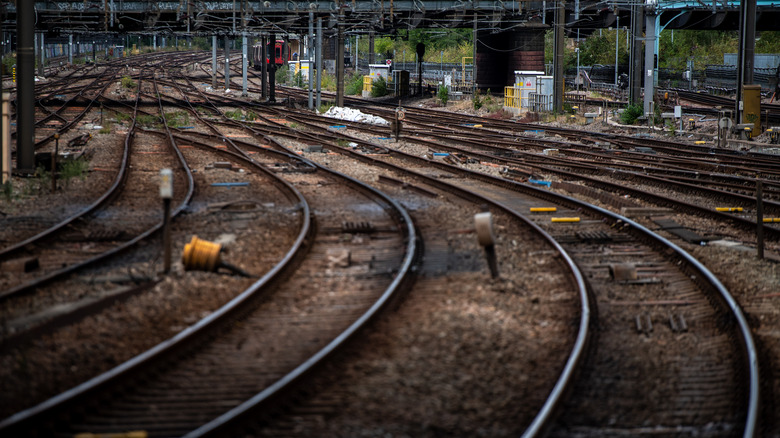 Chris J Ratcliffe/Getty Images
The following article includes descriptions of the torture and murder of a child. 
Though true crime is, by definition, tragic and horrific, the 1993 murder of James Bulger might be one of the worst cases ever recorded. Part of this is because of Bulger's age — he was just a month shy of 3 years old when he was brutally kidnapped, tortured, and then murdered. But another reason is because of the ages of his assailants, Jon Venables and Robert Thompson, who were only 10 years old when they decided to commit such a heinous act, becoming the youngest murderers in British history. 
According to the United Kingdom's iNews, Bulger was standing by his mother at a busy shopping mall in Bootle, near Liverpool, England, when Venables and Thompson managed to lure him away. They took his hand and led him out of the mall, in plain sight of other shoppers and security cameras. As they made their way to an area with railroad tracks, several bystanders noted that Bulger was upset and crying. Others noted that he looked like he had already been subject to some violence and sported a long cut along his head. However, despite the clear danger that surrounded Bulger, no bystanders did anything, and the little boy was led to his death.
A crime scene of evil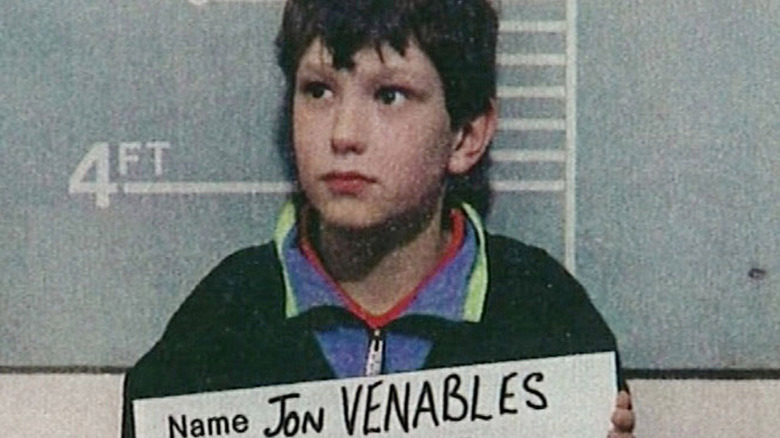 Getty Images/Getty Images
Police discovered the crime scene the next day, and what they found shocked them. According to All That's Interesting, Venables and Thompson had repeatedly kicked and pummeled the little toddler with bricks in what must have been excruciating torture. They then took a 22-pound iron bar and smashed his skull so hard that fractured in 10 places. Bulger's body was been so badly beaten that forensic scientists were unable to determine what had been the fatal blow to the little boy.
But it gets worse. Not content with assaulting Bulger, Venables and Thompson had stolen items from the mall and used them to inflict further damage. They painted his eyes with blue paint and stuffed his mouth with batteries.
To cover up their crime, Venables and Thompson placed the lifeless Bulger onto the train tracks, believing that the impact would conceal the evidence of their attack. Instead, at the crime scene, policemen found the tortured little child split in half by the impact of a train.
The means of death had been so brutal that detectives initially assumed that only an adult, or group of adults, could have been responsible. However, video footage that showed Venables and Thompson leading Bulger away offered irrefutable proof that the 10-year-old boys were involved. Venables and Thompson confessed to the crime shortly after their arrests (via The Mirror).
A shocking end to a shocking crime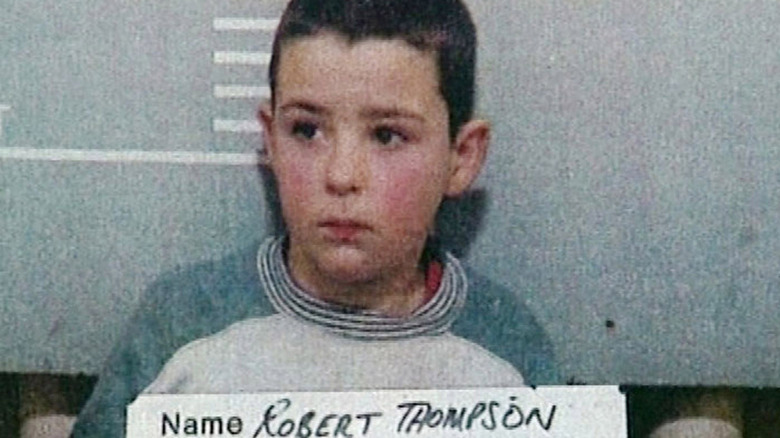 Getty Images/Getty Images
After Venables and Thompson were arrested, they were put to trial and found guilty of Bulger's death. However, despite the horrific nature of the assault and murder, the boys were only sentenced to eight years of imprisonment in a juvenile detention center — a move that prompted outrage across the country. They were released once they were 18 years old and given new identities to help enable them to reengage with society. Neither spent a single day in an adult prison.
While Thompson managed to stay out of trouble since his release, Venables returned to his depravities — specifically by downloading photos of children being sexually abused. He was arrested and imprisoned twice, and currently remains in jail, per The Manchester Evening News.
However, the story of James Bulger isn't over yet. The BBC reported this past June that Parliament plans to hold a debate in the future on whether a public inquiry should be held on the handling of the case. This is a major step for Bulger's mother, Denise Fergus, who has long called for such an inquiry due to her belief that  "a number of issues have been swept under the carpet" — especially regarding Venables's rehabilitation process.