What's The Origin Of Goblin Mode, The Oxford Dictionary Word Of 2022?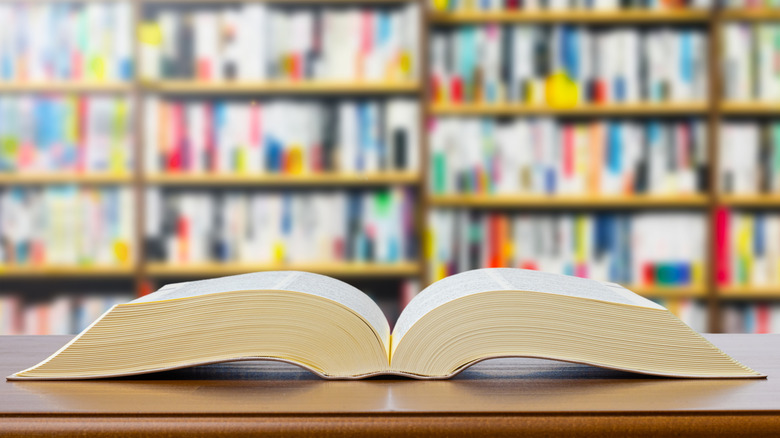 Bee32/Getty Images
"Goblin mode" is the 2022 word of the year, according to Oxford University Press (OUP). Each year, editors at Oxford select a new word they feel best reflects the current mood and tone of the culture, as Oxford Language explains. In the past, selections were made by Oxford Dictionary through online usage data analysis, among other means. The 2022 word of the year was the first to be selected through an online survey. According to CNN, participants in the 2022 word of the year survey were given three choices: "goblin mode," "metaverse," and "#IStandWith. After the results were tallied, "goblin mode" was the clear winner.
Like past word of the year selections, such as "vax" and "selfie," "goblin mode" has its roots in social media. Its first known online usage reportedly dates to 2009 on Twitter, as The Guardian reports. The two-word descriptive phrase has also shown up on Reddit. Today, it's commonly used as a TikTok hashtag. Also according to The Guardian, "goblin mode" grew more popular than ever in February 2022 when a controversial celebrity broke up with his then-girlfriend. However, the headline that included "goblin mode" as a direct quote from a person close to the situation was later revealed to be fake, per Insider.
Julia Fox reportedly went goblin mode in her relationship with Kanye West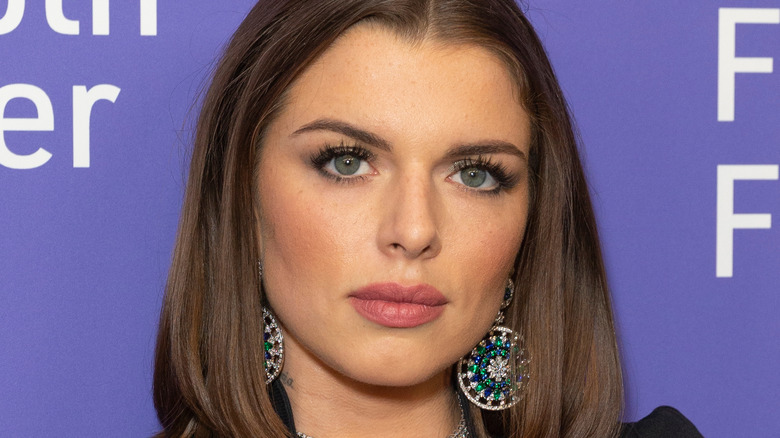 lev radin/Shutterstock
As Insider notes, "goblin mode" came into widespread usage after a screenshot was shared by an India-based celebrity news site Pinkvilla. The headline of the story shared involved actress Julia Fox (pictured), who at that time had recently ended her relationship with rapper Kanye West: "Julia Fox opened up about her 'difficult' relationship with Kanye West 'He didn't like when I went goblin mode.'" With that, the story and the word "goblin mode" went viral.
But as Fox wrote on Instagram (per Insider), "Just for the record. I have never used the term 'goblin mode." With that fake viral headline, though, "goblin mode" arrived in the public's vernacular for good, resonating with a word and mood that had already taken hold on the internet. In addition to the fake West-Fox breakup headline, another contributing factor to the popularity of "goblin mode" was widespread weariness caused by the COVID-19 pandemic and pushback on what some see as unreasonable expectations in health and wellness culture, as CNN goes on to explain.
Goblin mode means live your best life as your worst self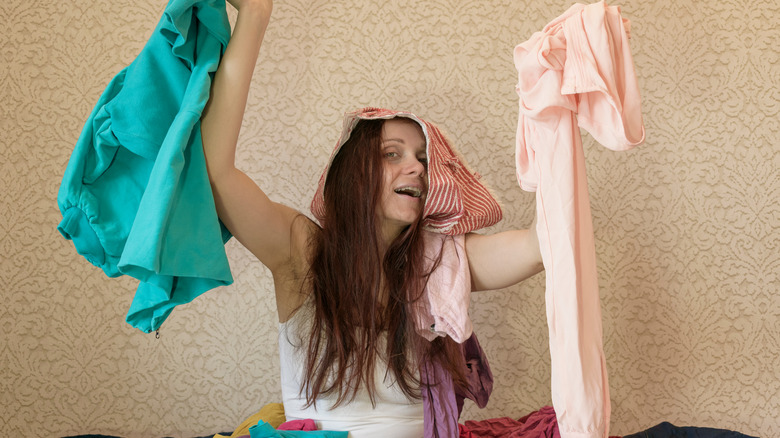 Tim photo-video/Shutterstock
As The Guardian reports, the true meaning behind "goblin mode" is to let go of preconceived notions of success and health and beauty standards for a more relaxed and what some might call indulgent lifestyle. The appeal reportedly increased in the aftermath of COVID-19 pandemic lockdown when some rejected the appearance of making the most of the situation through self-improvement to lean further into the relaxed and casual atmosphere fostered by stay-at-home life. Early on in the pandemic, an online aesthetic called "cottagecore" spread — think folksy imagery of sourdough starter and completing a puzzle with family — but as the months and years wore on, many found the "goblin mode" lifestyle fit them better.
"Goblin mode" also gained popularity as a response to unreasonable beauty standards present in popular culture, especially for women. On "goblin mode" placing first in the OUP survey, OUP Oxford Languages President Casper Grathwohl said in a press release, "Given the year we've just experienced, 'goblin mode' resonates with all of us who are feeling a little overwhelmed at this point. It's a relief to acknowledge that we're not always the idealized, curated selves that we're encouraged to present on our Instagram and TikTok feeds. ... People are embracing their inner goblin, and voters choosing 'goblin mode' as the Word of the Year tells us the concept is likely here to stay."