Why John Stockton Had To Ask For Permission To Play With His Kids In His NBA Contract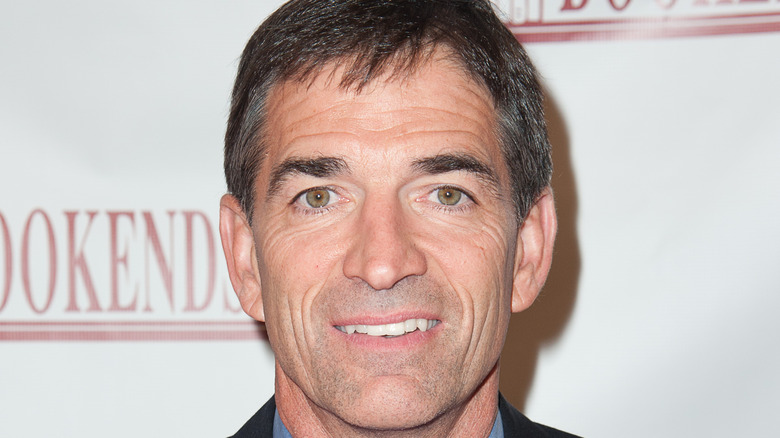 Dave Kotinsky/Getty Images
Nearly 20 years after John Stockton retired from professional basketball, he still holds the NBA's all-time records for assists and steals. But the Gonzaga standout flew under the radar for most of his college career thanks to a superstar on the other side of the country by the name of Michael Jordan. That dynamic held true when the two entered the NBA, as well. Both were first-round draft picks in 1984, but there was a difference between Jordan as the third overall pick and Stockton as 16th pick (per The Salt Lake Tribune). Still, his records across 19 seasons as starting point guard for the Utah Jazz speak for themselves. As ESPN sportswriter J.A. Adande put it, "Few players in any sport have had such a great disparity between their accomplishments and their acclaim."
As the new season was about to begin in the fall of 1996, Stockton entered contract negotiations with Jazz management. From those on the outside, it looked like a strange process. Stockton, even with his 15 years of success in the NBA, never had an agent — he always struck deals on his own. On the other side of the table was Utah Jazz owner Larry H. Miller. Stockton's playing time wasn't exactly a handshake deal, but it wasn't a series of intense negotiations, either. Stockton knew he could have acquired an agent to drive up his contract, which would have included talking to other teams to test the market, but that wasn't his style.
An unusual request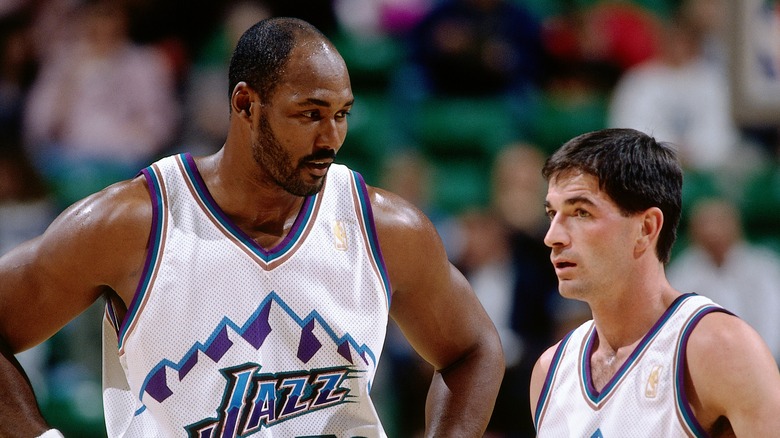 Sam Forencich/Getty Images
When John Stockton met with Larry H. Miller, he kept things simple. That doesn't mean he was a pushover, however. For one, he wanted a guarantee that he wouldn't be traded. He signed with the Utah Jazz in 1984, and he had no interest in playing anywhere else, telling Miller that he wanted to end his career in Utah. In fact, according to the Deseret News, Stockton made it clear to Jazz management several months prior that he would be playing in Utah or for no other team. He said he would simply retire before going elsewhere. That may have been tipping his hand too early, but Stockton took pride in being a (ahem) straight-shooter. "The confidence level in both of us is real high. It's an unusual relationship," said Miller (via Deseret News).
However, that wasn't Stockton's only ask. In a less conventional request, Stockton asked for a so-called kiddie clause. Stockton was 34 years old and, at the time, had four children. He wanted to be able to spend time with his children doing the activities that made them happy. One problem: the hazardous activities clause. According to The Washington Post, NBA contracts have a standard clause that strictly prohibits players from engaging in a long list of activities the organization deems dangerous, including boxing, professional wrestling, motorcycle riding, skydiving, and hang-gliding, among others. With team owners pouring millions of dollars into players, they wanted to make sure athletes would be healthy enough to collect on their investment.
Stockton got the clause amended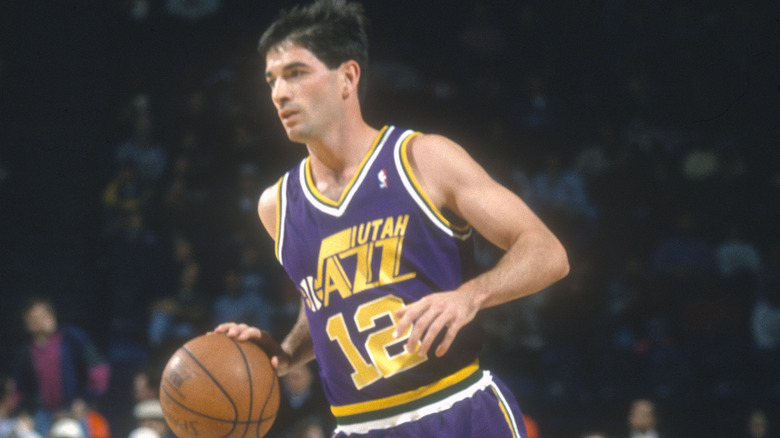 Focus On Sport/Getty Images
On October 3, 1996, John Stockton signed a three-year contract with Larry H. Miller. The contract was reportedly worth an unconfirmed $15 million, according to The Spokesman-Review, but Miller did note, "When you look at point guard salaries in the NBA, John will still be right up there." However, one thing was for sure: Stockton managed to get rid of the hazardous activities clause so he could enjoy activities the NBA would deem too dangerous for players. "[John] wanted to be able to play catch with his kids, and soccer, and baseball and go biking without possibly endangering his contract," Miller said, per The Spokesman-Review.
For his part, Stockton said he was ready to work. "Now it's back to the part I enjoy, and that's playing the game," he said (via Basketball Network). "It looks like it could be my last contract, and I'm delighted to be able to finish my career here." He added: That's been my hope all along. I think it would have been hard for me to pull it off, even if I'd wanted to, to go out there and say I'll go anywhere." In 1997 and 1998, the Utah Jazz went on to two consecutive NBA finals, losing to the Chicago Bulls both times. However, that wasn't Stockton's last contract. Although he did stay with the Jazz until the end, he played several more seasons and didn't retire until 2003.