How A Serial Killer Investigation In Iowa Turned Into A Family Feud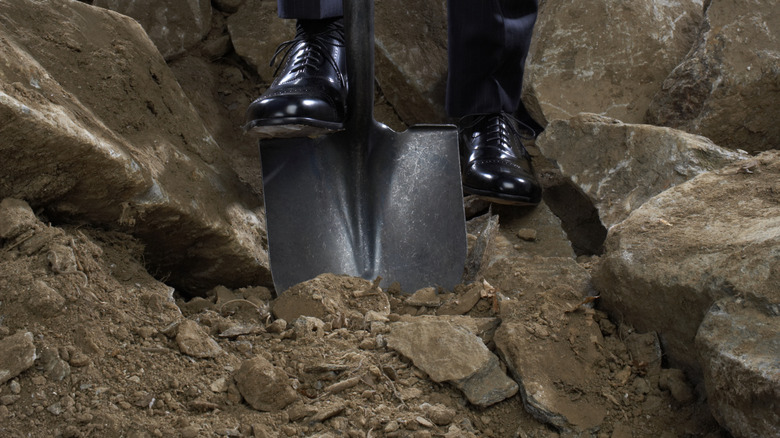 Toledano/Getty Images
In October 2022, Lucy Studey of Iowa claimed that her father, Donald Dean Studey, killed scores of women over a 30-year period and that she not only knew where the bodies were buried, she and her siblings helped bury them (via Newsweek). Now, according to a Rolling Stone report, Lucy's allegations against her father, who died in 2013 at 75 years old, have sparked controversy between Lucy and her surviving family members. According to Lucy's version of events, her father killed up to 70 women on the family's five-acre property in rural Fremont County, located in southwestern Iowa. After killing the women, Donald allegedly solicited help from Lucy and her siblings to bury the women's bodies in a well and then cover the remains in lye, presumably to aid decomposition. 
After Lucy Studey approached authorities with her story, an investigation was launched using cadaver dogs to search the area. As of Newsweek's report, some signs of human remains were found. At that time, Fremont County Sheriff Kevin Aistrope, who assisted in the search, said (via Rolling Stone), "I believe her 100 percent that there's bodies in there ... I tend to believe Lucy." According to Omaha, Neb. news outlet 3 News Now, Deputy Michael Wake, who grew up in the Fremont County area and heard stories of bodies in a well, said he thought Lucy's story " ... was worth looking into."
Lucy Studey told a similar story about her dad once before
According to Rolling Stone, Lucy Studey told a similar story about her father once before. In 2007, Donald accused Lucy of stealing $16,000 from him, at which time she reportedly told the police her father was a serial killer. (According to some reports, Lucy's 2022 revelation to the police about her father's killing spree was the first time the authorities heard the allegations.) Lucy also insists that she told trusted adults in her life about what happened throughout her childhood.
According to Lucy's sister, Susan, though her father had a criminal record (including one charge of assault) and spent time in prison, he never killed anyone. Susan claimed that Lucy's accounting of their childhood was made up. According to the Des Moines Register, a third Studey sister could not be reached for comment. The lone Studey brother, Gary Studey, died in 2004. Speaking with Newsweek in a follow-up report, Susan said, "My father was not the man she makes him out to be. He was strict, but he was a protective parent who loved his children ... Strict fathers don't just turn into serial killers."
No remains were found
Although cadavers dogs gave some sign there may be remains on the property, on December 8, 2022, the Iowa Department of Public Safety released a statement that said no remains were found and the search concluded. According to KCCI, the property (pictured above) no longer belongs to the Studey family. According to Division of Criminal Investigation (DCI) Assistant Director Mitch Mortvedt (via Rolling Stone): "The investigation is closed since nothing was discovered on the property and locations that Lucy led law enforcement to on two separate occasions." 
As Newsweek reports, Susan Studey said the cadaver dogs may have responded to animal bones or the remains of a still-born Studey child. Cadaver dogs are reportedly trained to disregard non-human remains. However, via the Des Moines Register, Lucy said, "One way or another, those bodies are coming up ... With or without help." 
Some question Lucy's credibility. Fremont County Chief Deputy Timothy Bothwell told the Des Moines Register that he theorizes Lucy may have fabricated the serial killer story after she confessed to stealing money from her father in 2007. He said, "[W]e thought she was just trying to get dad in trouble or have us look at him because she stole his money."