The Conversation Jay-Z Had With Biggie Smalls Right Before His Murder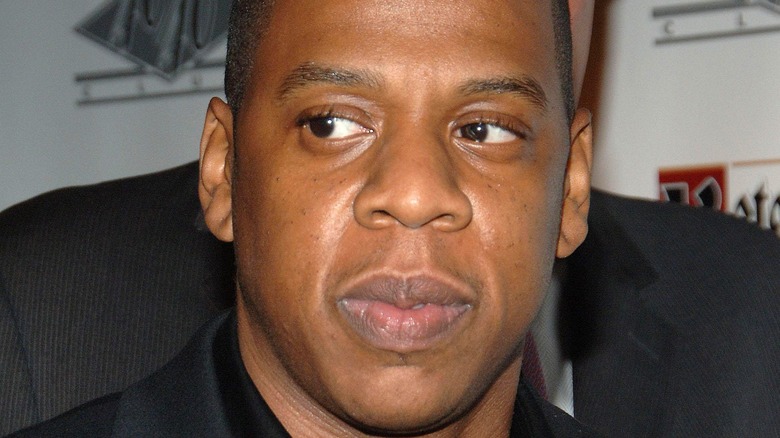 Everett Collection/Shutterstock
On the night of March 8, 1997, Shawn Carter, better known as Jay-Z, was in New York City when he got a call from his friend and fellow rapper Christopher Wallace, aka Biggie Smalls or the Notorious B.I.G., who was in Los Angeles. "Yo, playboy! Why you not out here, playboy?" Biggie asked Jay-Z, according to a 2013 interview with the rapper and mogul on the LA radio station Hot 97 (via HipHopDX).
Biggie was calling from a music industry event on the outskirts of Beverly Hills. He'd gone to LA in February to shoot a video for his song "Hypnotize," the first single from his new album, "Life After Death," that would soon drop, per Biography. After the video shoot, he stayed to attend the Soul Train Music Awards on March 7. The event hadn't gone well. The East Coast-West Coast rap feud that had claimed the life of his former friend turned rival, Tupac Shakur, six months earlier, just wouldn't die, even after Biggie made the rounds giving interviews expressing his sadness over the death of Shakur. At the awards show, members of the audience booed Biggie when he appeared on stage.
A phone call from a party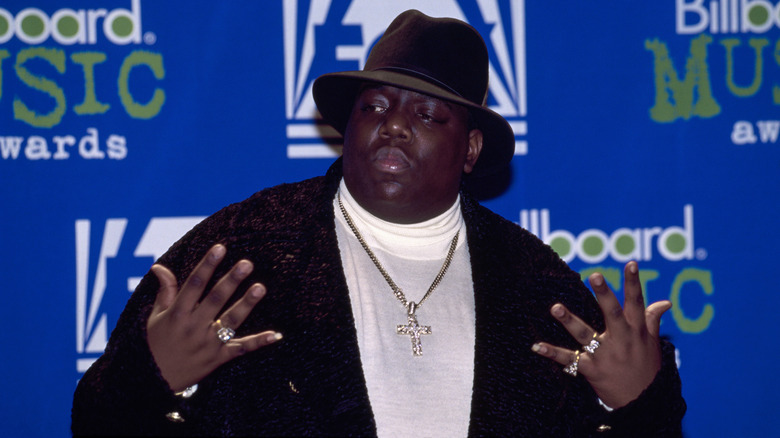 L. Busacca/Getty Images
Biggie Smalls had been getting death threats while he was in LA but decided to go to a Vibe magazine party after the cancellation of a trip to Europe, per Biography and Rolling Stone. He and his entourage from Big Boy Records drank champagne and hobnobbed at the Petersen Automotive Museum on Wilshire Boulevard. in LA's Miracle Mile neighborhood, believing he would be safe.
But among the attendees that night were members of the Bloods and Crips, rival street gangs, some of whose members had affiliated themselves with the two antagonistic hip-hop record companies, Big Boy and Death Row, on the West Coast, per Rolling Stone. Even so, the party had a relaxed vibe and when Biggie hopped on the phone of DJ Irv Gotti, his and Jay-Zs mutual friend who'd placed the call, he was in good spirits as he chatted with Jay-Z, per HipHopDX. "He felt like he finally was back in Los Angeles and everything was where it was supposed to be," Jay-Z recalled in 2010, according to Elle Canada.
A drive-by and an unsolved murder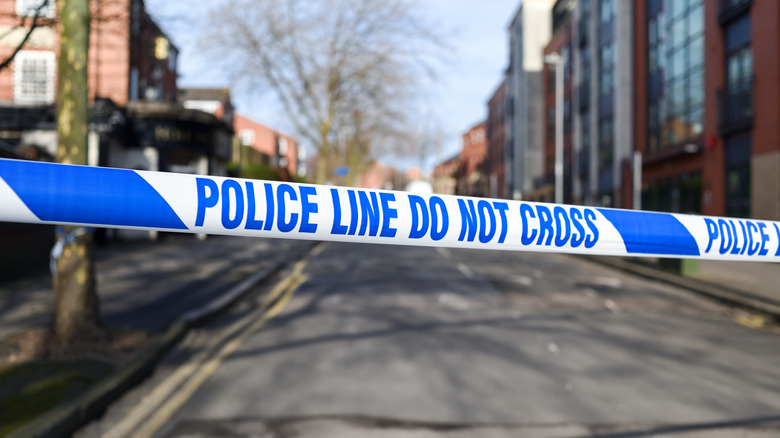 Ian Francis/Shutterstock
At around 12:30 a.m. on March 9, 1997, Biggie Smalls and the rest of the Big Boy Records crew left the Vibe party. Soon after, their three-vehicle convoy headed up Wilshire Boulevard to their hotel, per Rolling Stone. At a red light, on the corner of Wilshire Boulevard and Fairfax Avenue, just yards away from the museum, an unidentified man in a dark Chevy Impala pulled up next to the green GMC Suburban in which Biggie Smalls was the front seat passenger, and unloaded an automatic pistol into the SUV, per Biography. They rushed Biggie to a nearby hospital, but by 1:15 a.m. the Notorious B.I.G., just 24, was dead. Neither the murder of Biggie Smalls nor that of Tupac Shakur have yet been solved.
"He loved being in Los Angeles — and we see this happen in movies — when everything is just fine, and we hung up the phone, and one hour later, he's no longer with us," Jay-Z reflected in 2010, per Elle Canada. Jay-Z's collaboration with Biggie, "Brooklyn's Finest," in 1996, helped boost Jay-Z's career, and the billionaire rapper has never forgotten his friend. "I take him everywhere I go," Jay-Z recounted in 2013, per HipHopDX. "I've taken him on every step, every accomplishment. He'll be there in some sort of way, whether that be live in concert or on record, or some acknowledgment."