Inside Elton John's Friendship With Stevie Wonder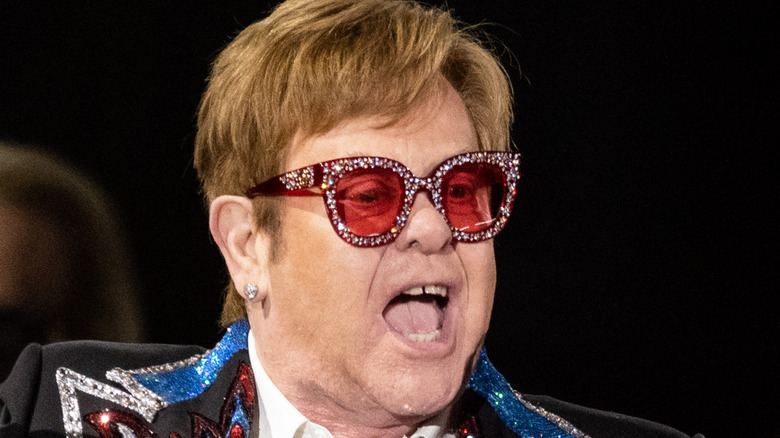 Scott Dudelson/Getty Images
There are few musicians in the world who have matched the success of British singer, pianist, and classic songwriter Elton John. Since breaking into the mainstream with his evergreen ballad "Your Song" in 1970, which he wrote with lyricist Bernie Taupin, he has sold over 300 million records over the course of a five-decade career. Specifically, 32 Elton John albums have gone platinum or multi-platinum, and one album, his "Greatest Hits," has been certified diamond (via eltonjohn.com). He has also released a plethora of hit singles, including his memorial song to Princess Diana, "Candle in the Wind," which remains the best-selling single of all time (via Forbes). He has also enjoyed a lucrative career as a live concert performer, with countless sell-out concerts counting among some of the highest-grossing in the history of popular music (via Forbes).
One performer who has enjoyed comparable success is Stevie Wonder. Like John, Wonder's sales are now counted in the hundreds of millions, while his music has garnered a string of awards, including an impressive 25 Grammys, according to The Yorkshire Post. Though he has recorded less in recent years, Wonder remains a huge concert draw, and he was inducted into the Rock & Roll Hall of Fame in 1989 (via Britannica). Together, John and Wonder were the first two artists to have albums debut at No. 1 on the Billboard 200.
So is it any wonder that the two veterans have crossed paths numerous times over the past half-century and not only become close friends but performed and recorded together numerous times? Here is the story of the friendship between Elton John and Stevie Wonder.
Mutual fandom
Almost a decade before Elton John rose to prominence in the early '70s, Stevie Wonder broke into the big time at the age of just 13 with his chart-topping single "Fingertips" (via The Yorkshire Post). The song caught John's attention, after which he became a lifelong fan of Wonder's music. Little did John know at the time, but his admiration for Wonder was to be reciprocated.
In a double interview with Billboard in September 2022, John recalled having bought Wonder's debut single on import and becoming an immediate fan. "I've been a fan of his since ... and I bought every single single he released and every album he released," he claimed. In a 1976 interview with Playboy (via eltonjohn.com), John said he would "give anything to have his talent." But Wonder was also blown away by John. "When I heard ['Your Song'] it just reminded me so much of an expression of love," the singer told Billboard. "I said, 'he's got a great voice' and I wanted to hear more. The piano playing I liked, the arrangements I liked. It was just great." 
According to John's official website, the two first met in January 1971 — just months after the British singer had performed a cover of Wonder's "Signed, Sealed, Delivered (I'm Yours)" — after John joined his manager in collecting Wonder from the airport. The two had an instant musical connection, with Wonder singing "Your Song" during the journey.
A growing friendship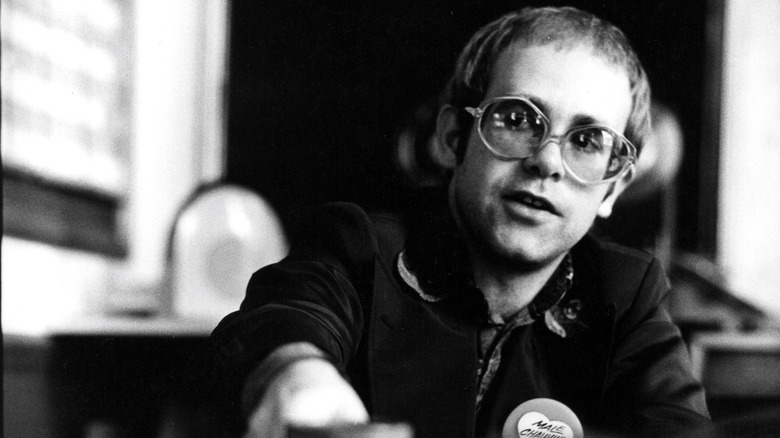 Michael Putland/Getty Images
As told in "Me," Elton John's official autobiography, he and Stevie Wonder had a significant day together in 1973, on board the notorious Starship, a private plane frequently used by the biggest names in rock like Led Zeppelin. John admits he was a difficult character back in the day, who often sulked in one of the bedrooms instead of mingling with his entourage in the lavish Starship bar. However, he recalls that on this occasion, he was lifted out of his dark mood by his manager, who came to the door to say she had a surprise for him. He went to the bar, where Stevie Wonder entertained him with a rendition of "Happy Birthday," as well as a number of John's own songs, according to his website. Just weeks before, Wonder had been involved in a horrifying and much-publicized automobile accident, and that night, John helped Wonder begin his rehabilitation back to public performance by inviting him on stage at Boston Garden in front of 15,500 people to join him for several songs, per John's website.
The pair's paths crossed several more times during the decade, including for some live performances and a famous incident in which the blind Wonder reportedly drove a snowmobile around the grounds of the Caribou recording studio in Colorado, though the two had still to record together (via "Me"). ​
I Guess That's Why They Call It the Blues
By the early 1980s, Elton John and Stevie Wonder had been acquainted for a decade without ever appearing together on wax. That changed in 1982, leading to the recording of a classic song that John still performs to this day (via setlist.fm).
"I Guess That's Why They Call It The Blues" was something of a comeback for John and his longtime lyric writer, Bernie Taupin, who had not composed a song together for a number of years by the time John got around to creating a melody to suit Taupin's lyrics. As described by the music critic Bill Janovitz for AllMusic, the single is a moving slice of knowingly sentimental nostalgia, made all the more successful by Wonder's contribution: a swelling harmonica solo that underscores the song's emotional climax.
"I Guess That's Why They Call It The Blues" peaked at No. 4 on the Billboard Hot 100 chart and at No. 5 on the U.K. singles chart and remained on both for several months, according to John's official website. It has since been declared platinum in the U.S.
That's What Friends Are For
Though "I Guess What's Why They Call It The Blues" was one of Elton John's biggest '80s hits, in part due to the involvement of Stevie Wonder and his virtuoso harmonica playing, the two were involved in an even bigger hit in the middle of the decade.
Throughout the 1980s, John took part in various forms of activism amid the ongoing AIDS crisis, which had claimed the lives of a number of John's close friends, as outlined in his autobiography. In 1985, he and Wonder joined soul legends Dionne Warwick and Gladys Knight to form Dionne & Friends, recording a cover version of the Burt Bacharach and Carole Bayer Sager classic "That's What Friends Are For" in the process.
Per John's official website, the song was released as a charity single and proved to be a huge success, peaking at No. 1 on the Billboard Hot 100, where it remained for four weeks, becoming the biggest-selling song of the year. The song received two Grammy awards and became an AIDS benefit staple, with the quartet performing the song as recently as 2011.
Elton John and Stevie Wonder's 2021 duet
Elton John and Stevie Wonder have rubbed shoulders on numerous other projects over the decades. Per John's official website, both appeared on the Eddie Murphy song "Yeah" in 1993, while later that year, Wonder provided backing vocals and instrumentation on "Go On and On," a duet between John and Gladys Knight, which Wonder had also written. But despite being friends for many decades, the two had never performed a proper duet of their own.
That was until 2021 when the pair finally shared lead vocal duties on John's "Finish Line," a song recorded during his "Lockdown Sessions" that was subsequently released as a single. Per Rolling Stone, the song also features Kanye West's Sunday Service Choir, and John believes it is one of the finest songs that he has recorded, having praised Wonder's energetic vocal performance.
"I've always loved collaborating with Stevie, and I'm delighted that after 50 years of friendship we finally get to do a full-blown duet," John said, per the same source, adding: "He has always been so kind and sweet to me, and his talent is beyond ridiculous." Meanwhile, in a statement published on Billboard, Wonder said: "I love it! Congratulations to you and our forever and never, never-ending friendship, life-song! Long live Sir Elton John!"