The April Fools' Day Prank Björk Pulled On Fans Of Led Zeppelin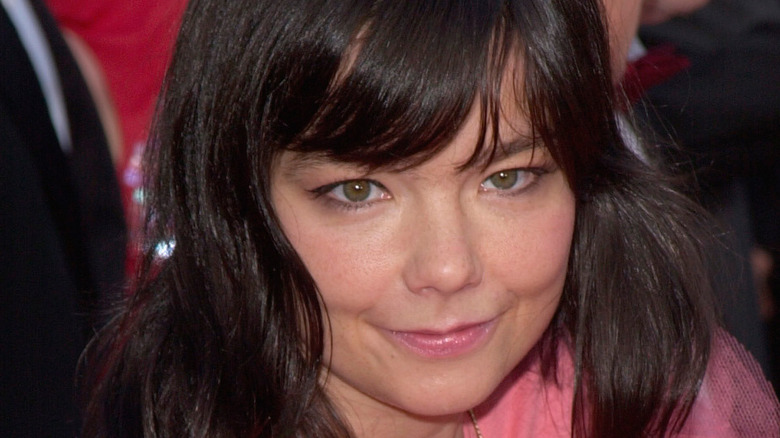 Featureflash Photo Agency/Shutterstock
Original ideas are getting harder and harder to come by. So many of us, as children, had fond ideas of becoming inventors. The key, as any "Dragon's Den" contestant would attest, is to come up with a product so invaluable, so fantastic, that it's scarcely believable nobody's done it before. If the idea's so great, though, it stands to reason that someone will already have done so. And therein lies the problem.
Originality is hard to find. For every hit movie, TV show, or novel, there will be those who draw comparisons to what has come before. Authors and musicians sometimes proudly wear their inspirations on their sleeves, and sometimes go on to inspire the next generation in turn. As Whitney Houston's official website states, for instance, the exhibit "Whitney! Celebrating the Musical Legacy of Whitney Houston" at the Grammy Museum honored just some of the artists who had a tremendous impact on her career: Gladys Knight, Chaka Khan, and Aretha Franklin are among them.
The Voice, needless to say, defined her own unique place in the history of music. So too did another iconic female singer: Björk. The eccentric artist has had quite a career, and she is as well-known for her inimitable sense of style and personality as she is for her music. Not to mention her sense of humor: it seems she once tried to fool the world into believing she was going to be Led Zeppelin's next lead singer.
Björk, ever the joker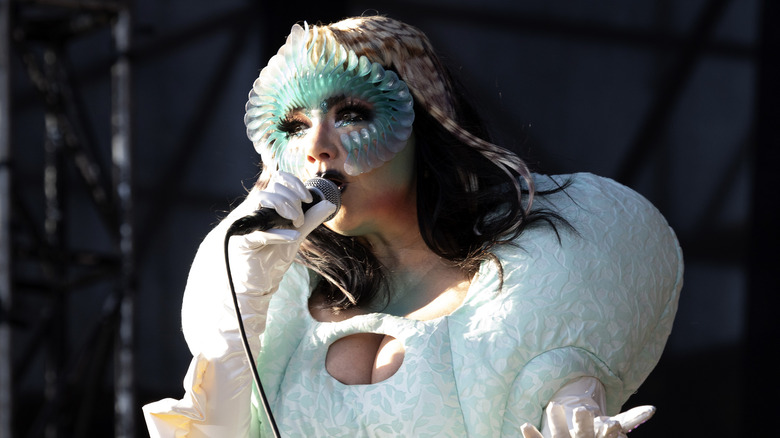 Santiago Felipe/Getty Images
Per Britannica, Björk Gudmundsdottir hails from Reykjavík, Iceland. It may not be a land known for producing chart-topping artists by the bucketload, but Björk is certainly fond of the beautiful country. In September 2022, she told Uncut, "The real problem with hiking in Iceland is the weather ... To plan any big trips, you really need a gambler mentality. You either go to Las Vegas or you become an Icelandic weather forecaster."
Björk's wit, originality, sense of fun, and raw talent have been evident for decades, and her flair for the dramatic has meant that she's often misinterpreted. In November 2017, discussing her album "Utopia" with The Guardian, she said, "Look, I'm happy that people are still listening to me after all these years, but sometimes I feel people misunderstand the lyrics. People miss the jokes. A lot of it is me being ... self-deprecating ... "
Oftentimes, a performance, comment, or song of Björk's is not to be taken at face value. One particularly surprising joke of hers that may have bemused many occurred when she seemingly announced herself as a member of a supposedly reuniting Led Zeppelin.
A Björk-fronted Led Zeppelin would have been a thing to behold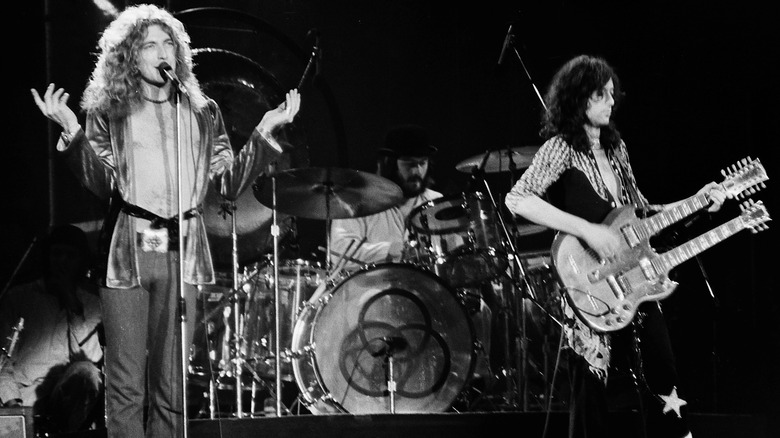 Bruce Alan Bennett/Shutterstock
Led Zeppelin maestro Robert Plant has long struggled with the concept of reunions with the band. In March 1988, he told Rolling Stone of one such Live Aid event: "In fact, it was horrendous ... [T]here are a lot more important things to want than Page and I staggering around in Philadelphia, me hoarse and him out of tune."
Nevertheless, per Far Out Magazine, the return of the "Black Dog" superstars, a one-night only show in London in December 2007, was a tremendous success. Plant agreed to it all because the event was in honor of Atlantic Records' Ahmet Ertegun (per Birmingham Live), but for him, this would not mark a return of Zep. " ... I had to get away from it," he told MOJO Magazine, according to Birmingham Live. "I'd done it. I had to go. It was too heavy. Beautiful, but talk about examining your own mortality! Crazy."
Who could have filled Plant's considerable shoes in a prospective Zep revival? According to Björk, herself. Per NME, the singer posted a statement on her website on April 1, 2009, claiming Led Zeppelin's world tour was "in turmoil after original singer Robert Plant decided to concentrate on live work with [Alison] Krauss," so she would be fronting Led Zeppelin. She further stated, per Billboard's 2014 rundown of great April Fools' Day jokes, that the band would play the classics from "I" and "IV" under her non-tenure, which would (but naturally did not) begin within a couple of months of her hilarious post.