Why Both Keith Richards And Queen Elizabeth Objected To Mick Jagger's Knighthood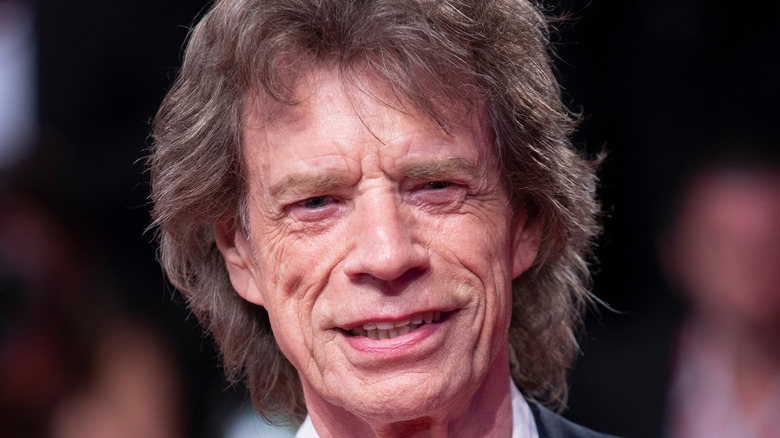 Denis Makarenko/Shutterstock
Twice a year, the British monarchy acknowledges individuals for their merit, service, or bravery with different medals, decorations, and honors. Among those include knighthood and damehood. During her lifetime, Queen Elizabeth II awarded many with this privilege, ranging from public servants to well-known personalities (via The Gazette). She has even bestowed some celebrities with the conferment, including Judi Dench, Ian McKellen, Bono, and Paul McCartney, reports Insider. In 2003, the Rolling Stones frontman Mick Jagger was knighted, but the event was not without protest, per Billboard.
Rolling Stones co-founder and guitarist Keith Richards, along with Queen Elizabeth, raised objections to Jagger receiving the coveted distinction. The queen was apparently so against the idea that she refused to knight Jagger, leaving the job to then Prince Charles, according to Insider. While her reason for opposition was different from Richards', it was based on a similar principle, and that had to do with Jagger's reputation, per Far Out Magazine.  
Keith Richards said it was 'ludicrous'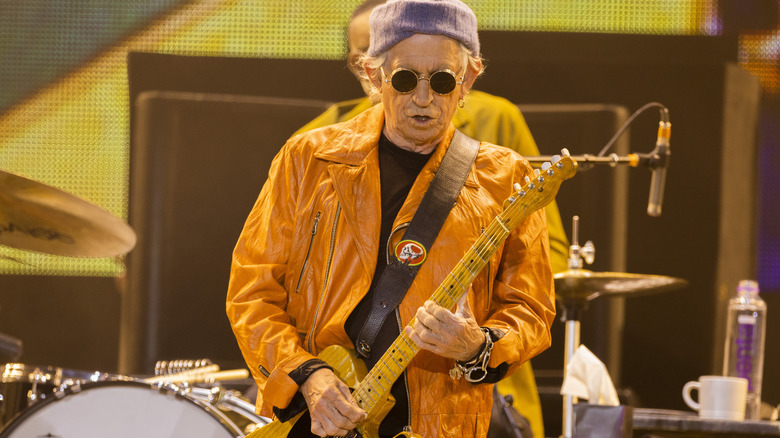 Bsr Agency/Getty Images
As for Keith Richards, his objection goes back several years — to 1967 when his home was raided by police and he and Jagger were arrested on drug-related charges. Jagger was sentenced to three months for possession of amphetamines and Richards was slapped with one year in jail for allowing marijuana to be smoked in his home, reports the BBC. While the sentences were repealed, Richards never forgot what happened, and he revealed his true feelings about the matter when Jagger was nominated for the distinction.
According to the BBC, Richards told Uncut magazine that receiving knighthood "sent out the wrong message," adding that it's not what the Stones is about. "I thought it was ludicrous to take one of those gongs from the establishment when they did their very best to throw us in jail," he says. Richards also allegedly thought that the Rolling Stones and the monarchy shouldn't be associated with each other, per Express.
Queen Elizabeth thought Jagger was 'unsuitable'
Fred Duval/Shutterstock
As for Queen Elizabeth, she had more than one reason for not wanting to knight Jagger. One of those reasons was political — boiling down to Jagger being anti-establishment. Jagger reportedly said, "Anarchy is the only slight glimmer of hope," and even referred to the queen as "chief witch," according to the Daily Mail. The band even released an album entitled "Their Satanic Majesties Request" in 1967, just months after Jagger and Richards were arrested.
But there was another reason why Queen Elizabeth didn't want to bestow Jagger with a knighthood, and it had to do with family. Specifically, Princess Margaret, Elizabeth's sister, who was friends with Jagger. Far Out Magazine reports that, according to the book, "Mick: The Wild Life and Mad Genius of Mick Jagger," Jagger met Margaret when she was just 16 and the two were friends for some 20 years. The queen felt like Jagger was a "corrupt influence" on the "emotionally fragile" Margaret. So when then prime minister Tony Blair suggested Jagger be added to the list of those to be considered knighted, the queen claimed he was "not suitable."