What Life In Prison Is Like For NXIVM Cult Leader Keith Raniere
On paper, Keith Raniere was a huge success. The New York native had the charisma and charm to lure more than 17,000 people into taking the self-help classes that his organization, NXIVM, provided. To improve themselves, thousands of people would go through these courses and attend NXIVM seminars. Raniere promised success for people on the executive level, attracting high-profile attendees that included Hollywood stars and business leaders. The multi-level marketing empire all came crashing down around Raniere and his top-level cohorts in 2018 when he was charged with seven felony counts in a federal court (per The United States Department of Justice).
Federal prosecutors alleged that Raniere was using his organization to recruit sex slaves for himself and some of his inner circle. Among the crimes he was charged with were sex trafficking, wire fraud conspiracy, and racketeering, including manufacturing child pornography.
A jury found Raniere guilty on all charges. At the bare minimum, he was facing 15 years in federal prison. But Raniere wouldn't get off that light. In October 2020, United States District Judge Nicholas G. Garaufis handed Raniere a pretty stiff sentence. Raniere was remanded to prison for a term of 120 years, which pleased acting United States Attorney Seth D. DuCharme. Regarding the penalty, he stated, "Raniere exploited and abused his victims emotionally, physically, and sexually for his gratification. I hope [this] sentence brings closure to the victims and their families" (per The United States Department of Justice).
Raniere will spend the rest of his days behind lock and key, a life much different than the one he previously led.
Keith Raniere is held in Tuscon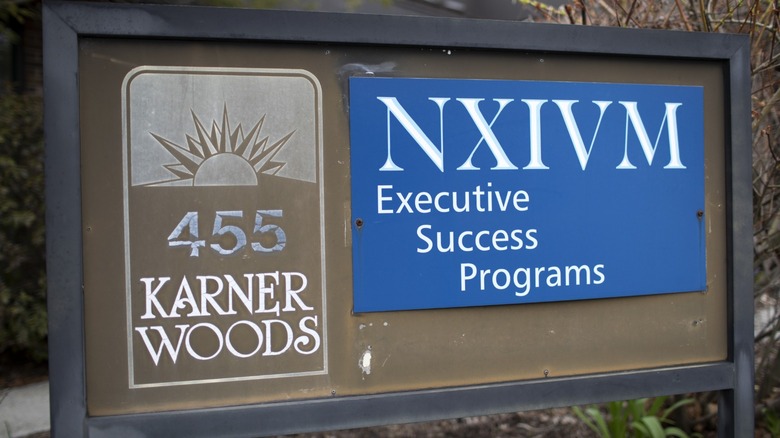 Amy Luke/Getty Images
Keith Raniere's life in the big house apparently hasn't been a lot of fun. The New York Post reports that he has filed multiple complaints through his attorneys regarding his treatment at the United States Penitentiary, Tucson. According to Raniere's legal team, their client was also threatened with a transfer to another federal prison. Raniere maintains that such a move would compromise his safety as a high-profile inmate.
Raniere's attorneys have stated that the proposed move is also based on the prison's opinion that Raniere was getting "too many legal calls and visits." Court documents do show that Raniere was blocked from calling "Battlestar Galactica" actress Nicki Clyne because he was apparently taking advantage of his phone privileges.
No matter what Raniere's concerns are for his safety if he is transferred, he's not exactly been happy with the conditions in Tucson. He claims that the Special Housing Unit that he was placed in is unsanitary. In his complaint, he alleged that his cell was "contaminated with feces." He gives details about how the small room had human excrement in piles on the floor and smeared all over the walls. This special cell held Raniere for about five hours. He wasn't exactly thrilled with a bunkmate, either. Raniere claims that he was forced to share the cell with an inmate who had made threats to kill any sex offender they are housed with, per the New York Post.
Raniere was beaten by a fellow inmate earlier this year
Keith Raniere wishes to leave the Special Housing Unit and take his chances with the general population, according to the New York Post. But prison officials appear to have placed him in this block out of concerns for his safety. Before he was sent to this unit, Raniere was attacked by a fellow incarcerated person.
The Sun reports that some believe that the attack on Raniere was due in part to a TNT episode of "Rich and Shameless" that featured Raniere's victims being interviewed about his crimes against them. According to another article in the New York Post, his attacker, Maurice Withers, beat him with his fist while Raniere was carrying a tray of food to his table in the prison cafeteria. In the court documents he filed, Raniere says that he didn't defend himself, and was severely injured by the blows Withers inflicted on him. Raniere said, "I was dizzy for several days and could not get out of bed."
This wasn't the first time that Raniere had been moved into that unit. He was sent there previously for trying to get a fellow inmate to get a letter to Nicki Clyne, who was barred from visiting.
While in the restricted unit, Raniere complained that his contact with attorneys was limited to almost nothing. He alleges that he was forced to yell through a plexiglass barrier or be "handcuffed and shackled to a belly chain" during times he was allowed face-to-face contact, according to the New York Post.
While the transfer out of the United States Penitentiary, Tucson is still up in the air, it appears as though Raniere has a long, hard road ahead of him behind bars.