Franco Harris And Vietnam Vet Rocky Bleier Made History While Sharing A Backfield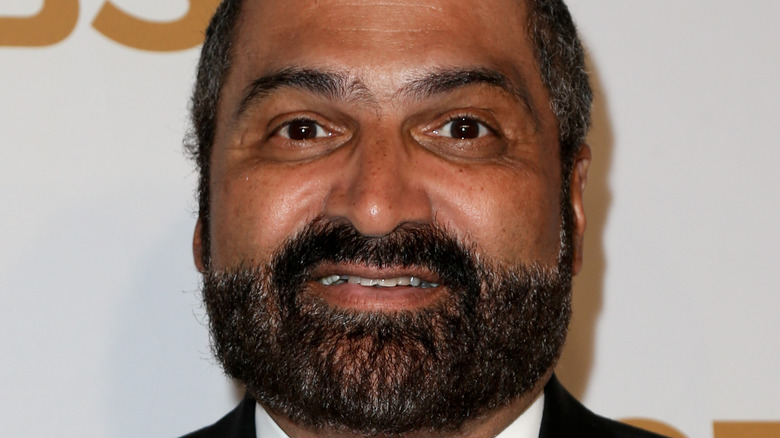 Debby Wong/Shutterstock
Hall of fame NFL running back Franco Harris died in late December, 2022 at the age of 72. No cause of death was given when Harris' death was announced, according to The New York Times. As a player, Harris is best known for his time with the Pittsburgh Steelers and for the so-called "immaculate reception" in the 1972 NFL season. While in Pittsburgh, Harris played in a backfield considered among the best ever alongside Rocky Bleier and Terry Bradshaw, according to the Pittsburgh Steelers' website, Behind the Steel Curtain. Four years after Harris' game-winning catch, Harris and Bleier combined for one other feat that alone would have been more than enough to secure their place in football history.
That record aside, Harris' "immaculate reception" happened in the closing seconds of a Pittsburgh playoff game. As the clock wound down, Harris caught a deflected pass that the hall-of-fame Steelers quarterback, Bradshaw, had intended for another player, and only inches before the ball hit the ground. After Harris' acrobatic catch was complete, he ran the ball back and scored a touchdown. With that, the Steelers won the first playoff game in team history (via Behind the Steel Curtain). The Steelers went on to lose to Miami in the AFC championship game that same year, per Pro-Football-Reference. Undeterred, in the '76 NFL season, Harris and Bleier, still in Pittsburgh, combined for an NFL record which at that point had only been done once before.
Franco Harris ran more than 1,000 yards his rookie season
George Gojkovich/Getty Images
Adding to the legend of Franco Harris' "immaculate reception" was that 1972 was Harris' rookie season, a campaign that also saw him rush for more than 1,000 yards, as Behind the Steel Curtain goes on to write. Since NFL teams now play more games, that stat is somewhat less important than it once was, according to Bleacher Report, but between 1,000 and 2,000 yards rushing in a single season is still a useful measure in today's NFL of any running back's performance, as Rookie Road notes.
As mentioned, the Pittsburgh Steelers did not make the Super Bowl in the '72 season but the team — with Harris, Rocky Bleier, and Terry Bradshaw — did win the Vince Lombardi Trophy four times in six years that same era, per Behind the Steel Curtain. In the 1976 campaign, the Steelers did not win it all, but for his part, Harris had a good year, rushing for over 1,000 yards. Most notably, though, Harris was only one of two Pittsburgh players to do so, and they became only the second player tandem at that time to have rushed for more than 1,000 yards each in a single season.
Rocky Bleier also ran more than 1,000 yards that same year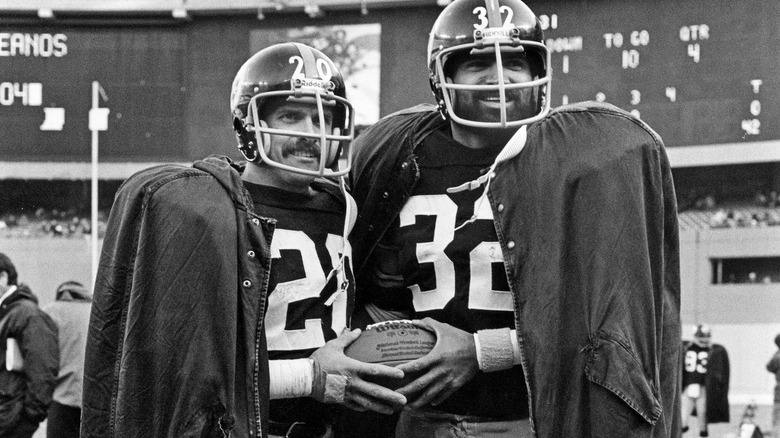 George Gojkovich/Getty Images
Franco Harris was not alone in rushing for over 1,000 yards in 1976 — so, too, did Rocky Bleier, and together, they were only the second pair of NFL players at that time to have done so, per NFL record keeping, according to the Pro-Football Hall of Fame website. The first two backs to do so were Larry Csonka and Eugene "Mercury" Morris of the Dolphins four years earlier, the same year Miami eliminated the Steel City from Super Bowl contention. 1972 is also the same year that Miami, behind QB Bob Griese, went undefeated, a record that still stands today.
Since then, four NFL player-duos have also rushed for over 1,000 yards each, but the fact that the NFL regular season was only 14 games when Harris and Bleier did it in 1972, versus 17 regular season games today, makes their accomplishment just that much more impressive, with a much higher per game rushing average required to hit that number (via Pro-Football Hall of Fame). Still, Harris is most well-known for the "immaculate reception" and he died just a short time before that legendary play's 50th anniversary (per the Daily Mail).