The Reason Former Child Star Dee Jay Daniels Was Acquitted Of Murder
Young star Dee Jay Daniels' life took an unexpected and tragic turn that no one could predict while he played the role of actor/comedian D.L. Hughley's onscreen son Michael Hughley on the 1990s sitcom "The Hughleys." The 89-episode run of the show made Daniels appear to be heading for a bright future in front of the camera (via IMDb). He was a favorite among fans, often stealing the scenes he was cast in. For his efforts, Daniels was nominated three times for the Best Supporting Young Artist Award, though he never won.
It might have seemed like Daniels was destined for stardom. But after the conclusion of "The Hughleys" in 2002, Daniels had trouble getting work. Though he made one guest appearance on "The Bernie Mac Show" in 2004, his time as an actor seemed to be over. 
Legal issues would soon begin to plague Daniels as well. One fateful night in 2011 led to Daniels getting arrested and charged with first-degree murder and gang activity (via Yahoo News). The incident involved Daniels and two of his friends getting into a fight with a man outside of the Chivitas bar in Stockton, California. The brawl ended with the man being stabbed to death and Daniels eventually getting charged in June 2012. He and the two other defendants would be held without bond until a lengthy trial would exonerate him later that year.
Daniels was not the person who was wielding the weapon
When Daniels was arrested, he had outstanding misdemeanor warrants for driving without a license and possession of marijuana (via Yahoo News). But those minor charges would be the least of Daniels' worries. The felony counts he was arrested for were serious and would make the former child star face the possibility of life in prison.
Daniels' attorney filed a motion to dismiss charges against his client. His defense was that Daniels did not know beforehand that there was going to be a fight, and that his client was not the one to brandish the knife, let alone stab the victim. Had this motion been granted, it would have been the end of Daniels' time in court. But unfortunately for Daniels, it was denied. Prosecutors maintained that Daniels and his companions were flashing gang signs, in an attempt to make the murder look like rival gang activity, according to VladTV (via YouTube).
Daniels was only 21 at the time of the stabbing. The first-degree murder charge alone would mean a minimum of 25 years behind bars, should he have been found guilty. As he was being held on a murder charge, bond was refused for Daniels. But he was determined to beat the charges. Daniels moved forward with a jury trial that convened toward the end of 2012 (via Recordnet).
DL Hughley testified on Daniels' behalf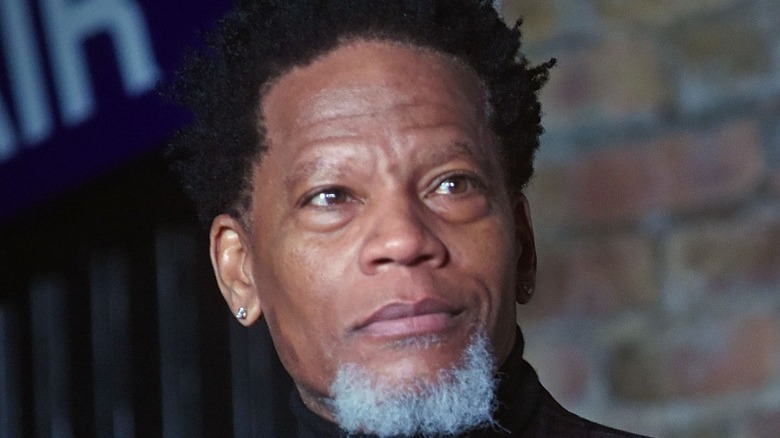 Bobby Bank/Getty Images
Some in the courtroom might have been surprised to see one of Daniels' character witnesses. D.L. Hughley took the stand to vouch for Daniels, discussing the finer points of his former TV son's life. As a man with ties to the Bloods in his youth, Hughley was candid about his own gang-related experiences when questioned by counsel.
Per Recordnet, during the trial, it was determined that Daniels' 26-year-old friend Marcus McCliman was the person who stabbed the victim, John Joseph Lewis. Ultimately, this led to jurors acquitting Daniels and another co-defendant, 27-year-old Djuane Nunley, of all charges. While on the stand, McCliman took full responsibility for the death of Lewis, absolving his co-defendants of any wrongdoing according to Vlad TV (via YouTube).  McCliman was acquitted of first-degree murder charges but found guilty of voluntary manslaughter. While Daniels and Nunley were able to walk free, McCliman was remanded into custody and sent to prison to serve out an 11-year sentence.
But did Hughley's testimony sway the jury toward Daniels' acquittal? San Joaquin County Deputy District Attorney Janet Smith didn't think so. After the trial, she told Recordnet that when she spoke to the jury afterward that Hughley's time on the stand wasn't mentioned.