Nepal's Infamous Serial Killer 'The Serpent' Is A Free Man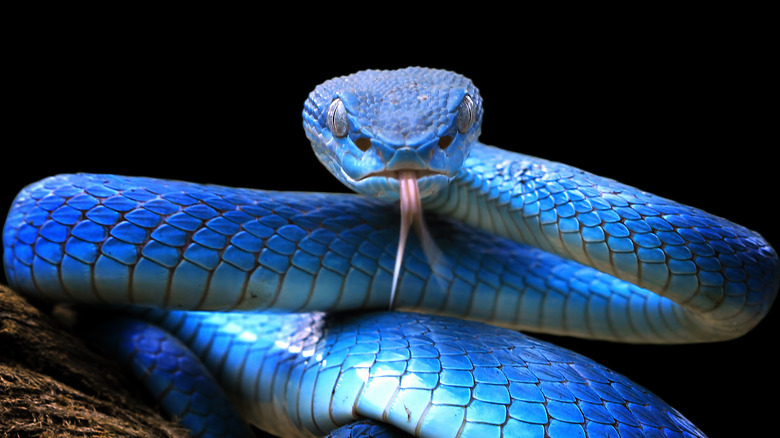 Kurit afshen/Shutterstock
Charles Sobhraj, the subject of the 2021 BBC-Netflix fictionalized TV mini-series "The Serpent," has been released from jail, as BBC News reports. Sobhraj, age 78, was 19 years into two 20-year life sentences in Nepal for the 1975 murders of an American woman and her Canadian friend. Nepal's Supreme Court ordered the French national released early based on good behavior and because of Sobhraj's age (via CNN). In his petition for release, Sobhraj, born in Vietnam under French control, also presented Nepal's highest court with official medical documents confirming he needed open-heart surgery, as The New York Times (NYT) reports.
Prior to Sobhraj's 2004 conviction for the two murders of American Connie Jo Bronzich and her Canadian friend, Laurent Carriere, the serial killer known as "The Serpent" or "The Bikini Killer" had already served one life sentence (20 years) in India for poisoning French tourists on a bus, as NYT writes. After his release in India, Sobhraj returned to France and later to Nepal, where he was recognized and arrested (via NYT). Per Nepalese and Indian law, 20 years equals a life sentence, based on The Washington Post reporting. Also, according to Nepalese law, in combination with good behavior, prisoners can be freed when 75% of their sentence is complete or if it can be proven that medical attention is required, per NYT.
Sobhraj is linked to 20 murders
In addition to those three convictions mentioned, Sobhraj is thought to have been responsible for as many as 20 murders during a ten-year period beginning in 1972, based on further BBC News reporting. Authorities believe Sobhraj drugged and strangled travelers not just in Nepal but also in Thailand and India. Some victims were beaten and burned. A warrant for Sobhraj's arrest on six counts of murder was issued in Thailand, but his extradition to the country never took place, as NYT writes.
Most of Sobhraj's murders reportedly happened on the so-called "hippie trail" in India and Thailand, frequented at that time by Western tourists, including many young women whom Sobhraj targeted, sometimes while wearing a disguise, according to BBC News. Per Reuters, while serving his first life sentence (20 years) in India, Sobhraj escaped Tihar Jail after drugging the guards with sleeping pills. Sobhraj later said he escaped to have his sentence extended and to prevent extradition to Thailand, where there was a warrant for his arrest (via BBC News).
The Serpent admitted 12 killings
As CNN notes, Sobhraj has a criminal record dating back to the early 1960s, and at one point, he confessed to 12 killings but later sought to have those confessions withdrawn. The exact number of murders may never be known. Many deaths Sobhraj is linked with remain unsolved. According to the verdict freeing Sobhraj, to keep him in prison in light of his age, good behavior, and reported medical condition, would be a violation of his human rights (via BBC News). According to CNN, once freed, The Serpent entered the custody of the Nepalese immigration authority, and he must return to France within 15 days, per the court ruling.
Sobhraj picked up the  nickname "The Serpent" based on his knack for evading arrest during his crime spree. Additional countries Sobhraj is suspected of committing crimes include France, Greece, and Turkey. Sobhraj has denied killing the American woman in 1975 for which he received his 20-year life sentence, according to NBC News. Sobhraj's notoriety is such that an Indian cafe in Goa near Mumbai, where Sobhraj liked to eat, erected a statue of the serial killer to attract true-crime fan tourists. Goa is a resort town where many of The Serpent's India-based murders took place, leading Sobhraj to be called "The Bikini Killer," as India Today explains.