Pelé's Impact Reached Even The WWE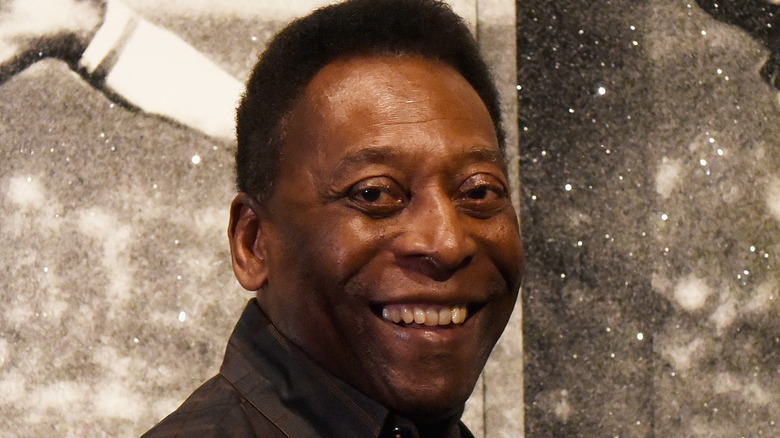 Mary Turner/Getty Images
The Brazilian soccer star Edson Arantes do Nascimento, also known as Pelé, who died on December 29, 2022 at the age of 82, had an influence on sports beyond the game with which he's most closely associated, as Bleacher Report writes. Pelé's legacy shows up in a difficult move that bear's his name that's now also common in pro wrestling. On the soccer pitch, the star athlete himself said he accomplished the feat only three or four times in his career, as Newsweek writes.
When many today think of Pelé, in fact, they picture this gravity-defying trick — and that's saying a lot for a three-time World Cup champion (via Britannica). It's unclear when Pelé first tried to pull it off, but according to Rolling Stone, one early instance supported by photographic evidence happened in 1965 in a friendly match — a soccer term meaning something like a non-competitive, preseason game in the NFL (via YourSoccerHome) — between Belgium and Brazil.
The move is also sometimes called a 'bicycle kick'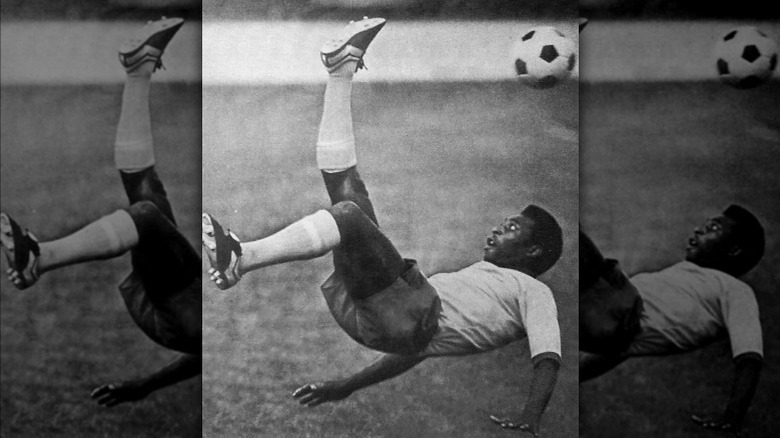 4imagens/Getty Images
The move in question is also sometimes called a bicycle kick, and based on photographs taken of Pelé attempting the kick from that 1965 Belgium-Brazil friendly, the bicycle kick is also now sometimes called the Pelé kick. The Pelé kick is also now attempted by pro-wrestlers like AJ Styles and John Morrison to take down their opponent in the ring, as Bleacher Report points out. To perform a bicycle kick requires becoming completely airborne and spinning 180 degrees while still vertical.
Already difficult enough, in the case of soccer, the airborne ball is then kicked while the player is aloft and upside down. As Rolling Stone goes on to write, there's little video evidence of Pelé scoring with a bicycle "Pelé" kick, but montages of motion picture footage and still images of Pelé performing the signature move are posted on YouTube. He also performed a Pelé kick in the 1981 film, "Escape to Victory."
In the pro-wrestling ring, Pelé kicks are aimed at an opponent's head
In the pro-wrestling ring, of course, there's no ball, so Pelé kicks are made against an opponent's head, which most often brings them down. The move requires a 180-degree rotation while vertical to the ground as opposed to the also impressive pro-wrestling "superkick," in which one foot of the wrestler's feet stays planted (via The Sportster). In addition to the wrestlers mentioned, Finn Bálor has also been known to perform Pelé kicks in the ring.
Compilations of WWE wrestler A.J. Styles (pictured) successfully managing a Pelé kick are posted on YouTube. Also according to The Sportster, a Pelé kick has never been used in pro wrestling to win a match. That "Escape to Victory" film sequence in which Pelé successfully executes a bicycle kick is available to stream now on YouTube. According to The New York Times, Pelé died in a Brazilian hospital from complications related to colon cancer, among other health issues.