Who Were The Founding Members Of Modest Mouse?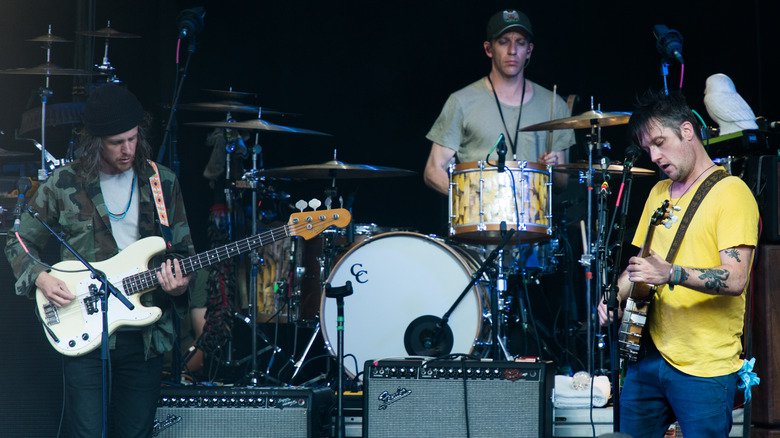 Paul R. Giunta/Getty Images
It's safe to assume that first-time Modest Mouse listeners all had the same reaction to tracks like "Float On" or "Dashboard." Ears perked up, brows rose in surprise, heads started to bob, and lips muttered, "Wow, this is really good!" Undeniably bubbly and bouncy punk-pop splashed with David Byrne-like vocal barks? Check. Quirky synth elements set against a crisp but lush instrumental arrangement? Check. Indie vibe fine-tuned through devil-may-care musicianship and masterful production? Check. It's no wonder that Modest Mouse garnered critical success following their full-length 1996 release, "This Is a Long Drive for Someone with Nothing to Think About," as Vanity Fair recounts. It's also no wonder they broke into the mainstream with 2004's "Good News for People who Love Bad News."
By 1996, Modest Mouse had a few years of industry experience under their belts. As The Vogue says, they'd recorded and released their debut EP "Blue Cadet-3, Do You Connect?" in 1994, one year after the band formed in 1993. With their initial musical lineup ready to go, their career-long penchant for idiosyncratic album titles on full display, and an equally curious band title named after a line from the Virginia Woolf essay "The Mark On the Wall," Modest Mouse hit the ground running. Some band members came and went in the years following the band's debut and leading up to their platinum-selling breakthrough, but the outfit began as a trio: guitarist, singer, and songwriter Isaac Brock, bassist Eric Judy, and drummer Jeremiah Green. 
Early lineup shuffles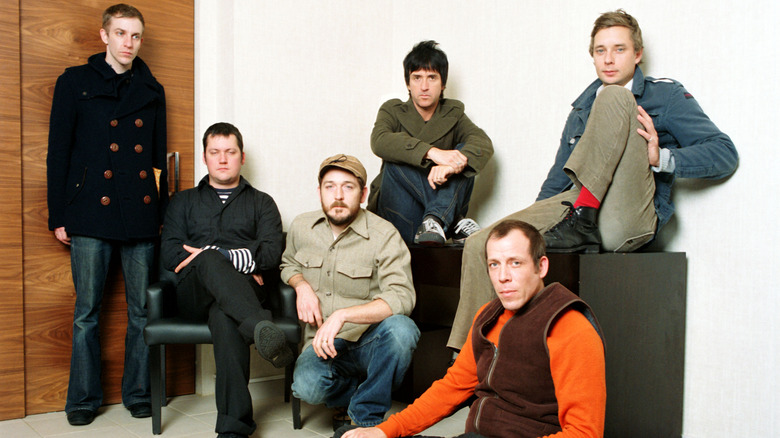 Avalon/Getty Images
As Last.fm recounts, Modest Mouse started making music after an unlikely series of events: lead singer Isaac Brock getting evicted from the second story of an abandoned, flooded house and moving into a shed. Brock, now 47 (per Wweek), was a mere teenager at the time. Same goes for Eric Judy (per Famous Birthdays) and Jeremiah Green (per Last.fm), who all got together in Brock's shed-dwelling days to start making music. This happened in Issaquah, Washington, a suburb of Seattle, which explains a bit of the quirky, punky musical influences percolating amongst the band in the early 1990s. 
Modest Mouse's lineup didn't change until right before their breakout album "Good News for People who Love Bad News" hit the airwaves in 2004. As The Vogue continues, drummer Jeremiah Green left the band in 2003 to pursue a solo project, Vells. Thus began a band member merry-go-round where Modest Mouse shuffled folks in and out of other indie bands for years. Drummer Benjamin Weikel from The Helio Sequence came on board to replace Green, and guitarist Dann Gallucci joined from Murder City Devils. As soon as "Good News for People who Love Bad News" took off, Green came back and Weikel and Galluci left. In 2005, Tom Peloso, who'd performed on some tracks on "Good News for People who Love Bad News," permanently joined the band, presumably to pad out the lineup while touring. Guitarist Johnny Marr from The Smiths joined in 2006. 
Brock and Green till the end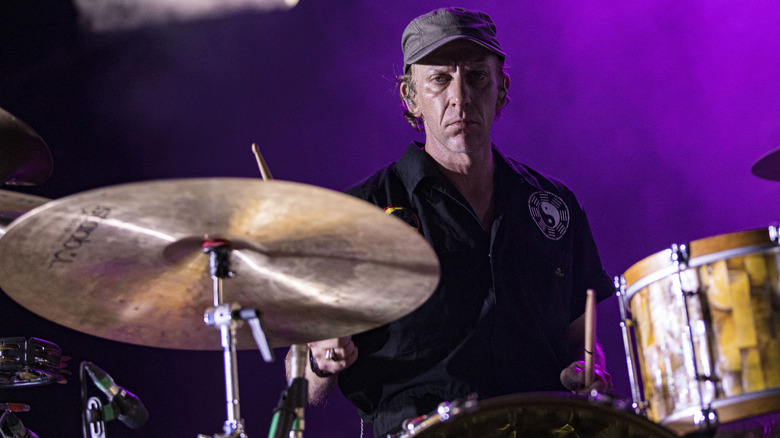 Daniel Knighton/Getty Images
Modest Mouse's lineup hasn't stopped mutating since its early days. As The Vogue says, Johnny Marr left the band in 2009, and Jim Fairchild of Grandaddy stepped in to take his place. Drummer and composer Joe Plummer got on board from 2004 to 2012, as the Joe Plummer website says. From there, Plummer joined indie rock outfit The Shins as drummer, per Pitchfork. Out of all the musicians who've worked with Modest Mouse over the years, singer Isaac Brock remembers Marr the most fondly, saying of him on Manchester Evening News, "On so many levels, Johnny's one of the greatest people I've had the pleasure of meeting and working with. Looking back on it, getting him in the band was a real shot in the dark."
That being said, Modest Mouse — or at least Brock — doesn't take kindly to being reminded of all the band's various members. In the end, Modest Mouse's member rotations apparently boil down to Brock's overbearing perfectionism in the studio, something Brock himself admits. Vulture reports that Modest Mouse cut their live show lineup down to four members for its 25th anniversary tour for 1997's "The Lonesome Crowded West:" Brock, drummer Jeremiah Green, guitarist Simon O'Connor, and bassist Russell Higbee. Brock and Green were the only two band members to stay the course through 2022. Sadly, Green died on December 31, 2022 from terminal cancer mere weeks after the tour ended, per Vanity Fair.