Ken Block's Bold Car Stunts Brought New Meaning To The Word Fearless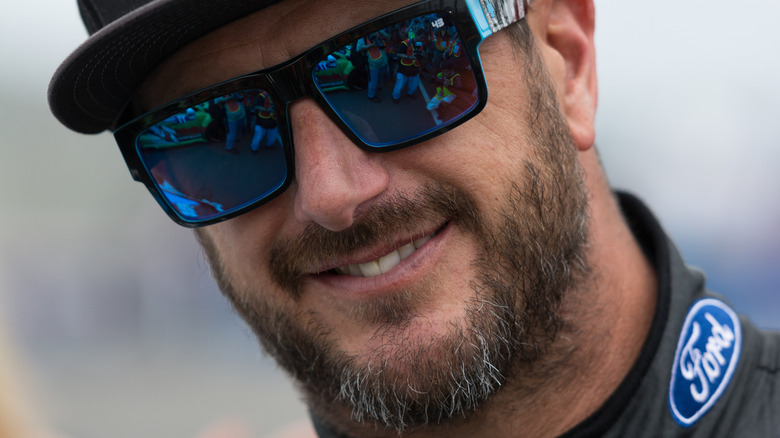 betto rodrigues/Shutterstock
Every now and then reality not only matches fiction, but supersedes it. Such was the case pretty much anytime rally car driver — stunt drivers on closed circuits made of public roads — Ken Block got behind the wheel. Pulling off the closest thing we might ever get to a real-life "Fast & Furious" scene, Block maneuvered though narrow openings in barricades, drifted in endless donut loops at city street intersections, and flew off of hilltops like an '80s TV car chase — and that's just one video shot in San Francisco (on YouTube). Whether it's just madness and rally car drivers are "stupid skillful," as Wired puts it, or folks such as Block are sports professionals like any other, we've at least got footage that shows it's even possible.
Block, in fact, did this not only once, but plenty of times. Considered amongst the best rally car drivers in the world (per Marca), Block and his clothes brand DC first embarked on a series of five "Gymkhana" rally car driving videos back from 2009 to 2012 (on YouTube). Gymkhana, as Fortune states, is a type of high-speed, course-confined racing that incorporates trick techniques. Watchable on YouTube and including course locations ranging from Paris to Universal Studios, each of Block's Gymkhana courses was uniquely designed, tried to outdo its predecessor, and demanded driving skills far beyond parallel parking. These videos went on to inspire recent team-ups like that of driver Travis Pastrana and car-focused clothing brand Hoonigan (on YouTube). 
Entrepreneur turned rally car driver
Ken Block didn't start out as a rally car driver, but as an entrepreneur. Along with designer Damon Way, he founded DC Shoes in 1994 as a sportswear brand focused on skateboarding, per Fortune. This was back in the extreme sports heyday of the mid-90s when folks like professional skateboarder Tony Hawk blew up in pop culture. Extreme skateboarding on urban tracks, snowboarding off of cliffs, BMX trick biking, downhill mountain biking, etc.: rally car driving falls in the same general category as these sports. Come 2004, when DC Shoes broke $100 million in sales (per Transworld Skateboarding), Block and Way decided to sell their business to action sports leader Quiksilver. According to Fortune, they got $88 million out of the deal, and Block got the freedom to dive into what he loved: rally car driving.
As former rally car driver Nasser Al-Attiyah writes on Wired, the sport tends to draw adrenaline junkies and risk-takers, which comes as no surprise. Plus, there's the thrill of feeling like one is breaking the rules, so to speak, by racing 100 miles per hour in places where it would otherwise be illegal. Cars are kitted out to have insane suspension, survive crashes, get beaten up by debris and bumps in the road, and generally endure the kind of driving that would rip apart an off-the-lot Ford Taurus like a beaten piñata. This is the world that Ken Block dove into, and the one that he helped to redefine. 
A huge, lasting impact
Ken Block's five initial Gymkhana ventures marked the first in an ongoing tradition that featured, like a movie, exotic cars doing absurd stunts in increasingly unlikely locations. The culmination of the original series — Block's San Francisco course — took four days to film, as the video's description on YouTube says. It's clear from the video exactly how much effort went into designing the course not just to be feasible to drive but to showcase certain skills and techniques as well as provide some impressive, single shots to draw in viewers. But as enjoyable as watching this one video and the other courses before it, its true effect rested in how Block impacted the world of rally car driving from that point on. As the American Rally Association (ARA) says on Instagram, Block was "a massive influence on everything he touched, including the global world of rallying." 
Sadly, Block died in a snowmobile accident on Monday, January 2. He was 55. Hoonigan wrote on Instagram, "Ken was a visionary, a pioneer and an icon. ... He will be incredibly missed." In a similar vein, the ARA wrote on Instagram, "His [Block's] stewardship within the ARA these past few years was invaluable and he will be missed." As Marca quotes, Block's snowmobile flipped when he was riding on a steep incline somewhere in Wasatch County, Utah. The snowmobile crushed him, and he was pronounced dead on the scene. He is survived by his wife and three children.