Why A Motorcycle Accident As A Teenager Might Have Saved Bruce Springsteen's Life
lev radin/Shutterstock
The true greats and icons of the music world tend to earn themselves nicknames worthy of their status. Whether a mononym, a term like "the King," or even an enigmatic symbol enough to make you globally recognizable, superstars are superstars.
There's only ever been one Boss, however: the legendary Bruce Springsteen. As Britannica reports, Springsteen was born in New Jersey in September of 1949, and had a Columbia Records contract by 1972. The next year, not one but two solo albums were released ("The Wild, the Innocent & the E Street Shuffle" and "Greetings From Asbury Park, N.J."), and a meteoric career began.
It all may never have happened, though. The teenage Springsteen, it seems, was involved in a terrifying motorcycle accident. His life may have been tragically cut short, but in a bizarre twist of fate, may have been saved by the harrowing incident. Here's how it all happened.
Bruce Springsteen, motorcycle devotee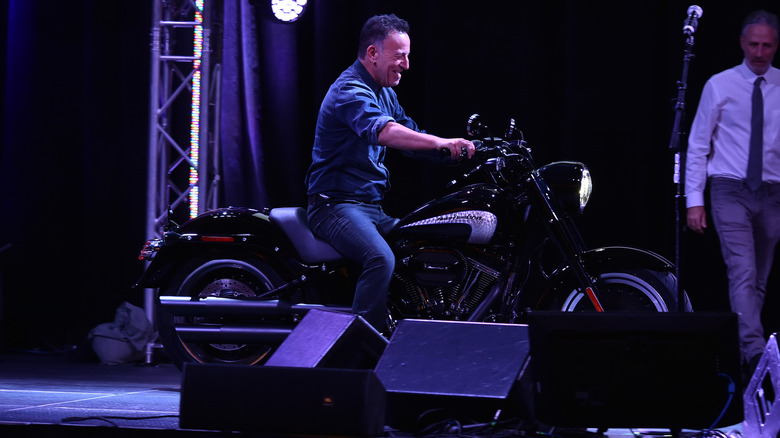 Theo Wargo/Getty Images
Bruce Springsteen is, of course, known for having something of an affinity for motorcycles. NBC 4 New York tells the tale of a November 2016 encounter that a group of fellow enthusiasts had with the "Dancing in the Dark" hitmaker. Dan Barkalow of the Freehold American Legion reported that he was traveling along Wall Township when he saw a man stranded at the roadside. Stopping to help, as is the wont of bikers everywhere, he discovered that the man was none other than Bruce Springsteen himself.
The grateful Springsteen, the outlet goes on, joined the group for a little while at a nearby watering hole. Barkalow reportedly described his new famous friend, "Nice guy, real down to earth. Just talked about motorcycles and his old Freehold days." As Jennifer Lopez's "Jenny From The Block" suggests, it's important to remember your roots, regardless of how much of a legend you may have become.
This same spirit lives in Springsteen, and he surely remembers the carefree biker he once was. As he told Rolling Stone back in December of 1984, he also remembered a traumatic accident he had while biking. "I had a brain concussion from a motorcycle accident when I was seventeen," he said, though in a bizarre way, he was grateful for the disaster. As a result, he was not enlisted for the Vietnam War.
Why Bruce Springsteen didn't fight in Vietnam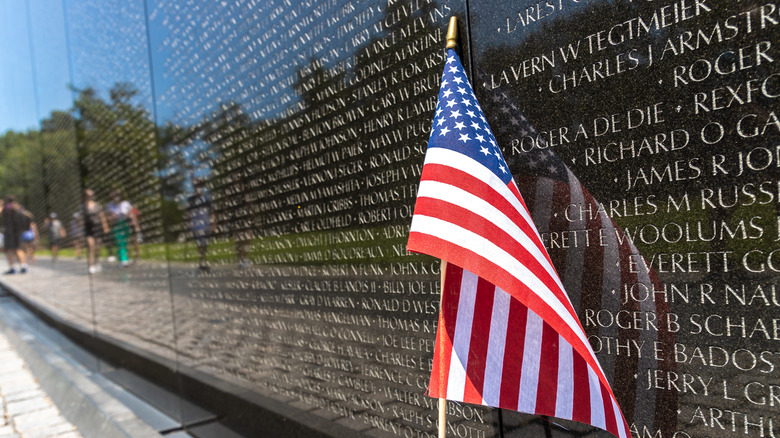 Sergii Figurnyi/Shutterstock
Bruce Springsteen was very willing to, as Rolling Stone interviewer Kurt Loder put it to him at the time, "escape the draft." In addition to his injury, the star went on to explain, " ... I did the basic Sixties rag, you know: fillin' out the forms all crazy, not takin' the tests." According to Springsteen, the conflict seemed somewhat unrelatable from the rural area he lived in, though he was personally touched by it: "The drummer in my first band was killed in Vietnam ... Bart Hanes was his name," he said.
His decision not to join, Springsteen went on to Rolling Stone, caused some friction between the young man and his father, who had been a veteran of World War II. At the Tribeca Film Festival in 2017, per Far Out Magazine, Springsteen stated during a segment with Tom Hanks, "So, perhaps, I felt guilty about that later on. I had friends who went. I had friends who went and died."
According to Britannica, over 58,300 United States military personnel were killed or lost in action during the Vietnam War. Their names are forever remembered and displayed on Washington, D.C.'s Vietnam Veterans Memorial. Springsteen, per Far Out Magazine, honored them with his emotional classic "Born in the USA." Perhaps he would have been among their number, if he had not had that accident on his motorcycle.