Why Did Isaac Hayes Wear A Golden Chain Vest?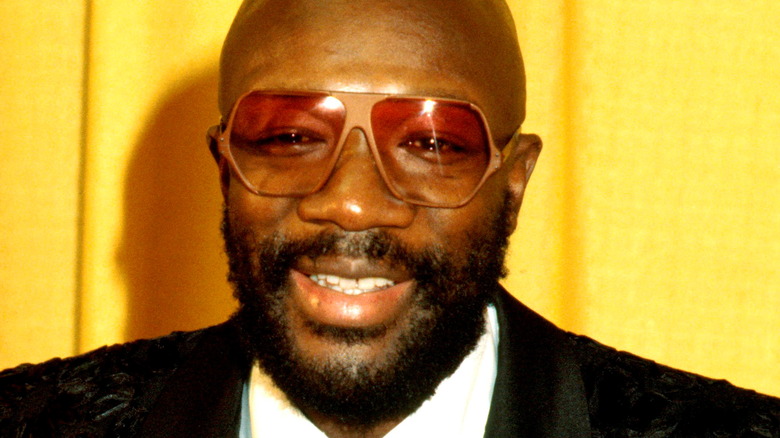 Michael Putland/Getty Images
Soul singer Isaac Hayes' signature bare chest and gold chain vest was more than just a disco-era fashion statement, according to the Arkansas Democrat-Gazette. As a musician, Hayes, who died in 2008 at the age of 65, was most active after the Civil Rights era, which saw great social and political change in the U.S. He had a string of hit records and singles from this period, and perhaps most notable of them all was the disco, funk, and soul music film soundtrack for "Shaft," per Britannica.
Born in Tennessee, Hayes began his career with the legendary Memphis label, Stax, and in photo shoots, on album covers, and while performing, he often wore that aforementioned gold-chain vest or suit — and sometimes not much else. So much so it all became a part of the soul singer's look and style. As the Arkansas Democrat-Gazette explained in 2008 on the occasion of the musician's death, that iconic golden clothing item fit for Midas was more than just a sartorial choice for the star: It had deep political and historical connotations that referenced Hayes' own childhood in the Jim Crow-era south (via History).
The gold chains first showed up on the 'Hot Buttered Soul' album cover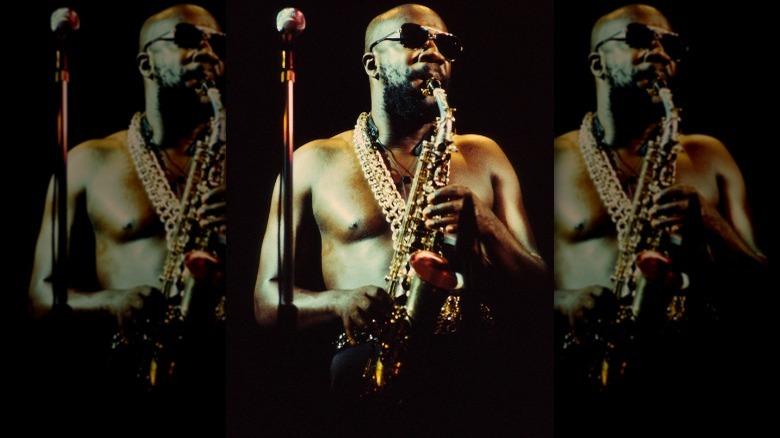 Michael Putland/Getty Images
According to Wil Haygood writing for The Washington Post (reprinted in the Arkansas Democrat-Gazette), early on in his career, Hayes wrote for artists like Sam & Dave, with a look along the lines of other soul and R&B singers at that time. His first album under his own name, "Presenting Isaac Hayes" in 1968, features a close-up of Hayes wearing a tuxedo with a top hat and cane (via AllMusic). One year later, though, "Hot Buttered Soul" was released, among Hayes' most well-known works, and on the cover, he wore those gold chains.
From around the "Hot Buttered Soul" LP onward, Hayes wore that golden vest or suit in photoshoots and in live performances. Chief among them, perhaps, is the now iconic Hayes performance of the "Theme from Shaft" at the 1971 Oscar ceremony (posted on YouTube). When asked why he wore it, Hayes joked that it simply kept him cool under the spotlight, but as The New Yorker notes, the musician also said that the clothing symbolized sexual and political liberty for Black people.
MLK's assassination reportedly inspired the gold-chain look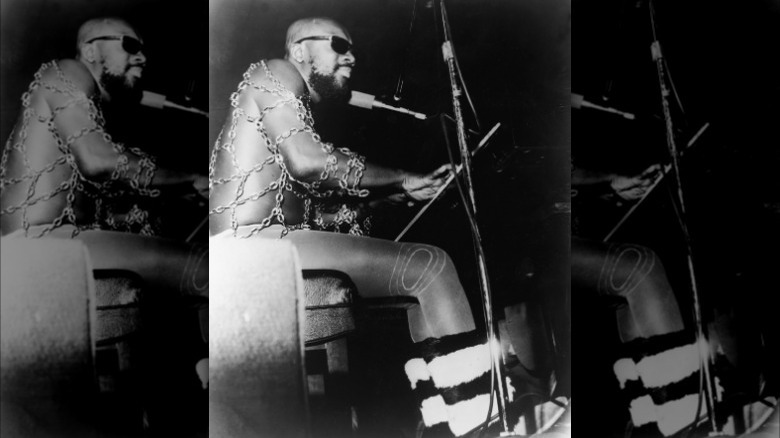 Hulton Archive/Getty Images
As mentioned, Isaac Hayes grew up in the Jim Crow-era South, a time when many civil liberties were denied to Black citizens, and he had borne witness to the tumultuous Civil Rights era and its attendant social unrest. According to the Arkansas Democrat-Gazette, the 1968 assassination of Civil Rights leader Martin Luther King Jr. in Hayes' own state, Tennessee, greatly affected the musician. After that point, Hayes began to wear the gold-chain suit more regularly as a symbol of Black freedom.
Speaking with The Washington Post (via the Arkansas Democrat-Gazette), Bobby Manuel, a guitarist who traveled with Hayes, said "[Hayes' music] represented an identity of what it meant to be Black," as well as excitement and strength in the Black community that coincided with the Civil Rights Movement. For a musician, Manuel continued "[Hayes had] a different image, coming out there onstage with no shirt and those chains. Man, it was a whole other world." To that point, another guitarist who played with Hayes added ".. [The chains] represented to him the coming freedom of the Black man."