The Story Behind Jimmy Page's Relationship With Jeff Beck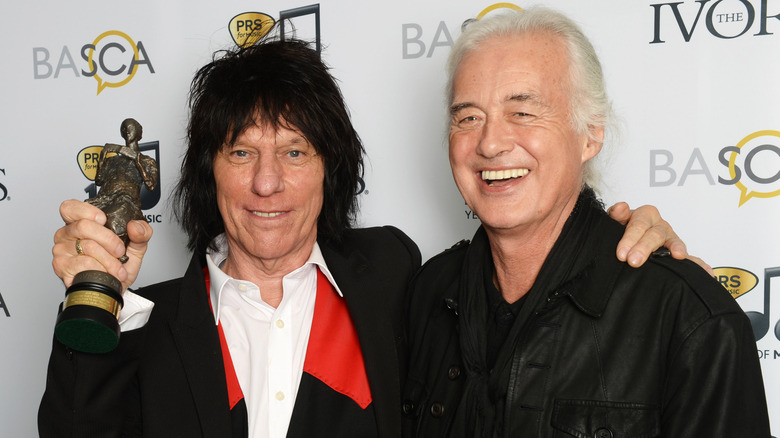 Dave J Hogan/Getty Images
Jimmy Page and Jeff Beck both found fame as guitarists in the 1960s. They both became a part of the music scene in London and part of bands whose members often crossed paths. Friendships forged between musicians of this decade shaped such bands. Page is best known as the guitarist for Led Zeppelin, wherein he aimed to "change music." However, his career began long before founding Led Zeppelin with John Bonham, John Paul Jones, and Robert Plant (per Academy of Achievement). Beck became known for his innovative guitar playing. His methods made him a pioneer for heavy metal and jazz-infused rock (per Britannica).
According to Far Out, Page and Beck began their music careers as aspiring adolescent guitarists who did not know many other children with the same aspirations. Beck made his own guitar to emulate his favorite musicians. His sister found out about another boy who played guitar and brought Beck to meet him. The other boy turned out to be a young Jimmy Page.
Jimmy Page helped Jeff Beck become a member of the Yardbirds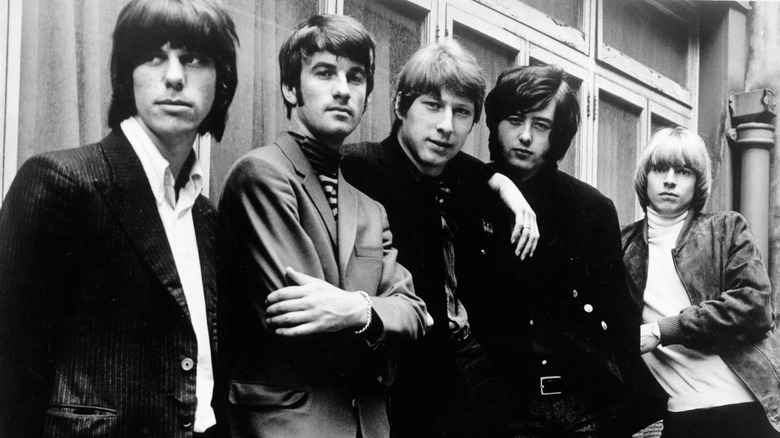 Michael Ochs Archives/Getty Images
Jeff Beck told Louder Sound that he remembers his sister's hand in connecting him to Jimmy Page. "There's a weirdo at school, he's got a weird guitar like yours," his sister told him. Page had a tape recorder that they often used during their jam sessions. As for Page, he recalled their handmade guitars and shared enthusiasm for perfecting their craft to Guitarist Magazine in 2014 (per Music Radar).
Page became friends with future legend Eric Clapton, who was a member of The Yardbirds. As their careers took shape, it was Page who helped get Beck to take the place of Clapton. Beck was only with the Yardbirds for a year (per Britannica), but he thanked Page for getting him the gig by gifting him a Fender Telecaster guitar. Page used the guitar in the early days of Led Zeppelin and added dragon art to it, according to Far Out. The dragon on the guitar foreshadowed Page's dragon suit.
Jeff Beck's first hit song featured Jimmy Page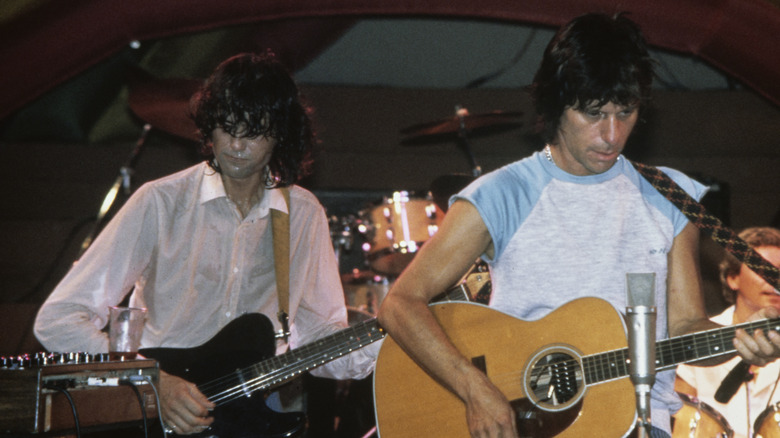 Michael Ochs Archives/Getty Images
Jeff Beck went on to form a band with Ronnie Wood and Rod Stewart. After they left to form The Faces, Beck worked with George Martin, who famously produced much of The Beatles' discography. In the 1980s, he teamed up with Nile Rogers and won a Grammy for the song "Escape" (per Britannica). He received seven more Grammys after that, including multiple wins for best rock instrumental performance in the 2000s.
Jimmy Page and his Led Zeppelin bandmates broke tour attendance records in the 1970s. All of their studio albums cracked the top ten on Billboard's album charts as well (per Academy of Achievement). Despite their careers branching off into different directions, their early days in the music industry remain connected through their longstanding friendship and Beck's first popular song, "Beck's Bolero," which featured Page along with future member of Led Zeppelin John Paul Jones and future member of The Who Keith Moon in 1967 (per the Grammy Awards). Jimmy Page even inducted Jeff Beck into the Rock and Roll Hall of Fame in 2009 (posted on YouTube).