The 1969 Car Crash That Nearly Ended Jeff Beck's Music Career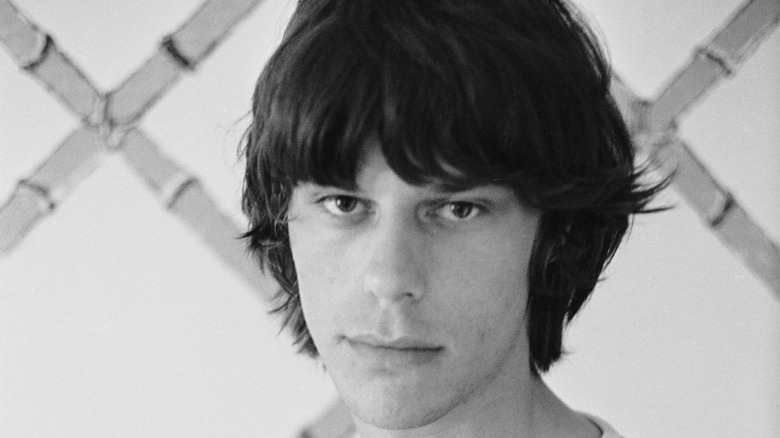 Michael Ochs Archives/Getty Images
Jeff Beck, the rock guitarist who is often regarded as one of the greatest of all time, first rose to fame in 1965 when he replaced Eric Clapton in the Yardbirds. According to Guitar, Beck stayed with the band for less than two years, but it was a significant period for the group, creating enduring songs like "Heart Full of Soul," "I'm a Man" and "Shapes of Things." After that, he assembled Rod Stewart, Ronnie Wood, Tony Newman, and Nicky Hopkins to create The Jeff Beck Group. In 1969, the band was booked to play Woodstock, but they canceled the appearance, per ABC News. Beck later said the band was in a state of turmoil. "I could see the end of the tunnel," he told Rolling Stone in 2010. 
Still, the group managed to put out an album, "Beck-Ola," which made the U.S. Top 15 and the U.K. Top 40 in 1969, per Deadline. But even with all that notoriety early in his career, the band's success and turning down Woodstock were hardly the most eventful moments for Jeff Beck in 1969 to any outside observer. According to Variety, in December of that year, after declining to join the Rolling Stones, Beck had a car accident that nearly ended his career. Among other injuries, he suffered a skull fracture that was so serious he had to put a pause on music for more than a year to properly recover.
Beck was undeterred
Brian Rasic/Getty Images
Beck, who had a tendency to downplay major life events, looked on the bright side of the car accident, noting that it gave way to the second coming of his band. "After the crash, it took me a while to get back into music but it did prompt the second Jeff Beck Group," he wrote in his book, "Beck 01: Hot Rods and Rock 'n' Roll." However, the accident did cause a significant amount of damage that had some long-lasting repercussions. "At this point I'd had a bash to the head and a fractured skull," he wrote. "I don't know what happened to my brain, but I couldn't stand loud noises at all, let alone the thought of cymbals crashing around."
Aside from music, Beck's greatest passion was for American hot rods (the subtitle of his book is "Hot Rods and Rock 'n' Roll," after all), so maybe a serious car crash just goes with the territory. Still, Beck was known for his collection of dozens of vintage cars, most of which he built or modified with his own hands. Several of the hot rods are Fords from the 1930s, but also modified Chevy Corvettes from different eras. For decades, Beck would scour swap meets and call dealers for original parts to rebuild his newest project. According to GQ, when Eric Clapton showed off his collection of Ferraris, Beck was unenthused. "Anyone can buy those," he told Clapton before walking him over to his hot rod, telling him, "These, you make."
Jeff Beck sacrificed his body for his hobby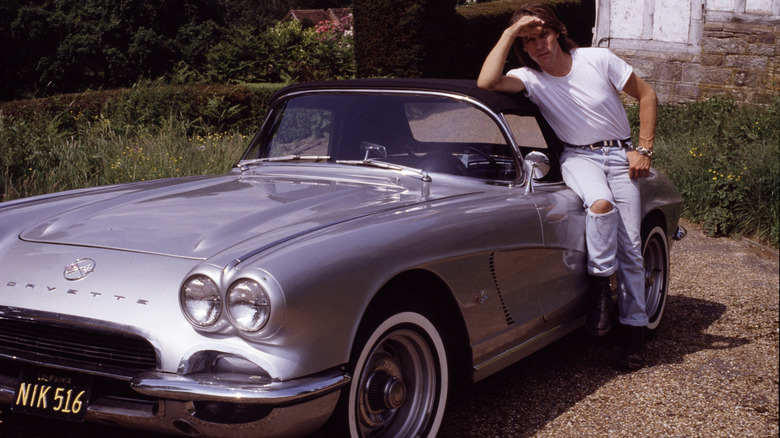 Michael Putland/Getty Images
The 1969 crash was hardly Beck's last car-related accident. According to the Financial Times, Beck once smashed his thumb under a car while working away on it. On another occasion, he burned holes in his hands while he was sandblasting a chassis. Given how much his work relies on his hands, some may reasonably wonder about the wisdom of risking his career over cars. But he said he couldn't be bothered with that. "If I worried about my fingers, I'd never pick up a pair of pliers," he told GQ. 
That policy might apply to knives, as well. In 2010, Beck nearly lost his index finger while preparing dinner one night. As he was chopping carrots, Beck looked down and noticed he lost part of his finger. "I mean I lost [the tip]; it was gone, it was just hanging off," he told Express. "I stuck it back and freaked out and then went to the hospital. But I avoided stitches because the surgeon said I'd done such a great job sticking it back! And it had just started to take when he had a look at it." Beck figured that was the end of his music career. But after a small hiatus, he got back into the studio to finish an album by playing with just three fingers. Per Time, the experience was enough for Beck to take out an insurance policy on his fingers at the cost of $10 million.