The Awful Truth Behind The World's Cheapest Car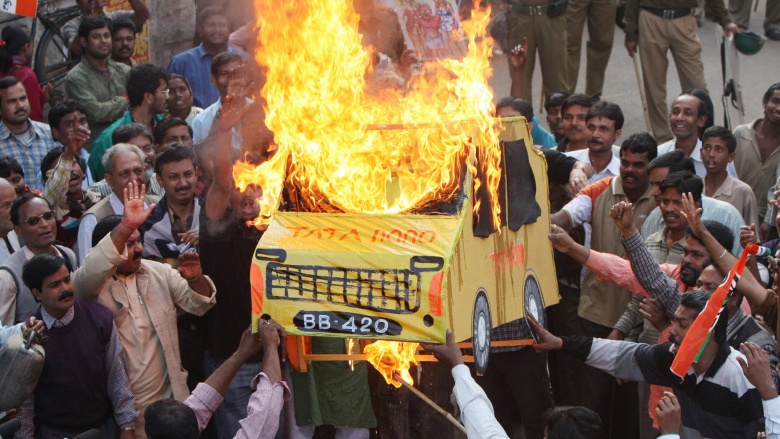 Getty Images
Tata Motors is the world's 17th largest vehicle manufacturer, and produces a wide range of products including passenger buses, cars, and military vehicles, and it owns the Jaguar Land Rover Brand, among several others. But despite this solid foundation in high end vehicles, in 2008 Tata began production of a very different beast. The Tata Nano was launched to great excitement under the slogan "The cheapest car in the world," and it didn't disappoint: the first vehicles to roll off the production line were available for around $2,000. This is the car that was to become India's "people's car," and turn the Indian car market on it's head, but it didn't quite work out that way. This is the story of the Tata Nano. As it turns out, making "the cheapest car in the world" has a pretty high cost. 
In the beginning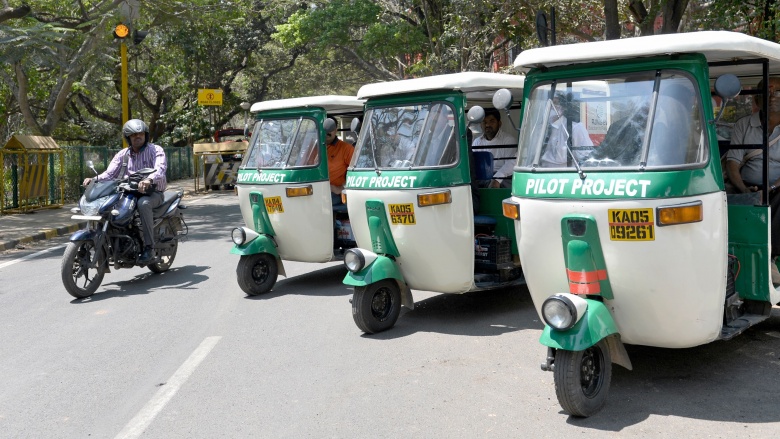 Getty Images
In 2005, Tata successfully released its first mini vehicle in India, the Tata Ace. It was a small truck intended to challenge the popular three wheeled cargo vehicles like motorized rickshaws, and it performed so successfully that Tata decided to try the same mini revolution with the passenger vehicle market. India is awash with two-wheeled vehicles like motor scooters and motorcycles, and the plan was to design a vehicle that it would entice drivers off two wheels and onto four. But there's a reason cars cost more than bikes, and that reason ended up biting Tata right in the sales targets.
Make it cheap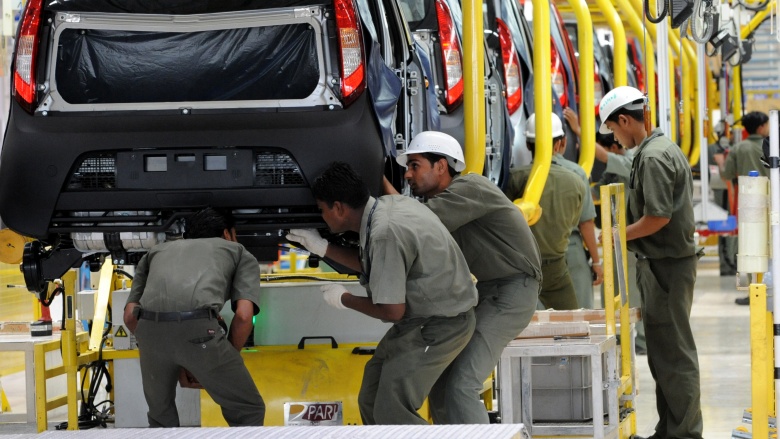 Getty Images
In order to cut costs, Tata made the decision to remove as many "unnecessary" extra features as possible. Unfortunately, their definition of unnecessary must have come from a very rare dictionary, because among the features they excluded were airbags, power steering, an entertainment system, a fourth nut on each wheel, a second windscreen wiper, a second wing mirror, an external fuel filler cap, and a trunk that opens. But hey, motorcycles don't have most of those things either. So by having four wheels and a roof, the Nano is still ahead of the game...right?
What it does have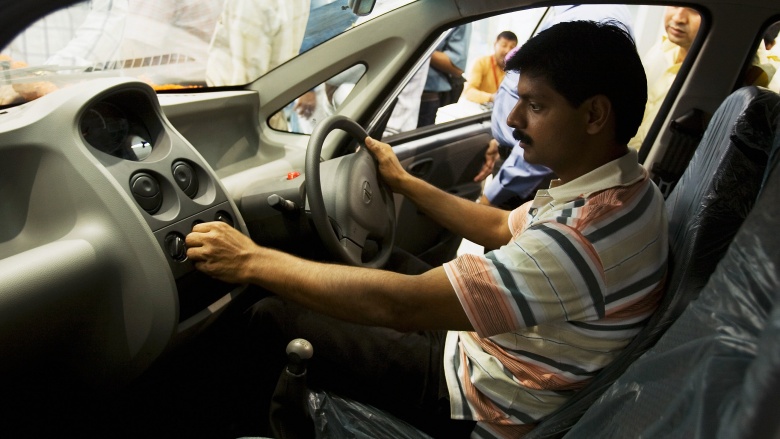 Getty Images
Despite that long list of missing items, the Nano isn't all bad. It has a surprisingly large passenger compartment, a highly efficient (if laughably small) 624cc two cylinder petrol engine that gets 55.5 miles per gallon, and lower emission levels than many motorcycles, and it's pretty cute. Oh, and don't forget the roof!
Slow beginnings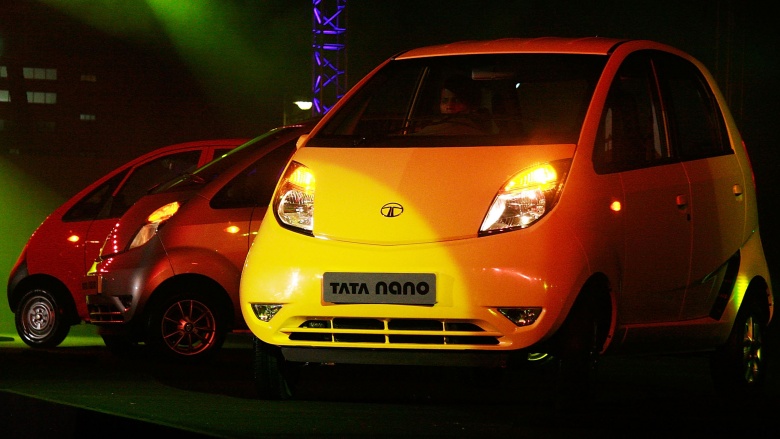 Getty Images
Despite the intention to challenge the motorcycle market, and all the cost cutting, the Nano was still more expensive than most bikes. And for those who really wanted a car, almost anything else bought second hand carries more street cred than a Nano—and more features to boot. But even for those who were in the market for such a mini motor (and there actually were a few), a series of unfortunate events cropped up to dampen their enthusiasm.
Where there's smoke there's fire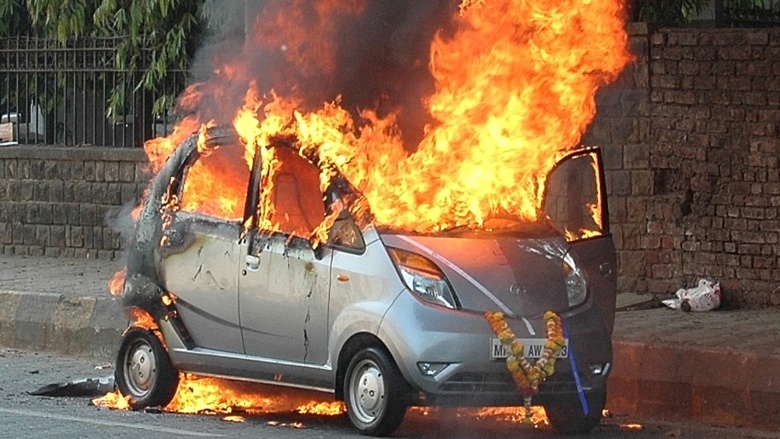 Getty Images
Shortly after the Nano's release in 2009, Tata's grand plans for market saturation went up in smoke, literally. A series of fires, which Tata blamed on "foreign electrical equipment," dominated the publicity. And despite subsequently increasing the warranty from 18 months to four years, and offering to retrofit existing vehicles, the conspicuous lack of an actual recall shredded consumer confidence and sales went up in smoke.
Crushed dreams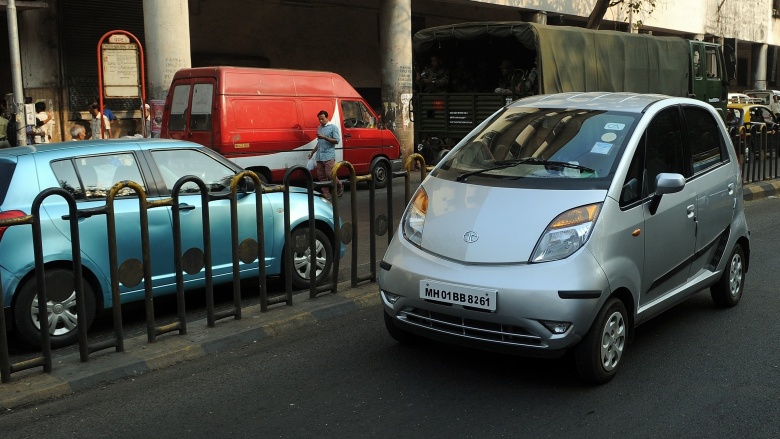 Getty Images
Tata originally intended to bring the Nano to the U.S. by 2012, but extra zeros on the price tag, accessories, and product recalls were not the only things the original Nano conspicuously lacked. Despite an early crash test performed in England that gave positive results, when the car was tested by the New Car Assessment Programme (NCAP) in Germany, the results were something less than stellar.
In fact, according to the Guardian newspaper, the Tata Nano received exactly zero stars from NCAP when they determined that the 40 mile per hour frontal test collision would have been enough to cause fatal injuries to the driver and passenger. And since it's not possible to fit a child seat in the car, the Nano got a matching zero for child safety as well. As a result, the earliest you will see that model Nano in the U.S. is 2034, 25 years after its first release when an import exemption will come into effect—but it probably won't improve with age.
The only way is up...maybe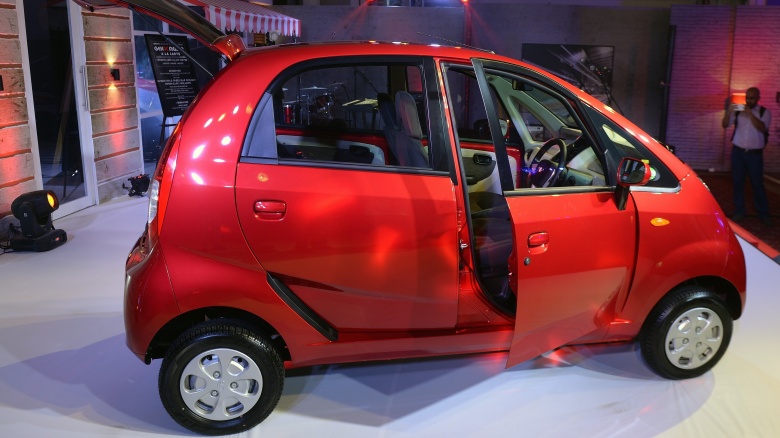 Getty Images
Since the ill-fated launch of the 2009 Nano, Tata has evolved the design and started offering three variants: the Nano Twist, the GenX Nano, and the Nano eMAX. All three are unsurprisingly better equipped than the original Nano, with features like electric assisted steering, an opening rear hatch, stereo, and more. Although, it should be noted that there's still a conspicuous lack of airbags mentioned on the manufacturer's website. Perhaps that explains why after sales peaked at over 74,000 in 2011, it has since declined to just over 16,000 in 2015 with no change in sight—the mental image of a steering wheel in the face at 40 miles per hour isn't quite erased by a quality stereo system and good gas mileage.
It still might get better though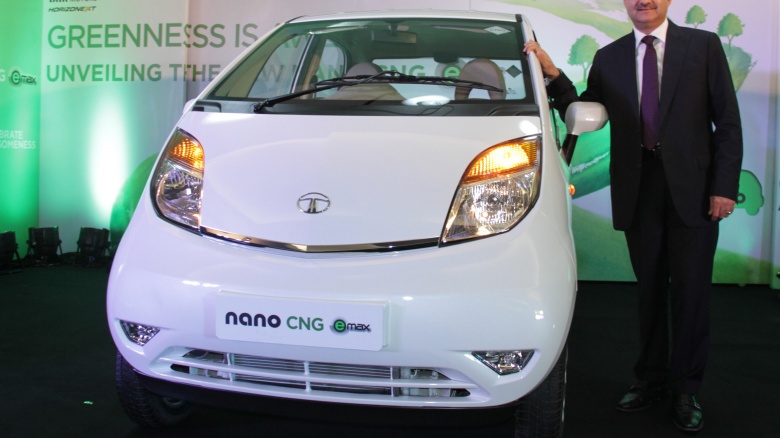 Getty Images
Aside from the standard two cylinder petrol engine in the original, GenX, and Nano Twist, there is also a bi-fuel version of the same engine in the eMAX. It can run on natural gas and improves the already impressive fuel efficiency even further. But that's not all: there are plans to release a Nano powered by a compressed air engine. It would cost only $3 of electricity to "fill" at home, and have a 120 mile range with very low emissions, but it has yet to move beyond testing. There is also a proposed all-electric version which has the potential to be the cheapest electric vehicle ever produced...but we've heard something like that before. Better wait and see how that goes before making any claims.
A Nano by any other name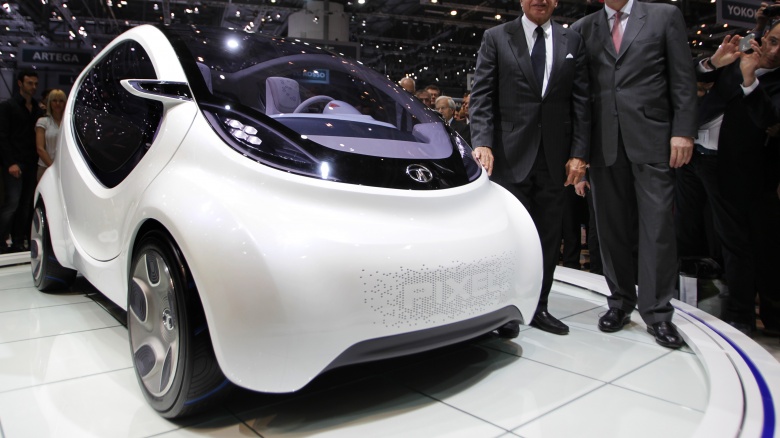 Getty Images
You may never see an actual Nano on American shores, but that doesn't mean it won't be here in spirit. At the 2011 International motor show, Tata unveiled the Tata Pixel, a larger vehicle with better specs and safety features intended for the European and American markets, but still based on the Nano platform. If it achieves its claimed 69 mpg, as well as possessing improved safety features to pass the necessary crash tests, it would certainly be well placed to make a splash—figuratively speaking...hopefully.