Inside The Fascinating Marriage Of Lisa Marie Presley And Michael Jackson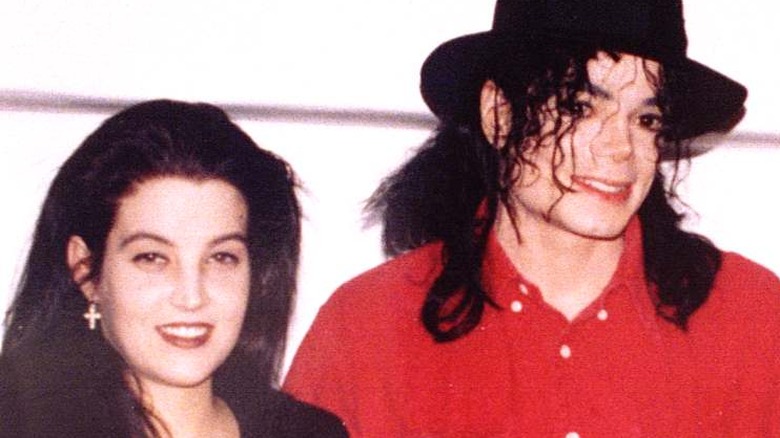 Paul Harris/Getty Images
Two generations of pop music royalty combined in 1994 when Elvis Presley's daughter, Lisa Marie Presley, announced she had married Michael Jackson, the King of Pop (via Biography). Around the same time, troubling allegations had emerged involving Jackson and child sex abuse, as NPR notes. And though at that point Jackson, who died in 2009, was a massive superstar, he'd established himself in the court of public opinion at best as an eccentric person.
For her part, Presley, also a musician, was known as the troubled daughter of Elvis Presley, Biography says. A year before the marriage, Presley took control of her legendary father's estate, Forbes reported. For these reasons and more, what proved a hasty union between Jackson and Presley surprised the public. The public at the time wondered if it was a publicity stunt, or perhaps instead, an effort on Jackson's part to divert media attention from his purportedly troubled private life.
In her announcement of the Jackson marriage, Presley gave no indication that anything other than genuine affection was behind their union. "I am very much in love with Michael ... I understand and support him. We both look forward to raising a family," her statement read (via Us Weekly). However, the Jackson-Presley marriage ended quickly. The couple split after just two years, and the union resulted in no children.
M.J. proposed on the phone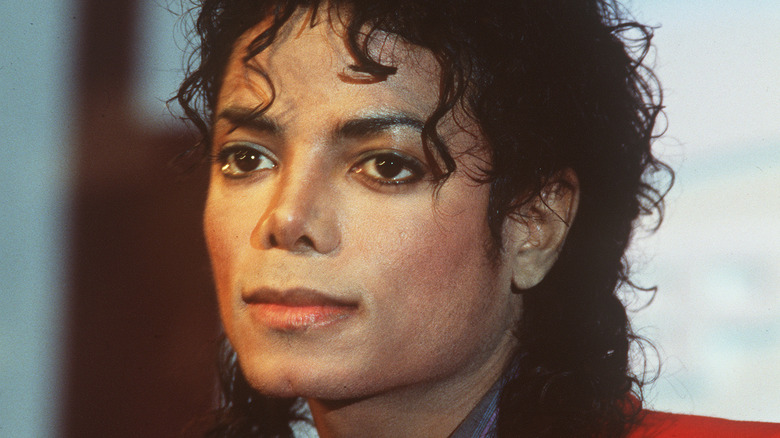 Dave Hogan/Getty Images
According to Us Weekly, Lisa Marie Presley and Michael Jackson had known each other for a while before they got married. The two met for the first time in the 1970s in Las Vegas, but their relationship reportedly didn't take off until they spent time face-to-face at a Los Angeles dinner party. At that point Presley was married to rocker Danny Keough with whom she had two children (via Biography). Presley and Keough split in 1994, a short-time before Presley and Jackson wed.
Jackson was married twice in his life, first to Presley and then to Debbie Rowe in 1996 (via Smooth Radio). Embroiled in a 1993 child sex abuse scandal when Jackson and Presley rekindled their friendship, he proposed to her over the phone. Their private ceremony took place in the Dominican Republic in 1994, just a matter of weeks after Presley and Keough's divorce was final (via Us Weekly).
Of these early days, Presley later told Oprah Winfrey, "I loved taking care of him." Her marriage to Jackson was one of the high points in her life, she said, adding, "... [W]hen things were going really well, and he and I were united. It was a very profound time," she continued. The Presley fortune-heiress also recalled staying up late at night to talk with Jackson whenever he had trouble sleeping.
However, one of the reasons for the divorce, as discussed with Winfrey, was regarding Presley's hesitation about having Jackson's children. "I was looking into the future and thinking, 'I don't ever want to get into a custody battle with him,'" said in the interview.
Jackson and Presley made several public appearances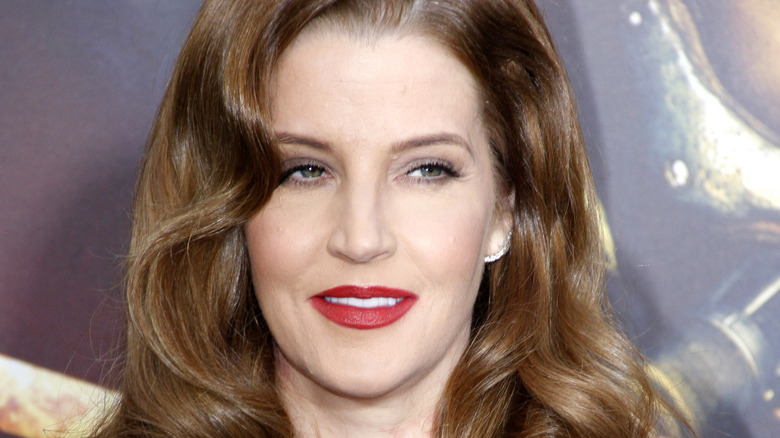 Tinseltown/Shutterstock
After their surprise marriage, Presley and Jackson went on to make several high-profile appearances together, as Us Weekly explains. They were seen at a children's hospital in Budapest, the Palace of Versailles in France, and the MTV Video Music Awards (VMAs) in 1994. At that time, Jackson seemed to put all speculation to rest about the true nature of their relationship. Kissing her live on stage, Jackson said, "[N]obody thought this would last," referring to their marriage (via Us Weekly). The pair even hung out at now former President Donald Trump's Florida estate, Mar-a-Lago, during which time Trump said they were seen kissing, holding hands, and cuddling (via People).
By 1995, Presley and Jackson had parted ways, however. Their divorce was finalized one year later. In a 2010 interview with Oprah Winfrey roughly 12 months after Jackson died, Presley maintained her relationship with Jackson was real. What drove the couple apart were the pressures of stardom and addiction, she said. According to Oprah.com, Presley added, "[Jackson] had to make a decision. Was it the drugs and the vampires or me? And he pushed me away," referring to Jackson's long suspected drug use and the "Thriller" superstar's handlers.
Jackson also had issues with Presley's relationship with Keough, the father of her children. Nonetheless, Presley said, "When we were together, we were really in love, and then we had the rough patches." She reportedly still loved him even after they split and wanted to patch things up a few times after their divorce was final.