Brave Belt: The Short-Lived Band That Would Become Bachman-Turner Overdrive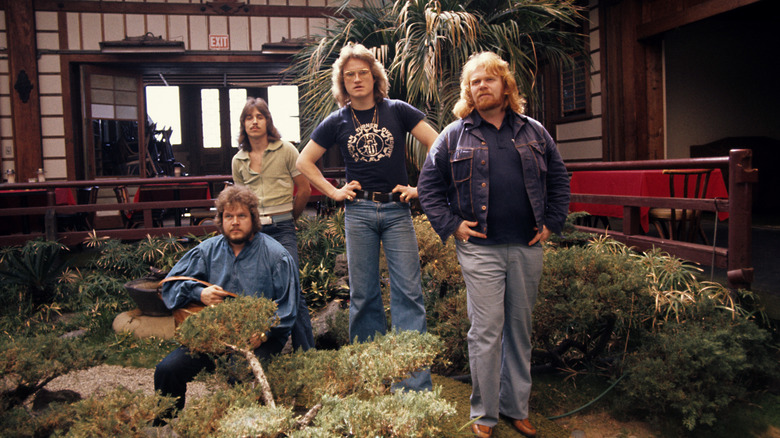 Armando Gallo/Getty Images
On January 13, 2023, Randy Bachman of the Canadian classic rock group Bachman-Turner Overdrive (BTO) tweeted that BTO's long-time drummer, Robbie Bachman, had died. Robbie was Randy's brother, and he was 69 years old at the time of his death, according to CNN. No cause of death was provided by Robbie's brother. Referring to the death of his brother, Randy wrote, "He was an integral cog in our rock 'n' roll machine and we rocked the world together."
According to Deadline, the siblings had played music together since the beginning of BTO (pictured above), scoring such classic rock hits as "Takin' Care of Business" and "Let It Ride." They also toured internationally. Randy formed BTO shortly after he left the already-established rock group The Guess Who in 1970. The first self-titled BTO record came out three years later (per AllMusic). But as Deadline goes on to write, the successful musical collaboration between the two Bachman brothers began before BTO ever took the stage.
Robbie Bachman had played drums since childhood
Also reported by Deadline, Robin "Robbie" Bachman had played drums since childhood and joined BTO at his brother's request — at the age of 18. The Bachmans are from Winnipeg, Canada. Before joining forces in BTO, the Bachman brothers played in a band called Brave Belt, active between 1970 and 1973, when the BTO debut album came out. According to Last.fm, Brave Belt was not nearly as well known in the U.S. as BTO, but they did release two records on Reprise, and they had a few hits in Canada.
One of Brave Belt's most well-known songs is called "Dunrobin's Gone." Others included "Rock and Roll Band" and "Crazy Arms, Crazy Eyes" (via AllMusic). Alongside Robbie and Randy Bachman in the group was one-time Guess Who band member, singer Chad Allan (who wrote "Dunrobin's Gone"), bassist and singer Fred Turner, and another musical Bachman brother, guitarist Tim Bachman. By 1971, Allan had left the group, and it was time to change the name. Robbie Bachman is pictured, second from left, above.
The Bachmans also changed their sound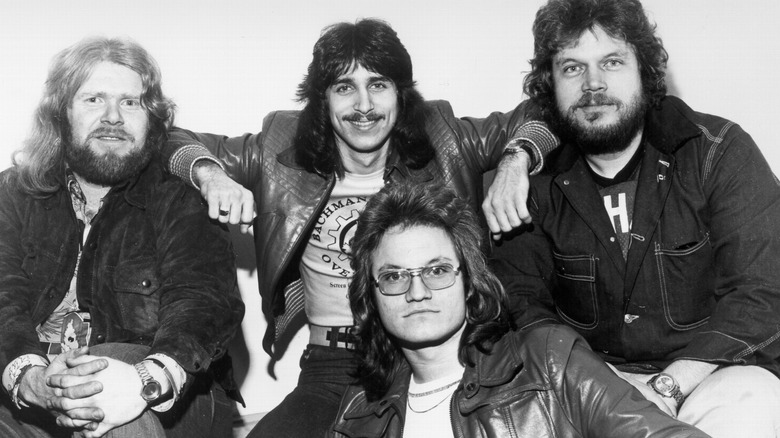 Michael Ochs Archives/Getty Images
As listed on Last.fm, the two Brave Belt records are 1970's "Brave Belt I" and 1971's "Brave Belt II." That pattern was continued in BTO, as BTO's first two records, both released in 1973, are also numbered (per AllMusic). According to Deadline, more than just the name of the band changed when singer Chad Allan left Brave Belt and the remaining members transitioned to BTO. Brave Belt played a style of country-rock popular at that time, while BTO helped develop and innovate what's known today as a classic rock sound.
In total, BTO released nine albums together. The original BTO lineup split in 1980, after which time the Bachman brothers became mired in creative and financial disagreements. Robbie did not play on their ninth and final record, 1984's self-titled "Bachman Turner Overdrive," their first since 1980. Robbie and Randy made amends and would continue to record and tour with reunited versions of BTO until 2004. BTO were inducted into the Canadian Music Hall of Fame in 2003, according to the CBC.