What Does Ringo Starr Scream At The End Of One Version Of Helter Skelter?
Doug Mckenzie/Getty Images
When the Beatles' "Helter Skelter" first arrived in November 1968 (via AllMusic) as part of their self-titled "White Album," it was just one of the latest examples of how the band had come a long, long way from the whimsical days of "I Want to Hold Your Hand," "Love Me Do," and other early hits. While it had been well-established that Paul McCartney could scream with the best of them, "Helter Skelter" took things to a new level, but it was more than just his frantic vocal delivery; the guitars, bass, and drums were ear-splitting compared to the usual stuff you'd hear on the radio in the late '60s. Still, it could be argued that there was nothing — or in this case, no one — louder than the voice heard near the very end of the song.
Yes, that was Ringo Starr you heard shouting something toward the end of "Helter Skelter," and you'd be forgiven if that fact surprised you the first time you heard it. This is, after all, the band member who sang the fewest lead vocals on Beatles songs (via Ultimate Classic Rock) and wasn't known for his screaming as McCartney and John Lennon were. But what did he actually scream, and what drove him to utter those now-famous words?
'I've got blisters on my fingers' was more than just a Ringo wisecrack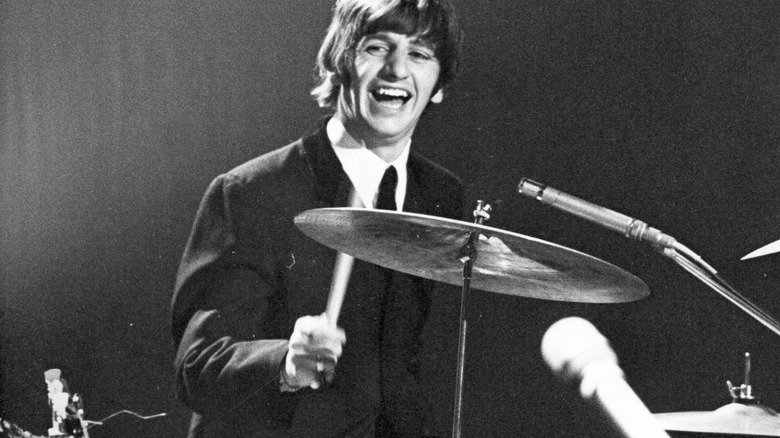 Michael Ochs Archives/Getty Images
As documented by Beatles Bible, it took months before "Helter Skelter" reached its fully realized form, with the first attempts to record the song taking place in July 1968. In September, the Fab Four re-recorded the tune, making it shorter, tighter, and much heavier. In his biography, "Many Years from Now," Paul McCartney recalled those efforts in greater detail. "We got the engineers and [producer] George Martin to hike up the drum sound and really get it as loud and horrible as it could and we played it and said, 'No, still sounds too safe, it's got to get louder and dirtier,'" he told biographer Barry Miles (via Beatles Bible).
Ultimately, the Beatles' attempts to add extra oomph to the drums took their toll on Ringo Starr. Per McCartney, "In the end, you can hear Ringo say, 'I've got blisters on my fingers!' That wasn't a joke put-on: his hands were actually bleeding at the end of the take, he'd been drumming so ferociously."
It was the perfect exclamation to end a song essentially written to outdo The Who and their own unusually heavy track, "I Can See for Miles," which ended up as their only Billboard Top 10 hit. However, it should also be noted that Starr's "I've got blisters on my fingers" doesn't appear on all of the Beatles' recorded versions of "Helter Skelter."
Ringo's scream can only be heard on the stereo White Album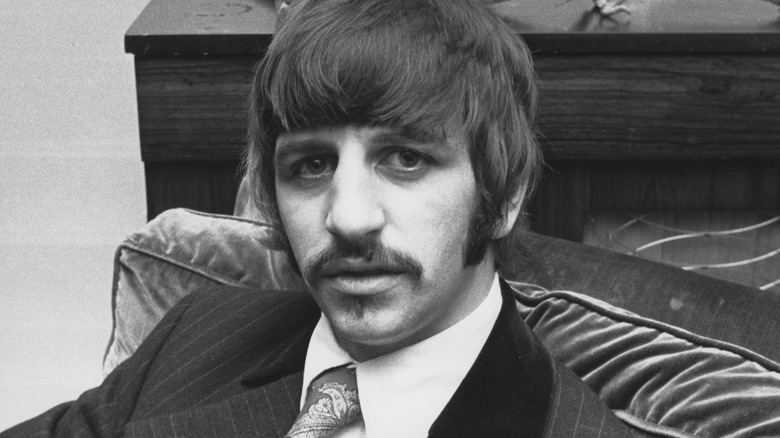 John Pratt/Getty Images
While most modern-day Beatles fans may be familiar with the version of "Helter Skelter" that has Ringo Starr screaming "I've got blisters on my fingers," that's actually the stereo version of the song. That version, which lasts almost four and a half minutes (via AllMusic), includes the wild, chaotic outro in all of its glory, right down to the very last chord that punctuates Starr's wail of agony. As uDiscoverMusic wrote, the mono version of "Helter Skelter" is almost a minute shorter at 3 minutes and 39 seconds, and ends with a fade-out. 
The stereo version, on the other hand, turns the fade-out into a fake-out, with the instrumental parts fading back in soon after. This includes some random saxophone and trumpet parts from John Lennon and Beatles roadie Mal Evans respectively, as both men add to the deliberate disharmony amid the repetitive closing riff.
Thanks in no small part to how the Beatles pulled out all the stops to make it as heavy and raucous as possible, "Helter Skelter" deserves its place as one of the songs that helped give birth to heavy metal. But it still wouldn't be the same without that barbaric scream at the end.